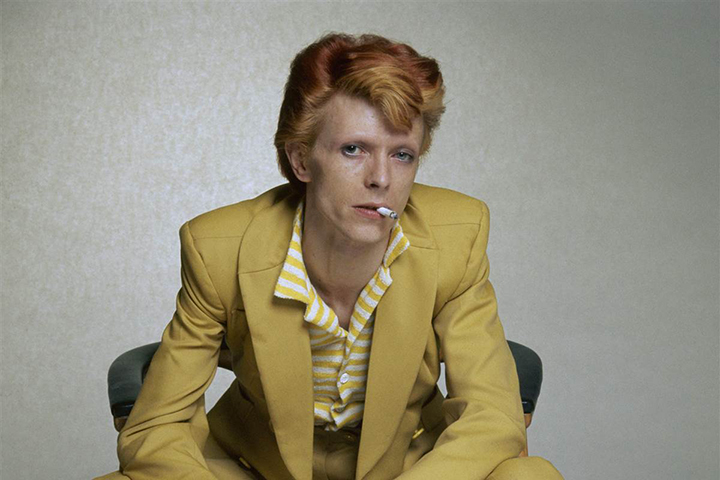 David Bowie: Ashes to Ashes
Starman Waiting in the Sky
David Bowie released his envoi-like album, Blackstar, on his birthday, and so a lightness of being seems to shine through his final week on earth. His lightness might be his general M.O., considering he made pop music out of lyrics about "sailors fighting in a dance hall," and  issues about self-evolution in his song, Changes, which celebrates changes that apparently aren't always "so sweet." 
Bowie was an enigma and force of nature in his ability to churn out hits garnering millions of world-wide, die-hard fans. As a glam-rock star, Bowie sought new interpretations of what personal and public identity could be. His mischievous and jocular smiles recorded in his live 1972 performance of Starmanindicate a playful, onstage persona. Bowie's career is comprised of shifting colorations in the various gender-bending outfits he donned, catchy beats, and arcane lyrics, which may reflect Bowie as an artist sensitive to the changing fluxes of culture, politics, social issues, and gender issues.
Bowie stated in an interview in the documentary, David Bowie Is (2014), that when he was just starting his career, it was easier for him to put on a persona as he performed, rather than be himself. Perhaps he didn't quite know who he was just then. In the 1950s, Bowie was aping the hackneyed performances of his mentor at the time—an experimental mime. Documentary footage shows a white-faced Bowie prying himself out of an invisible box. 
Arguably a more successful response to Bowie's personal ontological questions is his creation of Ziggy Stardust, one of the greatest rock-legend personas in rock history. One might even suggest that his interests in new ontologies, the fragmented self and other alternative self-conceptualizations, stem from the struggle to maintain the singular "I" amongst the challenges of being an artist with a voice as unique as Bowie's. One wonders if his interpreted persona was a life raft for some sacred idea of the self, which allowed for the dogged perseverance of Bowie's long, successful career. 
The art of persona is often the art of self-preservation, and Bowie's art was as much his shield as it was his sword. Tony Visconti, Bowie's producer, wrote on Facebook that Bowie's "death was no different from his life—a work of Art." Bowie's success reflects in how he was able to transcend human concerns over the confusing plurality of existence, societal pressures, and personal preconceptions.