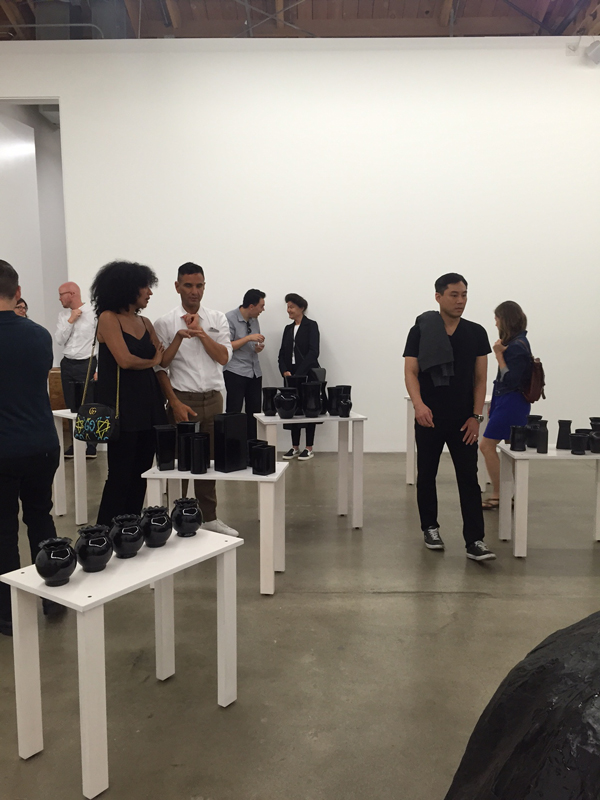 Culver City our Vote for Saturday Night
Last weekend, as the new fall art season had officially commenced in Los Angeles, we found ourselves debating the most efficient way to make several openings; Culver City seemed the most doable. We had two terribly bourgey friends visiting from France in tow, ready to see some art, culture—and to be served some thoroughly offensive wine.
We pulled up first at Susanne Vielmetter's in a black Lyft Escalade—fussy at the agonizing 30 minutes it took from Hollywood. Whoever insists La Cienega is the way to go is a liar. With our buzzes now gone, we had a lot to make up for.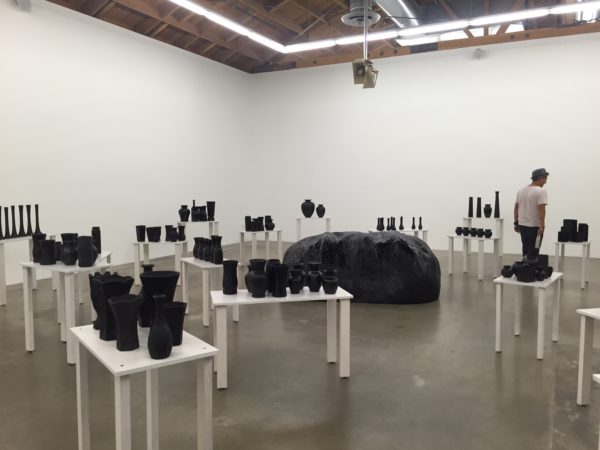 I walked into the gallery pleasantly surprised with what I immediately saw, though The French Fries weren't impressed. The exhibiting artist Rodney McMillian  was standing at the center of his installation chatting with artists Mary Weatherford and Andrea Bowers. Looking intently at the art was Mary Kelly as well.
McMillian's main room installation consisted of several scattered tables topped with black vases, surrounding a black blob. There was something on a PA system that we couldn't fathom paying attention to as we cringed with anxiety over the sizable crowd navigating through the closely lain tables of ceramic vases (presumably very breakable!) with their huge Prada, Marc Jacobs and thrift-store-find purses swinging about.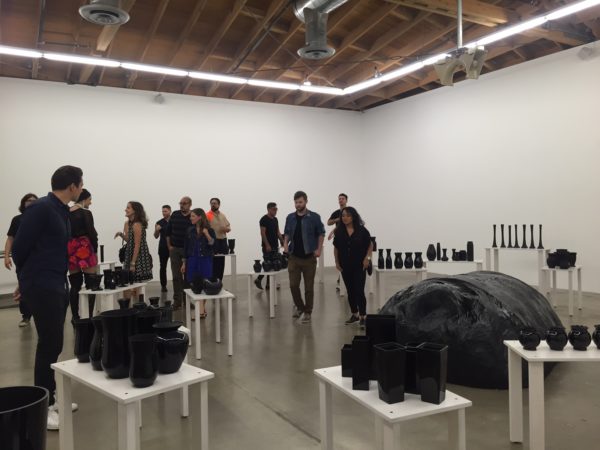 I took my time in the art-world minefield, as the Frenchies sped through. If history taught me anything, that was not something I saw coming. I met my friends on the other side with huge smiles on their faces. It couldn't be the art, the subject was serious. Alas, it was the spectacle of celebrities they had stumbled upon. Was I to be redeemed?
Actress/comedian Tracey Ellis Ross stood to our left and Josh Duhammel to our right—except it was actually Timothy Olyphant a close doppleganger, with a not-so-close career to Duhammel's. (Don't tell my friends.) Allowing them to gawk for a while, I took in the success of the show before rounding up the troops to see the rest of what Culver City had to offer that night, stopping at Edward Cella's for a crazy terrific installation by Jun Kaneko and Luis De Jesus' two-person show with Bryan Zanisnik and Edith Beaucage. We couldn't make it to ALL the Culver City openings unfortunately, but finished the night at The Mandrake to retrieve our buzzes.