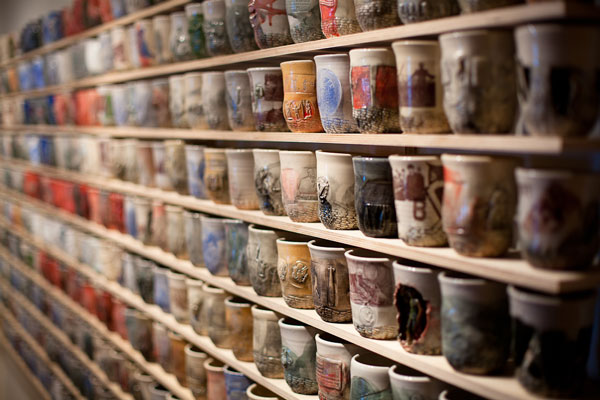 Craft Revolution
Bringing Folk Art Back to the People
The Craft and Folk Art Museum—its unlikely frontage peering mischievously over Museum Row—has in the last few years come to the forefront of the LA art scene with its unpredictable exhibitions. Executive Director Suzanne Isken and her exhibition team (Holly Jerger, Exhibitions Curator; Andres Payan, Curator of Public Engagement; Sasha Ali, Manager of Exhibitions and Communications) have smartly built genre-bending shows around signature LA artists, thereby enticing a wider audience.

The ongoing makeover of this idiosyncratic place across the street from LACMA has been building up. The façade, the site of revolving projects by LA-based artists like Shrine, and the side yard, which emerged from invisibility with a riot of yarn confections that in 2013, courtesy Yard Bombing Los Angeles (YBLA), covered CAFAM's façade in crocheted granny squares, are now as much a part of CAFAM's identity as the idea that the museum is taking front and center as a place for LA artists to develop unique projects.

The museum's Fall 2015 exhibition, "Paperworks," curated by Howard Fox, attested to this striking transformation; categories embedded in the museum's eponymous titles of craft and folk art were pushed, pulled and stretched in wonderful ways by a stellar lineup of artists to accommodate contemporary artworks from various modes of object-making.  While Echiko Ohira, Francesca Gabbiani, Phranc and Susan Sironi all work with paper, the exhibition's import was not in the cutting, creasing or folding of paper normally associated with craft, but in where it unexpectedly headed. While all of these artists "craft" their work meticulously, what they did here was to take the material manipulations usually associated with craft into territories germane to contemporary art, presenting the work as a complex conceptual knot to unravel.

Eager to foreground changes in art-world thinking and develop a unique venue for artists working interstitially, Isken and her team have begun breathing new life into thinking about the interplay between art and craft. That mission-flexibility deftly sidesteps polemics, broadening the playing field for what can be seen in the LA art world by putting on exhibitions that deliberately crisscross the delineations traditionally made between art and craft. In an email interview, Isken wrote, "Contemporary makers use a variety of means of self-expression including the use of traditional craft materials and processes, social engagement practices, and skill-based art forms. Segregating craft, folk art and fine art into different camps is usually a product of art market concerns—a formula used to set value and determine sales. We champion artists with a strong commitment to making work by hand who expand traditional practices associated with craft to discover new means of expression."

The question of what it means to make work by hand has led to some extremely interesting places. For example, Timothy Washington's 2014 solo exhibition at CAFAM, "Love Thy Neighbor," traced the evolution in his artworks from the 1960s to the present, included his invented metal etched drawings and assemblages and recouped an extremely compelling artist who had withdrawn from exhibiting his art. "We felt that Washington has been largely written out of the art history of Los Angeles following his early recognition," Isken noted. She wrote that the CAFAM curatorial team was attracted by "Washington's unique vision and intricate, highly experimental practice… as well as his 'under the radar' status in Los Angeles' art history."

The blurring of fine art and craft distinctions likewise led to "Ehren Tool: Production or Destruction," the 2012 solo exhibition of the artist and former Marine, who hand-forms vessels. But Tool embeds his vessels with images related to armed conflicts as a means of addressing his interest in pacifism and as a mode for decoding the violent rhetoric of warmongering that is used to perpetuate military interventions. He turns his ceramics away from craft as innocuous pot-throwing and turns to more incendiary tactics.

Sometimes craft can be likened to DIY as a practice and by choosing elective affinities. In 2015, "Clare Graham & MorYork: The Answer is Yes" delivered a survey of the artist's many years of the collecting and aggregating of found materials into large-scale sculptural objects. Graham is an example of an artist who develops alternatives to traditional practices. Graham even built out his own exhibition space in the Highland Park neighborhood, MorYork at the corner of York Boulevard and Avenue 50, when the art world got too cramped for his liking. So the question becomes: What is the mainstream anyway?

Even when hewing to traditional categories like woodcarving or ceramics or quilting, CAFAM's exhibition premises implicitly pose more questions than answers. The museum gently encourages reconsideration of how we subdivide and classify genres and techniques in the art world. "We believe the idea that only a select few can understand art to be absolutely false, and deeply value the opinions and experiences of our visitors," Holly Jerger remarked. In addition to creating programming that is informative while leaving room for personal interpretation, "we also focus on the act of making and the knowledge that comes from manipulating a material or learning a process," Jerger said.

CAFAM also tweaks categories. The all-male 2015 "Man-Made: Contemporary Male Quilters," featuring work by artists Joe Cunningham, Luke Haynes, Jimmy McBride, Aaron McIntosh, Dan Olfe, Joel Otterson, Shawn Quinlan and Ben Venom, showed deviations from traditional quilting such as the Joel Otterson "quilt," that consists of interlinking blocks of concrete, stone and ceramics. Even the most traditional sounding of approaches deftly avoids the lowest common denominator definition of craft. For example, the 2013 "Scratching the Surface: Contemporary Wood Sculpture," featured the works of nine contemporary artists whose sculptural forms derive from wood's natural textures and irregularities. The exhibition focused on processes unlike traditional carving; that is, it contradicted a definition of craft as a merely repetitive endeavor requiring simple hand-eye coordination absent the imprint of critical assessment of that once simple task's overall history and contemporary ecological meaning.

As CAFAM's curatorial range reaches across genres it ends up declassifying and reclassifying ways of thinking about art. When the market and academia mirrored one another, genres broke down according to commonly understood differences between painting and sculpture as major arts; whereas, ceramics, printmaking and other techniques were considered minor arts. Is it still viable to imagine an art world subdivided as it is in university art departments? Isken and her team have extrapolated on traditional categories similar to how artists move back and forth across these artificial boundaries; under her guidance, CAFAM, with its stylishly antiquated mantle and humorous reminder of bygone eras, has been quietly forging ahead.