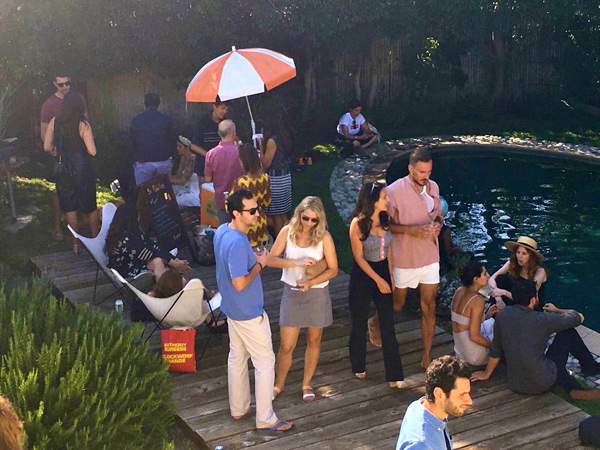 Cooling Off at the Coolest Pool Party
Paul Davies installation at Fitzpatrick-Leland house, sponsored by Mak Center
The aroma of gourmet hot dogs and the hum of pretentious gossip lured us to the Fitzpatrick-Leland house last Saturday, where the MAK Center for Art and Architecture hosted an exclusive pool party and opening reception for Paul Davies. Of course, nobody was actually dressed for the pool, aside from some of the men; the gorgeous, dual-level yard looked like a Tommy Bahama advertisement.
We explored the entire house (designed by Schindler, 1936) and its many precarious ledges and secret balconies. In fact, the inside seemed to push us outside, proving to be the perfect environment for Paul Davies' vibrant paintings. His work, depicting angular houses nestled among California nature, leaned against the floor-to-ceiling windows, framed by the spectacular views of the surrounding hills. In a room directly below the living-room-turned-gallery, the artist himself hung out with his fawning fans. Completely at ease, he wore a white T-shirt, jeans, and sneakers (even the artist wasn't dressed for the pool!).
As the sun sank, the freshwater pool beckoned somebody to please, jump in! The summer dresses and polo shirts crowded around the edge, dipping their toes, posing with their wine and Ballast Point. Suddenly, two brave souls in swim trunks said, "Screw it," and took the literal plunge… but nobody joined them, which segued into an awkward lull. " You'd think since we're in the pool, someone would bring us drinks or something," scoffed one. "… like, I want a rosé and a cigarette!" Finally, the gregarious Soliana Habte slipped in and pacified the pool clan, passing around a joint.
The evening shadows engulfed the Hollywood Hills, the inebriated guests hailed Lyfts, and the guy working the Popsicle cart (yes, Popsicle cart) snuck away for a ciggy. We sauntered back into the real world, delighted to have attended the coolest "pool" party this weekend.
Photos by Anastasia Kahn