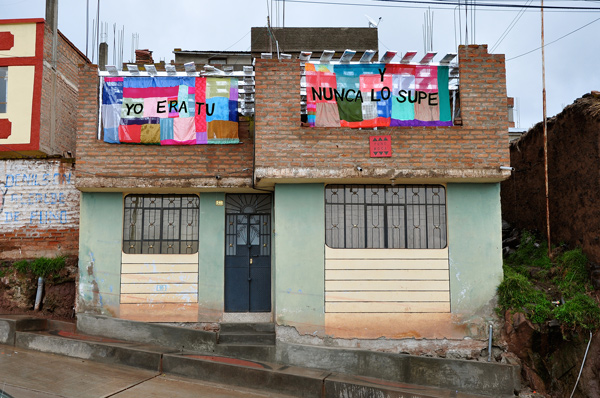 Conceptual Museum: Cesar Cornejo
Constructing Spaces for Art in the Peruvian Andes
Cesar Cornejo sees artists as outsiders. They confront things that other people won't—or can't—see, the Peruvian-born artist told me in an interview in May, three days after the opening of "Building As Ever," OCMA's 2017 California-Pacific Triennial. His site-specific installation in the Triennial is part architectural intervention, part sculpture/ architectural model built out of materials scavenged from the museum's storage. Architecture is a recurring theme in Cornejo's work and a consideration in his ongoing project, Puno Museum of Contemporary Art, now in its 11th year.

Puno MoCA began as an alternative model, Cornejo told me, an architectural and conceptual structure that he could use to defy expectations of what a museum should be. And in Latin America, he pointed out, the model of the museum has been adopted from the first world and imposed on a "system that is different."

The city of Puno sits at about 12,500 feet on the shores of Lake Titicaca in the Peruvian Andes. Cornejo, who grew up and studied architecture in Lima before he moved to Japan for seven years to study sculpture and earn a Ph.D. in studio art, is not Quechua or Aymara, the two ethnic groups native to the region, and is viewed as an outsider there, too. It seemed an unlikely place for a museum of contemporary art, and in March 2007, when he started the project, even Lima had no contemporary art museum.

Cornejo's project is a unique mix of social engagement, architecture and a practical application of construction. A critique of museum culture, it extends art into places that have been starved of it. Cornejo also wanted to challenge the concept of community art in which the community is subsumed into the artist's social practice, and the project concludes with no concrete benefit to the community, only some amorphous sense that they have been intangibly enriched. "Being from Latin America where people live day to day, and in many areas struggle to survive," he said, "I wanted to give them something that really can be measured."

Cornejo surveyed the city and started where he usually does, working with the materials and conditions that already exist. When he asked himself what was readily available, the answer was apparent: "I thought, 'We have an abundance of shanty towns.'"

In 10 years, the city has changed some. There is more wealth, and sections of the city are gentrifying, which generates another set of problems. But conditions for many of Puno's residents are still the same. "I say this as an architect. We have lots of places where there are occurrences of spontaneous architecture," Cornejo explained; architecture that is "ephemeral in many cases."

"I thought that could be our source for a museum," he recounted. It would be an exchange. Cornejo would offer residents something very practical. Many of the homes he saw had unfinished portions or needed repair. And he would offer to repair the house. "You can measure that. You can see the benefit. I don't have to explain to you [at length] how you're going to grow, or how your vision is going to grow," he asserted. And homeowners, in return, would host an exhibition for an artist (Cornejo doesn't exhibit his own works in the Puno MoCA project) once the repairs were finished. The project is a union of offering a very tangible benefit for people who agree to participate, and provides a benefit to Puno MoCA in creating a limited exhibition space in the renovated home. Here, Puno MoCA inadvertently draws on the region's tradition. In the mountains of Peru, Cornejo reported, there is a culture of reciprocity. The currency is the mutual benefit in the exchange.

But not every candidate is a match when thinking about projects they might do with Puno MoCA. "What is interesting to me is when the person can see beyond that benefit, and they get really interested," he said. In this sense, the museum couples the intangible benefits of art—the sense of extending one's knowledge, or ken—with the very real, measurable benefits of one's domicile.

Funding for the project is intermittent. In 2009, Cornejo received a grant from Creative Capital. At times, he has financed it through sales of his sculpture, and he has received some assistance from the University of South Florida, where he teaches. He is currently exploring possibilities that are self-sustaining, like establishing a small industry and adapting the project to include an economic model for development. In the meantime, he has begun to think of Puno MoCA as a brand and has implemented the concept in other places including an exhibition with his gallery in Lima and in the XII Habana Bienal, boasting that he gave Cuba its first museum of contemporary art.