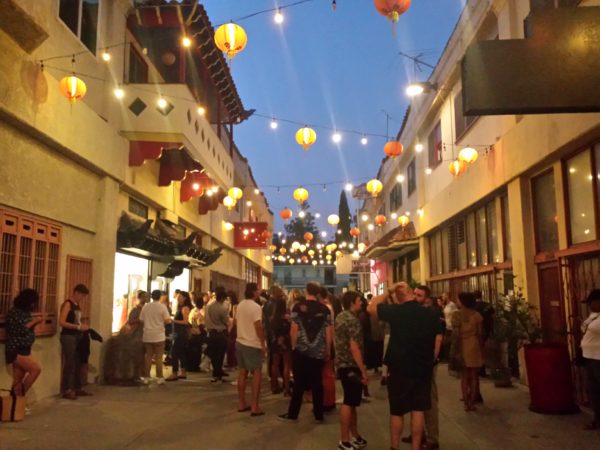 Chinatown Art Buffet
Charlie James; Coagula Curatorial; The Good Luck Gallery; Gregorio Escalante
Chung King Road was a buffet of openings Saturday night, with a variety of gallerygoers overflowing into the street. Like a high school party, there were definite discrepancies between the crowds: academics and LA art stars at Charlie James Gallery; mid-careers with their young families at Coagula Curatorial; and the too-cool-for-school graffiti art horde at Gregorio Escalante.
The main artery of the street party oozed from Charlie James, where we shoved and pinched people out of the way in order to enter. The space itself was stifling; half of our experience of "Black is a Color" involved moving from room to room desperately searching for a pocket of air. The mezzanine of the gallery was literally the hottest place in the building—in more ways than just temperature: the darling of the LA art world, Ramiro Gomez, was surrounded by admirers, probably melting and internally screaming for air.
Unable to withstand the giant oven any longer, we hit Coagula Curatorial, where we perused Peter Hesse's serene paintings of wood. After noticing we were being watched from above by a pair of ghoulish figurines, we didn't linger. Not only were we under surveillance, but also the gallery was charging five bucks for refrigerated booze. Sure, it was ice-cold temptation, but slapping a price on beer—ever heard of the starving artist?
Repelled by the thumping house music and snapback hats at Gregorio Escalante, we were ready to pursue a late dinner, when the golden horseshoe of The Good Luck Gallery beckoned. As it turned out, we weren't the only stragglers stumbling to The Good Luck for something refreshing: Essence Harden from Charlie James soon appeared with her cohort. Doug Harvey's salon-style group show of zany, outsider art kept us amused until long past closing time—and we scored free ale.