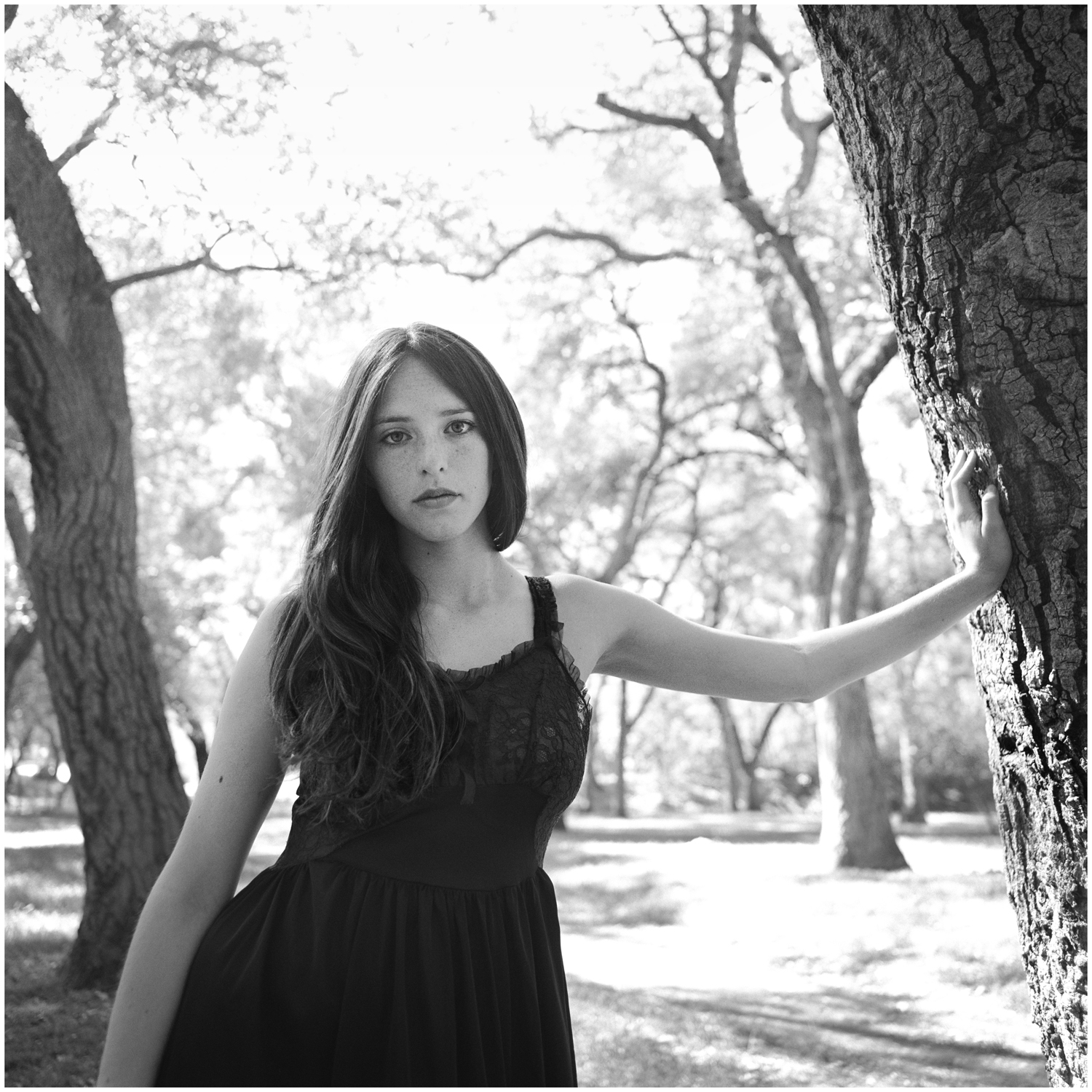 Chimento Contemporary: Laura London
Like fairy tales about to reach sinister climaxes, Laura London's new photographs present spuriously romanticized views of female youth. Each portrait's idealized setup is tempered by a portentous feeling that something is amiss.
The show's title, "Relocation," betokens metamorphic symbolism. If London's earlier work recalled the grittiness of photos by Nan Goldin or Larry Clark, her new pictures evoke the more delicate unease of Sally Mann's documentation of her children's aging.
London's photos are unabashedly staged. The exhibition showcases three different series and a video. "Character Study" features casually dressed girls standing stiffly against white backgrounds, like models in all-American street-wear ads. "Excerpt" channels the monochrome drama of phony old-fashioned movie stills. Relocation (2016) is a symbolic video in which camellia tattoos form on the protagonist's arms and then very slowly disappear before she vanishes. "Triptych" evokes the type of photo shoots that passersby might encounter on spring days in public botanical gardens.
London's evocation of bourgeois glamour photography insinuates her subjects' membership in a demographic in which high school students often forgo traditional graduation gifts in favor of costly professional portraits. Many of her protagonists exhibit hints of a certain casually pretty look that many of our current time strive towards for the purposes of social media grandstanding. Yet incongruously, the girls bear expressions of seriousness, sadness, even anomie.
Moreover, infinitesimal ungainliness underlies their affectations of polish. The subject of Rose Garden-Past (2016) is turned away from the camera in an awry pose, the would-be artful effect impaired by its awkward stiffness. Girls wearing beige bodysuits in Relocation and Camellia Forest-Future (2016) appear naked from afar. Subtle imperfections also extend to photographic technique: hands in Lilac- Present (2016) are ghost-white, overexposed.
Whereas her earlier photos spotlighted teenagers' emulation of celebrities, London's new work suggests the effects of social media having made performers of everyone. Looking effortless has never been so arduous as in our paradoxical era in which a "no makeup" look calls for legions of products, "natural" poses require hours of practice, and ripped jeans are formal attire. Society's superficial undercurrents can sweep us into whirlpools of competitive exhaustion and pressure us towards self-consciousness, detachment, and dread for our own impermanence. Therein, perhaps, lie London's subjects' expressions of misgivings.
Laura London, "Relocation," April 16- May 28 at Chimento Contemporary, 622 South Anderson Street, Space 105, Los Angeles, CA  90023, www.chimentocontemporary.net