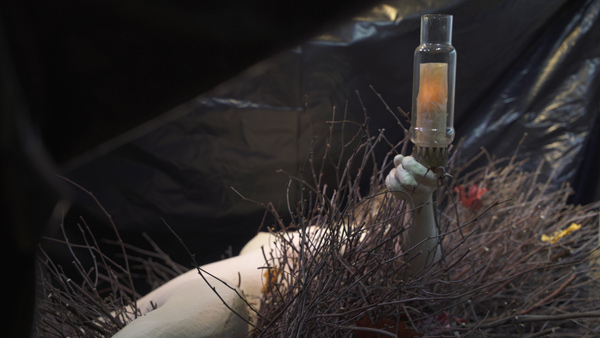 Camera Obscura: Duchamp's Tortured Nude
Serkan Özkaya at Postmasters / NYC
Who knew that Nude Descending a Staircase landed flat on her back? Who knew, too, that an artist who did so much to bring Cubism to America ended up a purveyor of something between porn and schlock?
At least it felt that way at his death in 1968, when others discovered what Marcel Duchamp had been doing for twenty years besides playing chess. The founder of Dada had long seemed to live up to its promise—by refusing to make art. With his studio in today's East Village, he had disdained the role of an elder statesman in his lifestyle as well. Yet behind its walls lay a surprise.
One could see it from a pair of peepholes, as Etant Donnés, or "given," now in the Philadelphia Museum of Art. The assemblage contains a nude with her head cut off, her crotch toward the viewer, and an arm holding out the gas lamp of its full title. She also opens onto a garish environment, from a bed of twigs to a grotto in unseemly colors. Duchamp and his wife had been scavenging New York for its pieces. Love it or hate it, take it as a given.
Now Serkan Özkaya poses another question as well. He adds a room at back for a full-blown recreation, much as Duchamp added a room to his studio. And he proposes that the work's real significance lies in its projection through the peepholes onto the viewer's side of the barrier. It holds, he announces, a face. Tired of debates over just how much Jan Vermeer relied on a camera obscura? For Duchamp, Özkaya proposes, the camera obscura was itself the art.
He says that he pursued the question with curators in Philadelphia, who declined to follow through. If that sounds like a euphemism for their dismissing him as a crackpot, they had every reason. Özkaya takes from the work its most prominent component, a worn but impressive wood door out front, which Duchamp brought back from Spain. He separates the work from everything that one can normally see. He muddles the whole idea of a camera obscura—by turning its pinhole into two larger holes and its dark chamber into a bright open room of a New York studio and then the Philadelphia museum. He produces a blur that looks about as much like a face as the nude's tortured body.
He also adds a layer of porn to Duchamp's, in pretend scholarship and echoes of hopes for the face of Jesus in the Shroud of Turin. In contrast to the dense room that one cannot enter, he opens with a spare installation of such things as another gas lamp. Then again, could Özkaya believe not a word of this? Could he be as eager as Duchamp to take one in? That aura of the sacred as the ultimate porn might hold the clue to the last century's strangest work of art.
Serkan Özkaya, "We Will Wait," October 21 – November 25, 2017 at Postmasters, 54 Franklin Street, New York City, NY 10013, postmastersart.com.