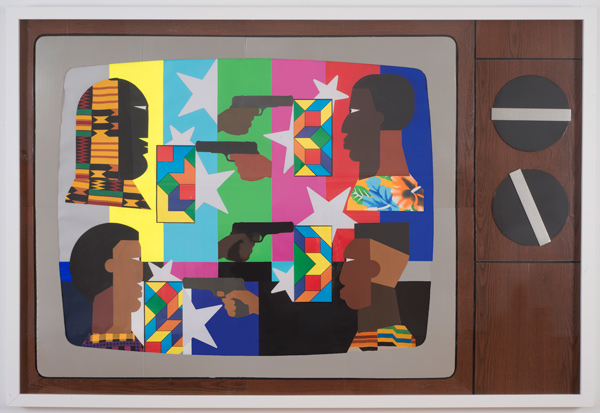 California African American Museum: Derrick Adams
Mercifully averted, the television writers' strike was urgent news in Los Angeles, where total triviality-immersion is our raison d'être, and its media coverage was breathless. This would have wryly charmed Neil Postman, author of Amusing Ourselves to Death. His 1985 jeremiad repeated the caution, delivered in 1932 by Huxley, and by Juvenal nearly two thousand years before; we will happily abandon our civic concerns for a steady stream of vacuous diversions. But for a brief moment, outrage peopled the barricades.
Derrick Adams steps into this same stream. His television network is one where the images of, and references to, African Americans are both stereotype and archetype, simultaneously angry at their limited portrayal and simply happy to have been invited. This exhibition dovetails nimbly to No Justice, No Peace: LA 1992, just two galleries down. Television's role in real time and repeated imagery is revealed in current media descriptions of those events. While some outlets refer to it as the "riots" others use the more apt descriptor "uprising." The discontents of television and most pointedly its representation of African Americans are at the core of this exhibition. Included are several fancifully pointed tapestries that mimic television broadcasts, but his 3D works more aggressively challenge the viewer.
The Boxhead series is a trio of talking-head scarecrows in glassless boxes. These vividly colored and faceted busts are suggestions of African American video-clip icons; the witness to a crime, the neighbor who suspected nothing, the weeping relative.  
Away from the soundstage brightness of the main gallery is his Network Guru, the apex work in this show. In a darkened alcove is a yoga studio/spiritual infirmary. Six magic carpets are topped with upholstered pillows—garish as fabric store remnants—and oriented toward the effigy of a television monitor. Its screen, frozen in end-of-broadcast color bars, is bejeweled with children's nightlights featuring the image of a turbaned black woman, a 1990s television mystic. She is an insightful choice. The nightlights act as votive candles and the fortune teller becomes our confessor. The nightlight for adults is the infantilizing television, its solutions as empty as those offered by a robed charlatan.
Fix un-copped, we must keep surfing. Who has the time and vigor to exercise, or read, or vote?
Derrick Adams, "Network," March 2 – June 11, 2017 at the California African American Museum, 600 State Drive, Los Angeles, CA 90037, www.caamuseum.org