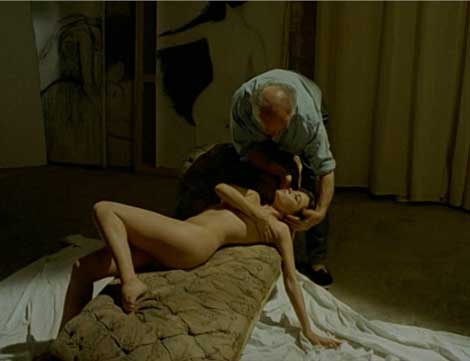 BUNKER VISION
Painting in Real Time
Out: One) runs over 12 hours. The length of his films is more than a gimmick; his most frequent subject is the artistic process. Much of the 12-hour film involves rehearsals; in many of his long works there are rehearsals for plays. Subtle variations and repetition make these scenes hypnotic. He also likes magic (stage and occult) and has a special affinity for Balzac's Thirteen (a benevolent secret society that keeps things running smoothly). These themes recur through his work in oblique ways. The website devoted to his work calls itself Order of the Exile.

I have often cited his work as the best reason to acquire a region-free DVD player. Many of his films had VHS releases in the United States, and now they fetch hefty ransoms on Amazon Marketplace and eBay. English-speaking Rivette fans with multi-region capabilities can pick up much of his best work on Region 2 DVDs. Most of the Rivette titles offered on DVD from Amazon U.S. are Region 2 imports. Much is made online of the fact that Rivette is the only original member of the French New Wave who isn't represented by at least one Criterion release. When Criterion floated the question about whether there was an audience for the 12-hour title, several people offered to buy 100 copies if they'd release it. Such is the fervor of his fan base.

His film about painting is currently available in England as a double DVD set for a hefty sum. It is a double DVD because there are two versions. La Belle Noiseuse is a four-hour meditation on the act of painting. The art is made in real time (with artist Bernard Dufour stunt-painting for Michele Piccoli.) Rivette was convinced to create a shorter alternate version (Divertimento), which cut out the real-time art production, adding some darker elements from the 30 hours of footage he shot for the original. This version shows up on Amazon U.S. as a Chinese DVD featuring subtitles in English and Mandarin (listed as Beautiful Troublemaker).

The setup of the film involves an artist who has abandoned his major painting. It was a portrait of his wife (Jane Birkin). When a younger artist comes to visit with his youthful girlfriend (Emanuelle Beart), the artist is inspired to take up his paintbrush again. The relationship between artist and model is explored in long takes that transcend the obvious erotic charge. Petty jealousies and real-world concerns intrude on the artistic process. As a film about painters and painting, the long version of this might be the most interesting examination of the process to ever be filmed. For those readers who don't want to invest in the Rivette back catalog, there are two different two-hour excerpts recently posted on Youtube that give you the flavor.