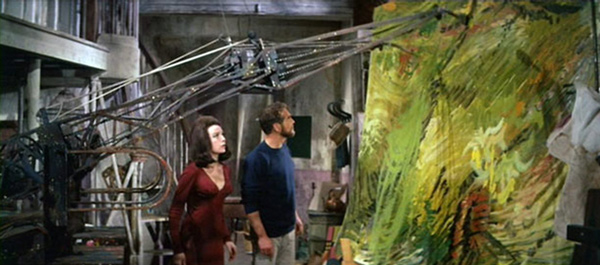 BUNKER VISION
The Mainstream Gaze
One of the best ways to gauge how the mainstream views artists is by looking at the movies. Before people associated artists with money, artists were an exotic species. If an artist had any degree of success, they were a newspaper illustrator, or had a job with an ad agency. There Goes Susie (1934), Piccadilly Jim (1936), The Girl Next Door (1953), That Certain Feeling (1956), How to Murder Your Wife (1965), and The War Between Men and Women (1972) all feature a main character with an art-related day job. A parallel theme involved men of varying degrees of success running away to be an artist. Examples of this include The Moon and Sixpence (1942), An American in Paris (1951), The World of Suzie Wong (1960), The Rebel (1961), and The Age of Consent (1969). Sometimes they included both. In Artists and Models (1955) Dean Martin plays a down-on-his-luck painter whose neighbor (played by Dorothy Malone; a rare instance of a successful female artist in a film that early) is a successful comic book artist.

Artists on film are also famously eccentric. One of the best known mid-century films about an artist is The Horse's Mouth (1958). This is the film that you'd use to play artist-cliché-bingo. Another famously eccentric artist is the lead character in Holy Matrimony (1943). Though living artists weren't associated with money, dead artists often were. The Temporary Widow (1930), Christopher Bean (1933), and The Art of Love (1965) all share a theme of artists getting more valuable after they die. Living artists were also good for a tragedy. In Scarlet Street (1945) an artist suffers at the hands of con artists because he is presumed to be a wealthy painter. In The Light That Failed (1939) an artist is going blind. Artists could also signify that a down-at-the-heels gathering was intentionally bohemian, as happens in All That Heaven Allows (1955).

Biopics of artists often tell us more about the time they were made than the story of the artist. Rembrandt got biopics in 1936, 1940 and 1942. Caravaggio got them in 1941, 1986 and 2007. If one is seeking a good movie for the Mystery Science Theatre treatment it's hard to top Charlton Heston as Michelangelo in The Agony and the Ecstasy (1965). For sheer delight it's Paul Newman's portrayal of an artist in What a Way to Go (1964). After building a machine to paint for him (based on the sculptures of Jean Tinguely), he is killed by his own creation.

Since the 1980s when money collided with art and made it more interesting to the public, depictions of artists have been more nuanced. Three of the biggest names in '80s art directed movies: Cindy Sherman, Robert Longo and Julian Schnabel. Schnabel even attempted to depict the art world in a film. As he becomes better regarded for making films than painting, there has been a shift in how this depiction is perceived. Many artists now consider his gaze to be… mainstream.