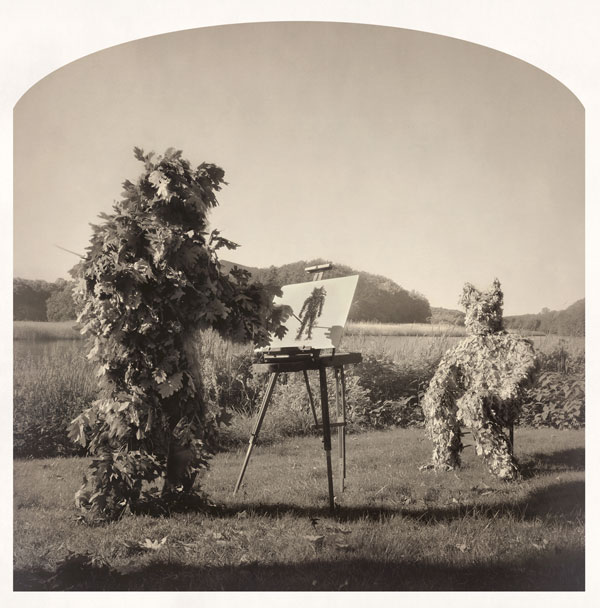 BUNKER VISION
The Astonishing Worlds of Kahn & Selesnick
One of my favorite photo monographs by Kahn & Selesnick is an accordion-folded book that stretches out to 19 feet when it is fully unfurled. There is a narrative involving an Edwardian moon mission that is rescued by the Apollo astronauts. A version of these images that scroll across the screen on their website has the unbroken feel of a camera panning across a continuous setting. Given the number of actors this requires and the elaborate props it involves, one could be forgiven for assuming that these require a full scale Hollywood film crew to produce. A documentary about them and this project that just appeared on YouTube puts those notions to rest and ups the ante on how admirable their achievements are. The documentary is posted in three parts and can be found by searching the name of this photo series ("The Apollo Prophecies"). In it we learn that the heroes of our tale are actually pretty low-tech until they fire up their Photoshop software. Even more incredibly we learn that the giant cast is actually the artists themselves in a variety of disguises.

The artist duo Nicholas Kahn & Richard Selesnick (who go simply by Kahn & Selesnick) have produced several photo monographs which involve alternate worlds or histories—they love desolate settings. Much of their work is in a long horizontal format that evokes widescreen cinema on steroids. When they show their work, it can look like something that explorers brought back from other worlds. In addition to the huge tableaus, there are often "props" that look like real artifacts. Some of these are photographed in the manner of archeological treasures. Other props fill glass cases and vitrines. Their shows would often look right at home in a natural history museum.

In addition to their lunar forays, they have created some earthbound worlds that feel alien. In their series "Scotlandfuturebog" they postulate an Apocalypse staged by humanity. As the introduction to the book documenting this series states: "Humankind, in its insatiable desire for drama, tragedy, and excitement, had reached the point where it became necessary to plan and stage a vast apocalypse." In their 2007 series "Eisbergfreistadt" they recreate a fictitious city state that sprung up on an iceberg off the coast of Germany during the hyperinflation of 1923. As their work grows more elaborate and the concepts take on extra layers, their exhibitions are augmented with more artifacts, and the back stories become more elaborate.

They followed their fictitious iceberg city with a meditation on Mars using actual images taken by the Mars Rover as their backdrop. Their most recent work called "Truppe Fledermaus" involves what appears to be a traveling theatrical company in a drowning world. There is a strange prescience at work in their oeuvre. In City of Salt they focused on culture clashes and burning towers not long before 9/11. Their iceberg city caused by financial mishaps appeared shortly before the global financial crisis of 2008. Come for the jaw-droppingly beautiful photography. Stay for the vision that birthed it.