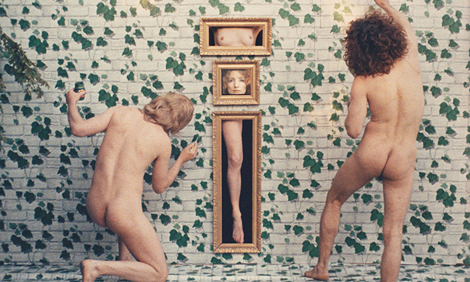 BUNKER VISION
Agnes Goes to Los Angeles
Agnes Varda is the sort of filmmaker that is always worth paying attention to. According to many film historians, her 1954 film La Pointe Courte was the first French New Wave film. A peek at YouTube reveals a 200-video playlist assembled by obsessed fans. (She gives great interviews, and she gives them often.) She was married to the filmmaker Jacques Demy. Since his death of AIDS in 1990, she has become the keeper of two legacies. When LACMA featured her in 2013, it was not a stretch for the show to include screenings, photography and an installation.

By the time she decided to turn her camera on California in the late '60s, she already had some amazing work under her belt. In Cleo From 5 to 7 (1961) she follows a woman around Paris, as she awaits the results of a test for cancer. In Le Bonheur (1965) a woman who knows that she is dying helps her husband find a new wife. The casual way that a new woman is incorporated into a family with children has unsettled many viewers. In the film Vagabond (1985), the movie begins with the lead character lying dead in a ditch. It makes watching one of the vilest characters in cinema easier to watch, as the flashbacks unfold.  

She turned her cameras on Los Angeles three times. In 1979 she made a documentary about the murals of Los Angeles. That same year she shot an intimate fiction film that was set on the fringes of Los Angeles, which featured her son as one of the actors. The one that got enough interest to show up on all of the bootleg film sites was her 1969 film: Lion's Love.

Lion's Love stars then-recent Warhol superstar Viva along with James Rado and Gerome Ragni, who wrote and starred in the musical Hair. Varda rented a big house in the Hollywood hills, and turned the three of them loose with instructions to improvise. (At one point Viva is heard to complain about the lack of a script.) Actual New York filmmaker Shirley Clarke (playing herself) has come to LA to help Viva commercialize her post-Warhol resume. What makes this interesting is that while this is being filmed, Warhol is actually shot by Valerie Solanis. Varda—seeing an opportunity to take this bigger—has Viva recreate onscreen, the call she got about the shooting.

Things get even more meta when Bobby Kennedy is assassinated, and the TV becomes a character in the film draped in mourning black. To whatever extent this film has a plot, Varda has envisioned a suicide attempt by Clarke. When Clarke refuses, Varda borrows her jacket and steps in front of the camera to act the scene herself. Along the way there are cameos by Eddie Constantine and Peter Bogdonavich. The oddest part of this film is that without using LA landmarks, Varda is able to capture something of LA's essence with "stars" in bed and limbo making plans to conquer Hollywood.