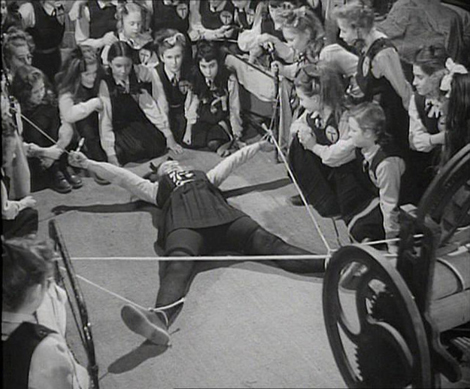 BUNKER VISION
Hell's Belles


Between 1948 and 1953 Searle produced five books (frequently viewed as Charles Addams-esque) set in the world of St. Trinian's. The films adapted from them operated on a sort of formula. The bad, bad girls realize that their school is threatened by ____ and heroically do ____ to save it. The girls usually fall into two categories: Younger Hellions and Older Sexpots. Searle said about his creations: "A St. Trinian's girl would be sadistic, cunning, dissolute, crooked, sordid, lacking morals of any sort and capable of any excess. She would also be well-spoken, even well-mannered and polite. Sardonic, witty and very amusing. She would be good company. In short: typically human and, despite everything, endearing."

Once Searle had mined out the schoolgirl genre, he still owed his publisher a bestseller. He was approached by author Geoffrey Willans to illustrate a column he had been writing for Punch magazine, that was about to be released in book form. The books (there were eventually four) featured the thoughts of schoolboy Nigel Molesworth, and his advice on how to survive the trials of term-time at the crumbling St. Custard's, ruled over by terrifying headmaster Grimes, head boy Grabber and the school dog. Searle had another success in the world of academia, as the first of these outsold the most recent St. Trinian's effort.

But it was the Naughty Schoolgirls that were adapted for the movies. As far as I can reckon there are seven films in all that appeared in three separate periods. The first four, made between 1954 and 1966, owe the most to Searle's original vision. In 1980 they attempted a reboot which focused on skewering the British Trade Union movement (Headmistress Thatcher?). In 2007 they dusted off a number of well-regarded British stars for a faithful remake of the 1954 film version. This was successful enough to merit a follow-up film in 2009. One can make a fun game of spotting the various Hot Topic subcultures represented by the cliques that inhabit the girls' dorm. And do be warned if you search for St. Trinian products on Amazon, that unless you specify books or DVDs, you will be offered dozens of Naughty Schoolgirl licensed costumes.