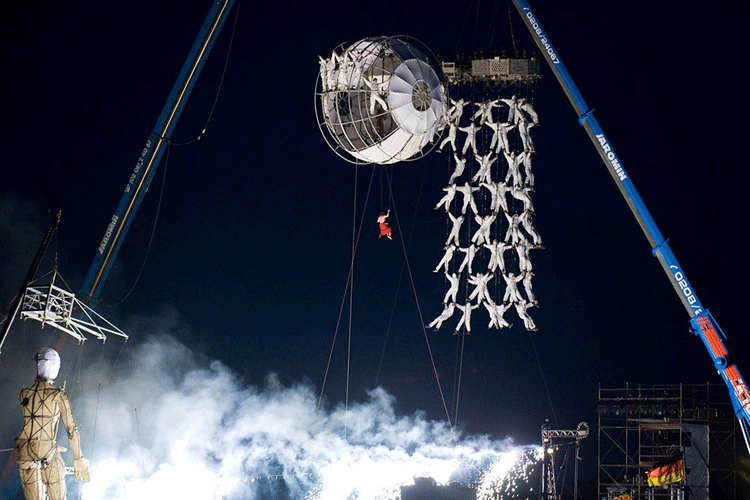 BUNKER VISION
The Unknown Furan Spectacles
 If anybody reading this is looking for a topic for an art book, I would like to suggest La Fura dels Baus. Although they are well known in Europe (they designed the opening ceremony for the Barcelona Olympics, and have had other pieces performed before audiences of over a million), they are virtually unknown in the United States. Given the wide range of things that they do well, this oversight is jaw-dropping if you've experienced their work. Before the advent of YouTube, you had to settle for the work they did with opera companies to see them on film. Their embrace of the Internet allows one to make a case for them, with tangible examples. I will focus on five videos in the hope of piquing your interest to explore them in more depth. According to a 1985 review of their London performance, published in NME, the group "create a kind of adult adventure playground of fun, danger, slapstick and fantasy."
A set of guiding principles for the group is called "The Furan Language" and has been adopted by other troupes. These principles involve things like breaking down the fourth wall and making performances site-specific. The group was founded in 1979, and by 1984 they had hit their stride with a spectacle called Accions. It takes place in an industrial space. There are naked people who bring to mind early Paul McCarthy: people in harnesses flung against a giant canvas where bags of paint attached to their bodies burst into action paintings, men in suits destroying cars with sledgehammers and lots of urgent saxophone music. Suz/O/Suz (1985) continues in this vein, adding giant dueling gladiator gurneys, fire, meat, and more elaborately harnessed people.
La Grand Macabre (1997) is an excellent example of their work with an opera company. As their opera work gets the most film, you get your choice of pretty much the whole opera, or excerpts of the stagecraft for performance-art aficionados. On the group's YouTube channel, there is an excellent three-minute clip in which a giant human figure becomes an X-ray, an anatomical model and a structure with various portals from which singers emerge. 
Imperium of Violence seems to date from around 2007, based on when videos of it were uploaded. It takes place on a stage with scantily clad people on stilts and Mad Max accessories assaulting human-shaped piñatas that morph into actual humans hanging from cranes. Despite being produced 20 years after the previous videos, they feel no less dangerous. A key new feature in this piece is the use of projections.
Las Palmas 2013 Festival de Teatro y Danza (2013) involves a ship (they own a ship!) and people hanging from cranes, and all sorts of hardware that would make the dance company Pilobolus jealous.
Once you experience the range of their work, it's hard to imagine that they aren't better known. Hopefully their work will benefit from the attention of a writer who can bring it to the attention of the English-speaking portion of The Art World.