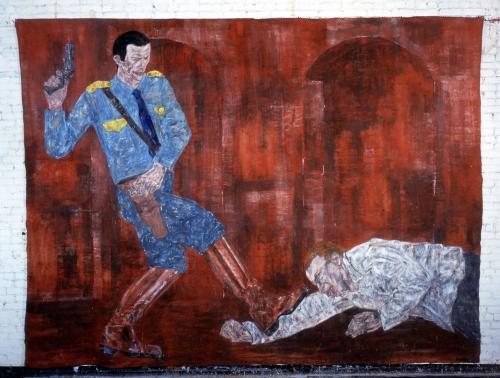 The Broad Museum: Creature
"Creature" springs from the same Latin root as creation, yet the two conjure polarities. The former suggests a beast, a lower animal, or if human then a distinctly lower form of human; a savage, a bestial Mr. Hyde. The latter implies a divine force, a desire or idea made palpable. In that interpretation, though, rests a conundrum—it would describe both a messiah and a golem, a redemption or a curse. That is where this exhibition begins.
Piotr Uklanski's 17-foot wide collage, The Nazis (1998), was vexatious when shown in 2000 at the Zachęta National Gallery in Warsaw and again, more infamously, in "Mirroring Evil" at Manhattan's Jewish Museum in 2002. Yet here in Los Angeles, movie capital of the western world, visitors seemed content to name the movie stars pictured in the 164 images of actors costumed as German SS soldiers. Perhaps viewers in Los Angeles, so immersed in entertainment culture, may have celebrity recognition as their default response while viewers in Warsaw and New York, cities respectively scarce and abundant with Jews, more readily recognize associations with themselves in this work, and the dreadful reasons why.
Standing six-foot-two—more than half of that legs—Takashi Murakami's K02 (2011) is a hentai mannequin of pain and salvation; dripping syringe in one hand, Bible in the other. This hyper-sexed moppet broadcasts proscription and allure. Woman infantilized, girl sexualized; the tyranny of male desire is not upended but stoked—making this a work of comical prurience that grows less humorous by the second.
The nucleus of Creature, is Leon Golub, whose six vast paintings surround us, like debauched tapestries, creating a perverse Rothko Chapel. These works, the smallest of which is over 13 feet wide, transform Creature to monster. Rawly visceral, and as prescient as they are historical, they evoke Abu Ghraib freelancers and School of the Americas graduates. A pair of torturers, in Mercenaries III, 1980, pause from their cruel labors to chat, smoke, drink, perhaps discuss football. Stress positions (not considered torture in W's administration) are employed in Mercenaries V, 1984. His pistol aimed at three men locked in knuckle push-up posture, the persecutor smiles at us, presuming our approval. A uniformed guard, in Interrogation I, 1980-81 truncheons the torso of an inverted prisoner. Another guard looks on, giving instructions. This new guy, the instructor thinks, may possess natural skills but he lacks finesse. He will learn.
Though we, it seems, never do.
"Creature," November 5 – March 19 at The Broad Museum,  221 S. Grand Ave. Los Angeles, CA 90012, www.thebroad.org.