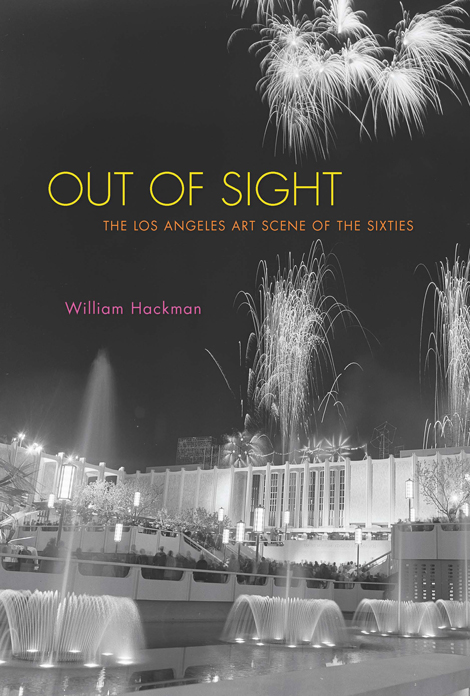 BOOKS
When Art Came to Los Angeles
Given the current narrative of Los Angeles art (dueling contemporary museums on Grand Street, hangar-sized prestige galleries in East LA, art openings timed to coincide with Oscars) it is surprising to remember that the Los Angeles County Museum of Art is only 50 years old, and the Museum of Contemporary Art a mere 35. Although LA had a museum as early as 1913, it was an all purpose mishmash of taxidermy, minerals, and "things of interest." When it displayed fine art, it was brought in from another city. Between the 1950s and the 1970s it looked like LA would produce an art scene. These are the primary decades in which William Hackman's Out of Sight: The Los Angeles Art Scene of the Sixties is set.
The book opens in 1949 at the home of Walter and Louise Arensberg. Walter Hopps, only 17, is at their house on a high school field trip. As LA lacks an art museum, students are taken to visit private collections in hopes of making them more well-rounded people. At this point in time, Hopps still plans a career in medicine. From his perspective, their house is a veritable museum of modern art. Besides their extensive art collections, they have one of the best private collections of art books. Hopps is invited to return, and becomes a regular visitor. During one of his visits he first encounters Marcel Duchamp, who is staying there. One advantage that the Arensbergs had during these early years in what Walter described as a "perfect vacuum" was that their collection and abode were a destination. It is heartbreaking to realize that this collection ultimately headed east.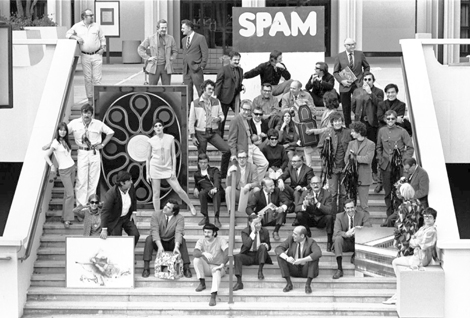 For context on the era that the book covers, author Hackman treats us to a history of Los Angeles. Most of the original art market in LA took place in hotels, and the art patrons were tourists. Plein Air paintings were the mode. There were a variety of schemes to bring art to the city in the 1920s. The original plans for Hollywoodland included an arts venue or colony. City developers met with art clubs to bring art to the mix in order that it might be perceived as a proper city. There were even plans for an artist colony in Venice called Artland. During WWII sophisticated Europeans invaded Hollywood, and LA sought to brand itself as a world-class city with an art museum. The vast gulf (both geographical and metaphorical) between Pasadena and the west side is explored and explained.
When Walter Hopps ultimately pursued a gallery, he figured that he'd need to promote jazz concerts to underwrite it because contemporary art wouldn't sell. An early venture called The Syndell Studio is compared to Cabaret Voltaire. He famously staged an art show in 1955 on the Santa Monica Pier merry-go-round. His meeting with Kienholz feels like a paradigm shift, and it marks the starting point of the period that this book focuses most on. The Ferus Gallery was founded by the two in 1957, and it laid the groundwork for an LA art scene. In 1958 Irving Blum took over the Kienholz half of the partnership, and the gallery became a more viable business. Before long, the stretch of La Cienega near the gallery had new neighbors who were also dealing contemporary art.
As the book proceeds, the juggling act becomes defter. When Hackman addresses the Wallace Berman obscenity arrest, we get the context of the hard-right political environment that blanketed LA during those years. When LA artists start to explore new materials, the natures of LA industries get a thorough exploration. By the end of the book, the various artists lumped into the "finish fetish" category get explored as individuals enough to tell them apart. The reader is treated to the machinations that birthed LACMA, The Women's Building, LAICA, CalArts, and The Norton Simon Museum.
Ferus closed in 1966, and the commercial art world largely headed back East. By the time CalArts opened in 1971, Los Angeles legend John Baldessari was advising students to head to New York in order to achieve success. Things are very different now, as most of those galleries have LA outposts. This book does a remarkable job of reminding us how different Los Angeles looked before the city had a museum dedicated to contemporary art. At 250 pages, it also reminds us that good things do indeed come in small packages. And despite the very distilled narrative, we get to meet such treasures as Marjorie Camaron, The Instant Theatre, and numerous collectors who weren't just in it for the money.
Out of Sight: The Los Angeles Art Scene of the Sixties
by William Hackman,
Other Press,
308 pages. $27.95