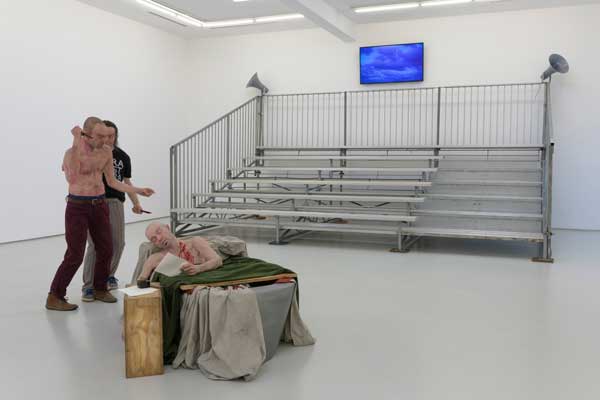 BEST IN SHOW 2016
LA's Top Ten Shows
"My name is called Disturbance," as Mick Jagger sang in "Street Fighting Man," and as 2016 careened into 2017, many of us wondered where exactly we stood with respect to what beckoned immediately across the horizon and came to grips with an unsettling notion that we might have no real understanding of what constituted that specific place. Our own physical actuality had made its own irrevocable alterations to that space and our own perceptions were not completely reliable in negotiating it. We had shaken the cosmic order and our tools for defining, measuring and navigating it were no longer entirely trustworthy. The best shows of 2016 somehow managed to anticipate, respond to or otherwise engage this disturbance.  Where might we go from here?  
1. Doug Aitken "Electric Earth"
MOCA at Geffen Contemporary
The sense of place and encounter are critical to Doug Aitken's vision; and for Aitken's mid-career retrospective, MOCA Director Philippe Vergne turned the Geffen Contemporary into an immersive odyssey and reconfigured the space to parallel Aitken's process, with its infinite expansion or compression of the moment, convergence of microcosm and macrocosm, and sense of harmonic decay. The Geffen has never looked better.
2. Neïl Beloufa "Democracy"
Ghebaly Gallery
Neïl Beloufa draws his (and notionally our own) place into (and conceivably out of) the world in 3D that syncs with the fourth and finally the virtual and even hypothetical worlds (in film and video) we might collectively be creating for ourselves. In a show that could not be more timely or insightful, Beloufa subtly magnified the direct and oblique connections between views of the contemporary personal, (geo)political and geo/astro-physical realities—all verging on implosion and auto-sarcophagy.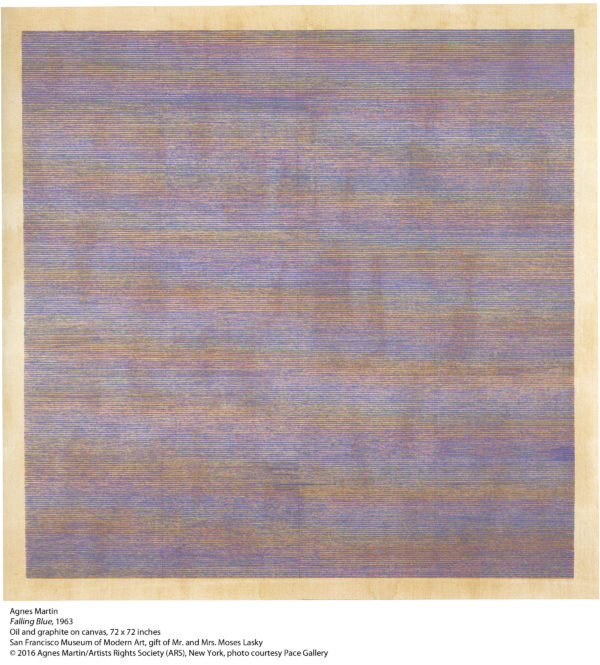 3. Agnes Martin; John McLaughlin, solo retrospectives
LACMA
As we grappled with the realities of our physical and cultural place, LACMA mounted two solo retrospectives of artists whose work transmuted those actualities into a purely chromatic, almost transcendent, distillation; or, alternatively, turned away from them entirely, to focus on an interior, and inherently abstract, domain of graphic rhythm and tonality. There is a rhythm and harmonic to every odyssey, and the song we must sing along that trajectory is uniquely our own.
4. "Grind" curated by Joshua Nathanson
Various Small Fires
If the place you happened to be starting from was a city, there was no better show than Nathanson's dozen artists, variously filtering the dystopian spectacle of urban life, its revelations, concealments and secretions through a flâneur-of-the-gutter sensibility  "The city is a churning mess of ancient/current/future. Grand hopes now seem naïve and it's really a bummer."
5. Henry Taylor
Blum & Poe
Taylor shows us the continuity between what shapes perception (and painting, art) and what shapes character itself. The continuity between place and personhood—his "portraiture as landscape"—is an enormous part of his art, nowhere more so than this body of work, magnified by its brilliant installation.
6. "Revolution in the Making: Abstract Sculpture by Women, 1947–2016"
Hauser Wirth & Schimmel
Paul Schimmel seems determined to eclipse the collective star power of the other most important LA galleries by exhibiting nothing short of a first-rate museum-worthy standard. He's succeeded so far with remarkable consistency; but the HS&W inaugural survey of postwar and contemporary sculpture was especially dazzling, reclaiming and cogently articulating the critically essential role of women artists in the evolution, not merely of form, shape, texture and ethos of contemporary sculpture and installation, but the entire scope of contemporary art and ideas.
7. Daniel Joseph Martinez "IF YOU DRINK HEMLOCK, I SHALL DRINK IT WITH YOU or A BEAUTIFUL DEATH…"
Roberts & Tilton
As an art world provocateur, Martinez has few equals.  His calculated outrages can be off-putting if not downright infuriating. Here, turning a page from Peter Weiss and Peter Brook (and possibly Plato), he's implicated us in a Gordian knot of revolution and madness to compound the cruelty of Brook's Artaudian chemistry of insanity and theatricality, sending more than a few of us off with a scowl—until we recognize our own names in that death warrant.
8. Tom Knechtel "(Astrolabe; The Reader of His Own Self)"
Marc Selwyn Fine Art; CB1 Gallery
Knechtel in recent years has pulled in his focus somewhat from the swirling surrealism of the larger world to his immediate surround—the actualities of everyday life—but always observed closely and rigorously. Hints of that theatricality blaze, but what endures is an unbroken faith and pure poetry.
9. Raffi Kalenderian "For the Dead"
Susanne Vielmetter
Kalenderian's painting has always been so engaged with living in the contemporary moment, it is hard to place his work in a more elegiac light. But contemporary moments are pushed inexorably into the past, variously transformed, eroded, or simply buried; then churned up again in a fresh light. Kalendarian interrogates both his subjects and his formal and technical approach to them under this unforgiving light and draws something sublime out of this chromatic firestorm.


10. Amy Bennett, "Small Changes Every Day"
Richard Heller Gallery
With or without photographic memory, we make over the particulars of place in our imagination every day.  Amy Bennett's work has long played with this notion, and the fracturing and faceting between the hypothetical and the fictional (frequently infused with a subtle paranoia) bracketing it, and makes it a part of her process – a way of possessing a world beyond one's grasp and its continuous making and unmaking.