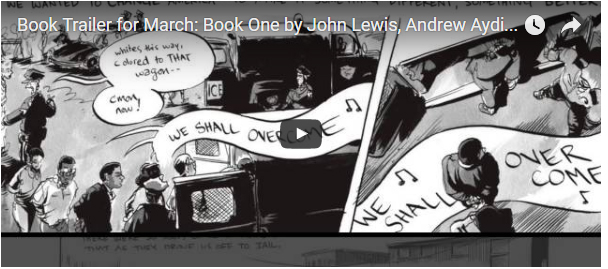 Art and Literature in the News in a Post-11/8 World
Do you feel you are living in some bizarre parallel universe? Is your head spinning, your anxiety spiking? Are you starting to worry you're on a watchlist because you've signed so many petitions?  Are you breathlessly hoping that Penthouse gets the sex tape, that certain people have massive heart attacks, or that you'll wake up and realize it's all been a bad dream? Is everything in your life, including art, taking a back seat to politics?
You're not alone!
In an attempt to aggregate and categorize some of the overwhelming noise, I'm going to focus in on items from the week's political news that tie directly into the arts.
Right on cue Saturday morning, Trump took the bait and attacked civil rights leader John Lewis in a series of tweets after Lewis said he didn't think Trump's presidency was legitimate. (The completely tone-deaf-on-race Trump then cancelled his MLK Day visit to the national African American Museum!) As a result, the Washington Post is reporting that Lewis's books are selling like hotcakes.
Earlier this year, Lewis won the National Book Award for Volume Three of his powerful graphic novel, March. Click here to read my post: MARCH: National Book Award Winner Reminds Us that Eternal Vigilance is the Price of Freedom. The boxed set is temporarily out-of-stock on Amazon, but many new and used ones are available from third-party sellers.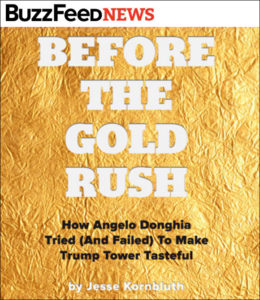 Long time friend and mentor Jesse Kornbluth has an article in today's Buzzfeed: Before the Gold Rush: How Angelo Donghia Tried (and Failed) to Make Trump Tower Tasteful. Jesse gives us the low-down on how "Trump took Donghia's subtle, sophisticated approach and turned it into his version of a showplace — a sunglasses-required vulgarity that Tony Montana and Saddam Hussein would envy."
We also get the scoop on why the Trumps didn't buy Andy Warhol's eight silkscreens  of Trump Tower (talk about a bad business decision!) — the work wasn't color-coordinated with their "Versailles in the sky."
Click here to read the full article
Artist Luis Camnitzer has started a tongue-in-cheek petition to commission Christo with an orange fence that separates the US from Mexico. Camnitzer states "though only 24.5 miles long then [Running Fences,1976], in full-length today it would transform a racist project into a public art event, and help improve the image of the U.S. with a cultural veneer." 

Click here to sign the petition
The National Museum of Women in the Arts is inviting visitors to Washington DC for the Inauguration and the Women's March  to "celebrate the 'nasty women' who blazed trails." They will be leading an hour long Nasty Women tour that pays tribute to women who thrived as professionals despite social norms that would keep them from it. The museum is open free to the public on January 21-22. 

Click here for more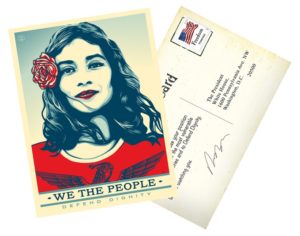 Thanks to reader Susan Englert for alerting me to this Kickstarter Campaign: We the People: public art for the inauguration and beyond. Artists Shepard Fairey, Ernesto Yerena, and Jessica Sabogal, have collaborated with photographers to create a series of images that capture the shared humanity of our diverse America. They need your help to get the posters printed and distributed on a massive scale in time for the Inauguration. 
As as self-avowed nerd who has spent much of her life with her nose in a book, I was overjoyed to see this article in today's New York Times:Obama's Secret to Surviving the White House Years: Books. We are SO going to miss Obama! 
Click here to read the full article
I'd like to wrap things up with a little humor – something we're going to need a lot of in the days and weeks to come:
Cross-posted from Jane Chafin: Offramp