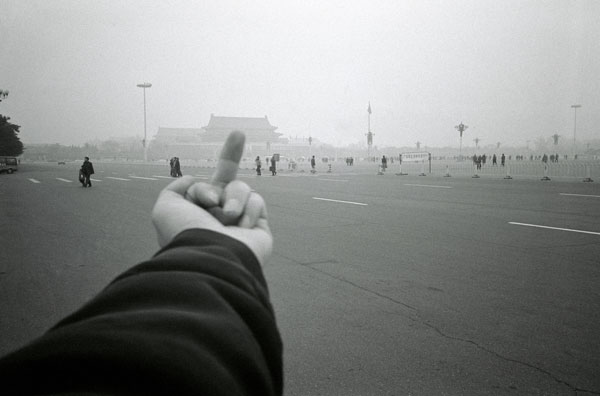 Ai Weiwei
Haines Gallery / San Francisco
Artist Ai Weiwei takes himself down a notch before you can with the title of his Haines Gallery show, "Overrated."  The works are largely reiterations or extensions of previous work for which he is already world famous; works in which he subverts the authority of history and of the power establishment.  To the left as you enter the newly reconfigured gallery hang the 40 photographs from his "Study of Perspective, 1995–2012" series. (For nearly two decades, he has photographed his hand raising the middle finger in front of famous buildings or settings.)  Here Ai proves himself an equal-opportunity prankster, showing his cagey disrespect for both Tiananmen Square and the White House.

In 2011 Ai was confined to house arrest by the government for what was later alleged to be tax evasion. He was prohibited from talking to the press, and he protested his incarceration silently, by setting out a bicycle in front of his compound and placing fresh flowers in its basket every day.  For the sculpture Bicycle Basket with Flowers in Porcelain (2015), the basket has been replicated in porcelain and filled with porcelain blossoms.  These were made in Jingdezhen, a centuries-old town in China famous for its porcelain manufacturing and where Ai had his "sunflower seeds" made for his installation in the Turbine Hall of the Tate Gallery in 2010.  (Los Angeles-based artist Keiko Fukazawa also references his gesture of protest in her lyrical installation, "Homage to Ai Weiwei," in the C.O.L.A. show at the Municipal Art Gallery through July 3.  That one includes a real bicycle, enwrapped in and surrounded by these porcelain flowers falling like rain.)  The Haines show also includes Surveillance Camera and Plinth (2015), a marble replica of the surveillance camera outside his front gate, which has kept an official eye on him.

In LEGO bricks (2015) LEGO pieces have been used to recreate the famous photographs of Ai dropping an ancient Han dynasty vase. The pieces themselves reference the LEGO pieces he used during his celebrated site-specific installations at the former penitentiary on Alcatraz, September 2014 to April 2015.  Here as there, Ai Weiwei's focus on political issues, particularly the abuse of state power, gives his own work remarkable resonance and presence.
AI WEIWEI | OVERRATED
through July 2, 2016
HAINES GALLERY
49 Geary Street, Suite 540
San Francisco, CA 94108
hainesgallery.com