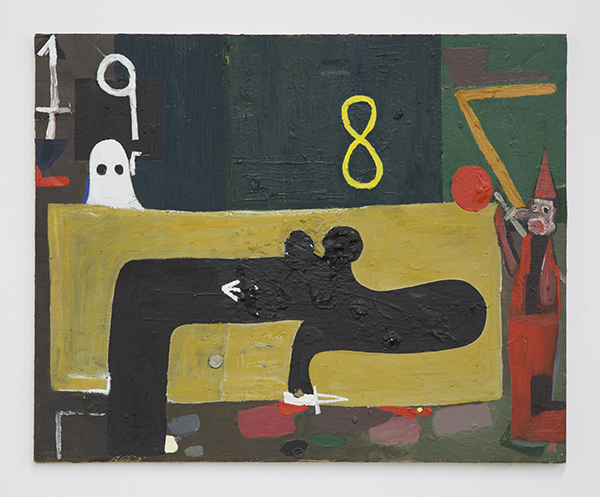 Aaron Wrinkle
Night Gallery / Los Angeles
"69,"Aaron Wrinkle's exhibition of drawing, painting and related constructions must be considered in the context of what Night Gallery calls "the mausoleum" that frames it. Initially one might think of it as a pavilion, albeit of a hand-hewn urban rusticity that bears little resemblance to say, the pristine and polished pavilions and similar constructions of Dan Graham, the artist's muse.
The primary construction materials appear to be plywood and pressboard panels mounted on concrete cinderblocks, with a door that resembles a refashioned commercial kitchen door—entirely assembled by the artist himself. Yet even the title he gives to the exhibition has a sly inverse-reflective aspect one might easily associate with an artist like Graham. He imbues it with a rotational play on his astrological glyph (Cancer), as well as invoking the spirit of David Bowie, having learned of Bowie's death from cancer at 69, while listening to Bowie's 1979 album, Lodger. Another, slightly more violent rotation is presented—another iteration of the restored Volvo sedan once owned by CalArts' professor, artist Douglas Huebler—this time flipped over on its roof. But these themes now move in an unmistakably sacral or spiritual direction.
Candles—mauve or lavender, and at least one or two orange, once lit and now partially melted away—protrude from every side of the structure among randomly placed plain white, never-lit tapers. Variously constructed and composed panels are placed where windows might be expected to penetrate the structure; except here, they're blackened or otherwise obscured and their imagery, mask-like, schematic figuration or rebus-like–e.g., a yellow mask rubbed out against a black panel, or, in Lost Portrait (Green) Formal Study (2015), an index card with a scrubbed-out face in pink and red centered in a green field. Every kind of mysticism is available here, and all before one walks in the door.
If this is to be considered a burial place, it is the artist's own. A panel on the north wall brackets the artist's birth year between crude calligraphic-cartoon ghost and sorcerer. Below that, a vaguely canine-shaped diagram maps an indeterminate space. Considered as a whole, it's closer to an exorcism. In a large painting directly to the right, Ritual 1 (Offering) (2016), a stovepipe-hatted shaman looms above a kneeling child and simian sorcerer making offerings to a fetal Beelzebub pinned down by a cross, the whole of it in a black null space loosely connected by pale undulant lines. There are no words; but there are in the other two panels, one of which, Drawing Arrangement 1 (2016), is essentially a bulletin board of drawings–some of them vaguely schematic and frequently obscured; others crudely expressionistic, vaguely linked by looping lines. (The looping line functions as a kind of syntactic device in Wrinkle's compositions.) In two other rebus-like panels, there are more delicate figurations, including what appears to be a quasi-photo-realistically rendered self-portrait; but again, Wrinkle can't resist the impulse to partially rub it out. The written fragments disclose still less, or perhaps as much as Wrinkle cares to, of this dark trajectory.