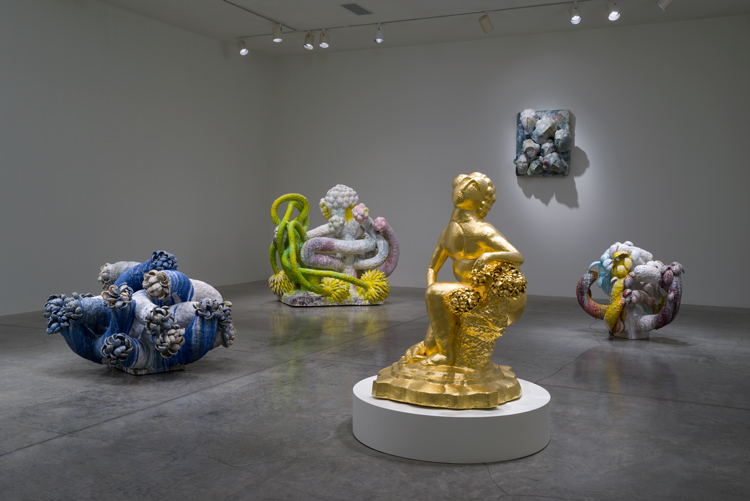 Mud Gets Off the Ground
Clay Sculpture Achieves Parity with Traditional Medium
Ceramics is again making a major splash in the world of fine arts. Way back in the 1950s Peter Voulkos pushed ceramics into that realm, with his Abstract Expressionist pieces of cut and contorted clay slabs, followed by the works of his students (among them, John Mason, Ken Price, Paul Soldner) and others who continued to establish ceramics as sculpture. Today über-gallery Gagosian is pushing Edmund de Waal, whose work is made up of exquisite little teacups set just so in custom-made metal frames or on custom-made metal tables. They're beautiful installations, but they are still… teacups, handmade from porcelain.

Perhaps it was Kristen Morgin's remarkable dilapidated vintage car—made of unfired clay, cement and wood—in the landmark "Thing: New Sculpture from Los Angeles" show that signaled to me a new generation working with the medium, in what I'll call the Clay Sculpture movement. That was 2005 at the Hammer Museum. Since then, a number of gifted Southern California artists have often used clay as the basis of figurative sculpture. Generally, such sculpture is made from wood, stone, bronze and other metals—partly because of tradition, and partly because clay has been seen as a lesser medium. In the hands of these artists, clay achieves parity with those other materials—first, by assuming clay can do just about anything the traditional sculptural materials can, and perhaps more; second, by playing with scale; and thirdly, by introducing a conceptual framework. In the Clay Sculpture movement, works are brought off the table and off the shelves and onto the floor and onto pedestals. These works are large, some life-sized, as in the case of Morgin and Ben Jackel, and some larger than life-size, as in the works of Tanya Batura and Matt Wedel. (Their precursor, the San Francisco-based artist Viola Frey, made ceramic sculpture on a gigantic scale, and Wedel has been moving in that direction.)

"It's a sculpture material that most people can handle," says artist Phyllis Green, who has been working with clay for 40 years and also teaching for half of that time. "They can form something without a lot of technical experience or know-how, although it's complex when you want to make something particularly large." Green has made several series of figurative sculpture using low-fire clay, although she completes them with other kinds of finishes, not traditional glazes. For the series "Odd Old Things," abstracted torsos dressed in tutus, she used synthetic rust coating; for "Spinning Heads," invoking whimsical mops of women's hairdos, she used acrylic finish and varnish.

"I came to clay by accident," says Tanya Batura, an artist known for busts of bald white heads displayed on pedestals. They are usually tilted and sometimes have highlights of red around the mouth, giving them a sensuous, erotic quality.  "When I was at Manchester Community College, I started taking ceramics classes," says Batura, who grew up in Connecticut. "I became more and more involved in it, till I recognized that was my focus." Later she transferred to the University of Washington in Seattle, and finished her BFA in 1998. Two years later, she enrolled in the MFA program at UCLA, where she was a student of Green's.

In Los Angeles she felt she had to rethink her work, and she found inspiration in an unusual place—by walking into the Medical Library. "I came across a book on plastic surgery," she says. "It was one of those Aha! moments. I was already thinking of erotic, sensual imagery—all those fashion magazines with close-ups of mouths." She began the head series at UCLA, making some all–dark brown and some all-white. "I really love how light plays off the heads," she says. "It's more about form and less about surface, and the white looks like a canvas." She has continued with the heads, leaving them white "because it's more neutral, it also helps harmonize the work."
Her figures are formed by hand, and she starts by building up coils of low-fire earthenware clay. Then she shapes the features—eye sockets, nose, mouth and so on—using her fingers and basic tools. "I'm always smoothing when I'm building," she says. "I sand them after they're fired, and then they are airbrushed with many layers of thin acrylic paint." She sands in-between coatings, so that the surface is preternaturally smooth. Recently, she has been slashing at and piercing the smooth surface—scarring the heads, in a way. "It has the energy and activity of the mark-making," she says. "It's disturbing to some people to damage something so perfect, but I think of it as another form of deconstructing something."

Matt Wedel is a ceramic artist, also educated in SoCal at Cal State Long Beach, who has taken clay to another level. He studied with Kristen Morgin and Tony Marsh, and now lives and works in Ohio. "My dad's a potter, so I grew up in his studio, working with material," he says. Later, when he became an artist, "I found myself approaching ceramics in the context of sculpture as a place to begin. It became a platform for me to work." Wedel actually found a certain freedom working with clay. "It seems like it was a place I could exist without following so many rules. No one was paying attention, I could just be on my own." His recent show at L.A. Louver, "Matt Wedel: Peaceable Fruit" showed him exploring some of the same forms and ideas as before—strange flowering plants with intertwined tendrils, rotund humans who seem almost mythological in their generalized appearance and classical postures.

"Initially the works were landscape-based," he says. "Figures emerged as symbols of culture amidst the landscape. Now the figures have become ways of keeping alive or continuing historical narrative, symbols of moving forward or some kind of reconciliation with culture itself." His figures have also become very large—the people can be bigger than life, and a "Flower Tree" can be six feet tall. Unlike Green and Batura, Wedel uses ceramic glazes to finish off his work, with the yellows, greens and turquoises sometimes melting into one another, as fired glazes will.

"As artists we try to find materials that we feel fully engaged with," says Wedel. "I make the clay figures, I glaze them, fire them in studio, some in sections. It's exciting to make everything myself."  

UPCOMING EXHIBITIONS: Tanya Batura: "Lineage: Mentorship and Learning" (through June 19) at the American Museum of Ceramic Art, Pomona, "Observations" (through March 17) at Long Beach City College; Phyllis Green: "Re-Walking" (through March 24) at the José Drudis-Biada Art Gallery of Mount St. Mary's University, Chalon Campus, West Los Angeles.