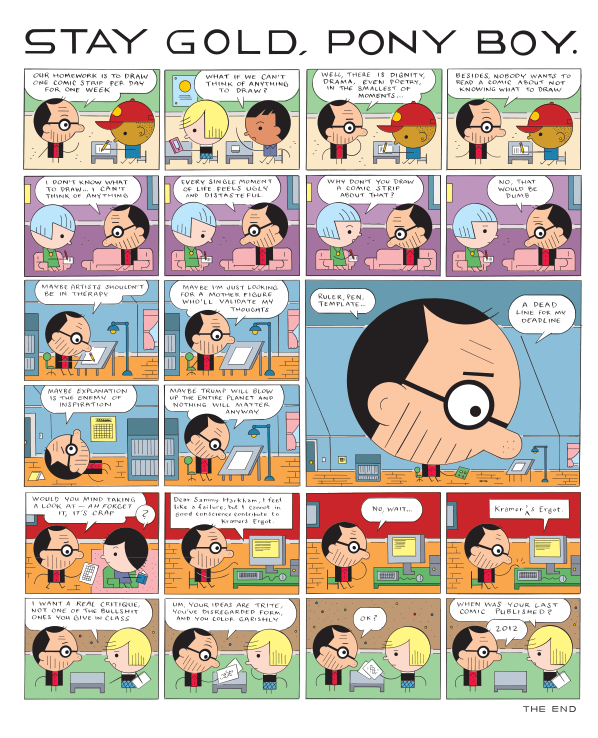 UNDER THE RADAR
You always hear about how we're living in a golden age of TV, but you rarely hear the same thing about comic books. Which is weird, since comic books have taken over the film industry, further fueling the current golden age of TV. But far below the Olympian economics of MARVEL & DC, an auteur-driven underground continues to thrive, from scads of self-published mini-comix to MacArthur (and actual) genius Lynda Barry's uncategorizable Syllabus.
Fans of Maria Bamford's dazzling (and sadly cancelled) quasi-autobiographical Lady Dynamite! Netflix series already know of her romance with LA painter Scott Marvel Cassidy, as well as her droll pug sidekicks Blueberry and Bert. Now the story has been recounted in the comic "Hogbook and Lazer Eyes" written by Bamford/Cassidy, drawn by Cassidy and told from the pugs POV, more or less.
There's a lot that's more or less about "HG&LE" —it's more or less narrative, more or less experimental, more or less autobiographical, more or less ironic, more or less perfect. The writing is less existentially anxious, socially satirical and linear than Bamford's performative writing, and Cassidy's artwork is more formally grounded in the fine arts—while clearly cognizant of the semiotics of graphic narrative—than anything MARVEL (the corporate entity) has to offer.
Falling somewhere between the studied communicative workmanship of Justin "Binky Brown Meets the Holy Virgin Mary" Green and the slippery Art Nouveau elegance of David Sandlin, Cassidy's line ranges from academic to outsider, from expressionist to conceptualist, but are contained under a signature umbrella that serves the telling of the story—even when the story veers into uncharted territory, like a pug's unnatural obsession with Michael Flatley of "Riverdance" fame.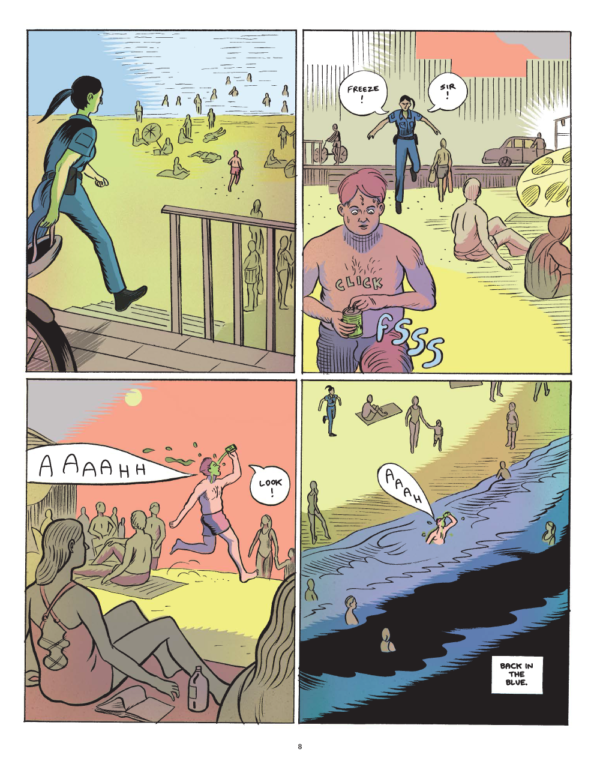 Which qualifies "HG&LE" as a consummate example of the idiosyncratic semi-autobiographical PoMo pastiches—realized in equally quirky comic art historical mashups and variations—that have regenerated comics as a "golden age" medium. The flagship anthology title of this era has been Kramer's Ergot—started in 2000 by Los Angeles based artist (and Cinefamily cofounder) Sammy Harkham, and surviving through five different publishers—including the lamented Buenaventura Press and Picturebox imprints—over its 10 issues.
It was with the late Alvin Buenaventura in 2008 that Harkham published the epochal KE7—a 21 x 16-inch hardcover comic book with a cover price of $125, and was rumored to have sunk the Oakland-based publisher. But the global financial crisis of that same year put an end to an enormous amount of independent creative enterprises, particularly those that hovered on the brink of solvency. For a while it looked as if the comics boom of the previous decade had run its course.
But that turned out not to be the case. It did take four years until the next KE emerged, (the controversially peculiar #8) but the title's reemergence signaled the surprising and ongoing vitality of the underground community. 2016's crowd-pleasing #9 was issued by Seattle-based alternative comics powerhouse Fantagraphics, who also just released #10, which is even better.
With a mix of stellar (a history lesson from the immortal Kim Deitch, R. Crumb with a hilarious archival-but-sadly-relevant semiotics slapstick two-reeler from his '80s racist boneheads The Ruff-Tuff Cream-Puffs, the always-astonishing psychedelia of C.F. and Marc Bell), vintage reprints (Sharry Flenniken's now-actionable National Lampoon strip "Trots and Bonnie," a single Sunday page of Frank King's "Gasoline Alley"), and recent discoveries (the absurdist primitivism of German illustrator Aisha Franz, the garish, supersaturated Spain-meets-The-Hairy-Whoisms of Lale Westvind).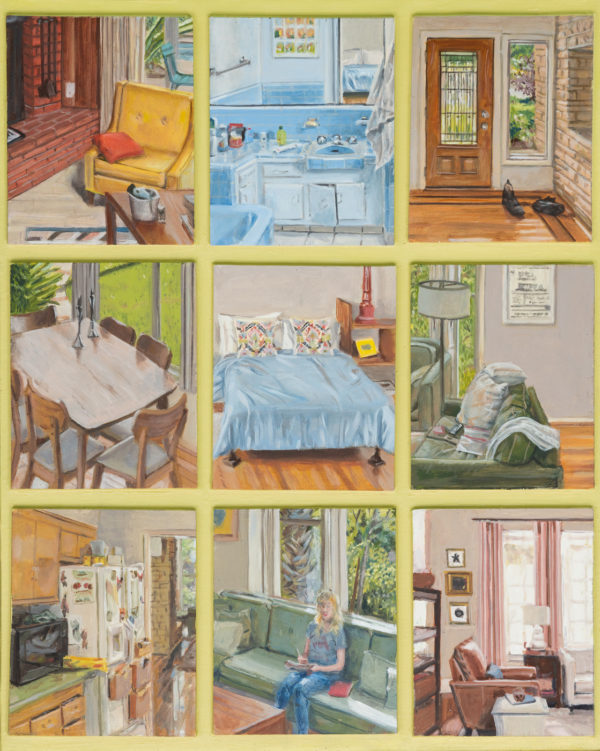 While I'm always a sucker for comix that sacrifice conventional narrative for the sake of visual innovation (C.F! C.F!), some of the most powerful works here are the examples of longer-form storytelling—Will Sweeney's dystopian fable of reptilian amputation and deliverance "The Embiggening," Dash Shaw's perplexing "Police Woman," a #notmetoo crime story involving the questionable fetishistic potential of warm Sierra Mist, and editor Harkham's own exquisitely paced "Blood of the Virgin" an early-Los Angeles rags-to-riches saga told in his signature low-key sidelong style, resembling the soft noir pseudo-Americana of Wim Wenders rather than anything that's come out of Hollywood since the early '70s.
Harkham has also struck a delicate balance in the editing and production of this issue of Kramer's Ergot—the format is large, but not extravagant; the cost is not prohibitive; the abundance of literary and visual riches balanced and well-sequenced. The only thing missing is a computer dating romance story between a bipolar comedienne and an aging figurative painter told from the POV of two dead dogs. See next ish!