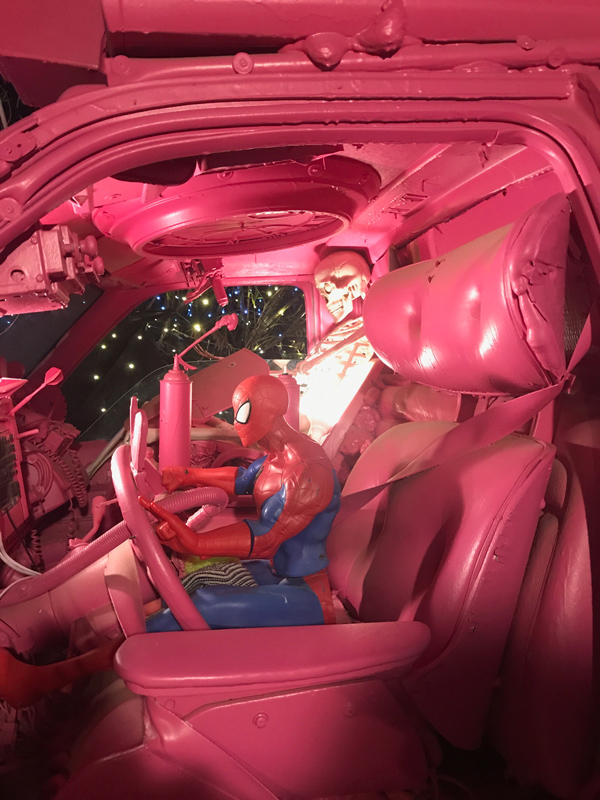 Toilet Cheer, Surreal Santas
Kenny Irwin's Robolights in Palm Springs
Robolights, the annual open house for a vast year-round, found-art installation in Palm Springs, is coming to a close. Open through January 8th nightly from 4:30-9:30 p.m., aglow with holiday lights, this surreal yet sweet art installation is rich in detail and trenchantly witty. We were among a diverse crowd attending on New Year's Eve, ranging from small children to thrilled art patrons.
Artist Kenny Irwin has overtaken his late father's four-acre property in near totality now; he began constructing his large-scale artworks when he was 9 years old.  Since then, Irwin has shaped giant robots, animals and alien sculptures—according to Irwin' over 1000 tons of artwork.
Irwin is now in his 32nd year of Robolights, decked out for the holidays with giant candy canes, green reindeer and scores of xmas lights. It takes him several months to set up the glittering winter display while he works on the creations all year long—often building the larger pieces right on site. Using discards, scraps, donations, and eBay buys, Irwin has created a dense and wild world, featuring toilets, microwaves, telephones, metal garbage cans, and tube TVs among other objects. Viewers wander through tangled paths that lead around a small pond and swimming pool, skirting the edge of Irwin's home.
The most humorous is Rudolph's house, with Rudolph peering out wild-eyed; mini-carousels with spray-painted pink toilets seats; a 500-foot roller coaster made of lawn chairs and bright yellow female mannequins transformed into reindeer with antlers— a mind-blowing treasure of outsider art.
TEXT 1-760-774-0318 to make an appointment to see the art year 'round, or take a drive-through next weekend to enjoy a last look at Robolights.