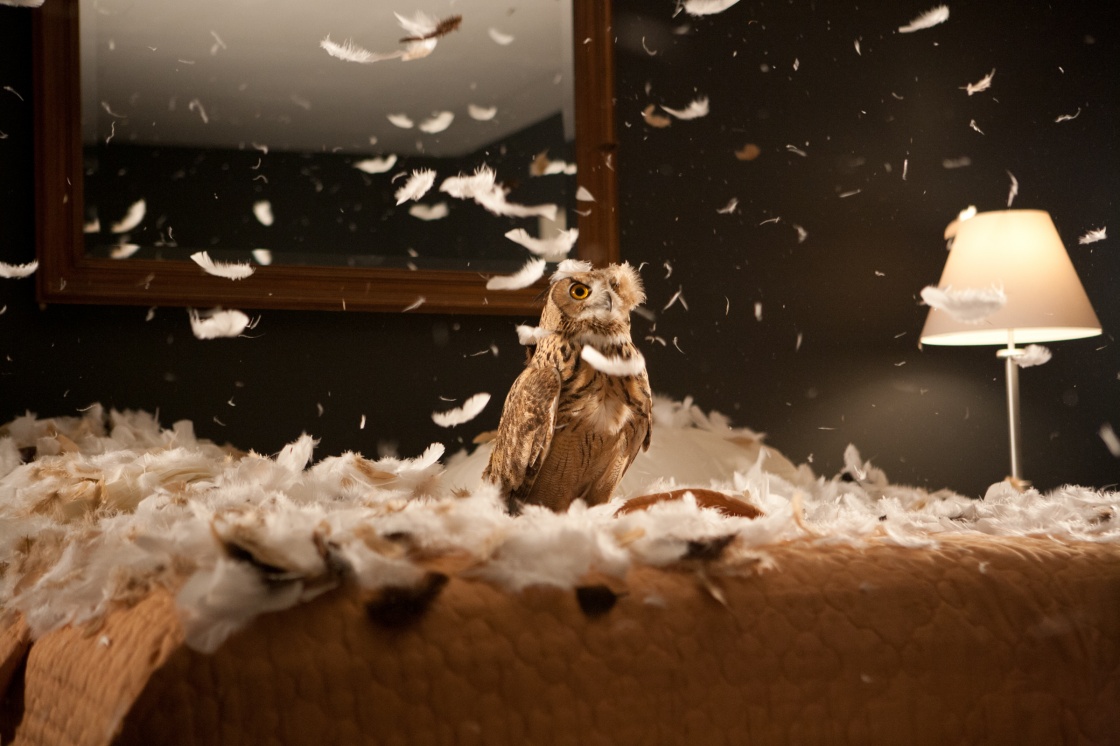 'Are the stars out tonight?' Harmonic convergence for a new art season
[Various museums, galleries and other venues throughout greater Los Angeles]
The beginning of another arts and culture season also marks a point where we really start to feel the impact of everything we've been experiencing over the preceding orbital/calendar year and start to take its measure. Events move swiftly; you can feel as if you're stepping onto a speeding train just leaving your apartment; and to miss an event in one's agenda, or just a day's news can make you feel as if you've missed a station. Our connection to the everyday realities can seem so fragile, so contingent; yet that connection, those realities are themselves being continuously redefined and renegotiated. We need to make course adjustments, reorient the compass, re-navigate. We're looking forward to the new – thrilled by the possibility of fresh ideas, sensations, beauties (and maybe a little desperate?); taking charge of the negotiations; but it helps to make sense of where we've been. (Then again – do we ever really know?)
This year, the best of the first major fall museum exhibitions and gallery solo shows collide, converge, fuse and spark to give us a hint of resonance, new direction, fresh looks at things we might have missed or overlooked, as well as those elements of course correction and perspective that always need to be refreshed.
We get more than a hint of resonance with Doug Aitken's mid-career retrospective, Electric Earth, which (with MOCA Director, Philippe Vergne's unstinting and hands-on commitment) practically makes MOCA's Geffen Contemporary over into a resonant vessel of sight and sound. For Aitken's show, the Geffen – which has never looked better – is splayed out into an open maze of almost 20 years of Aitken's architectural/sculptural/experiential multi-screen installations, along with various photographs, lightboxes, collages, sculptures or other objects that offer a kind of emblematic road map to Aitken's process, a connective tissue that invite the viewer to 'walk this way.' Vergne has reconfigured and plotted out the space to parallel Aitken's process, with its infinite expansion or compression of the moment, convergence of microcosm and macrocosm, and sense of harmonic decay.
I thought the passage in Vergne's catalogue commentary, expanding on Aitken's [film] editorial process, summed up both his own installation strategy and Aitken's fundamental approach: " … a visual and temporal space conceived to suggest the expectation of narrative order, a tension toward 'what comes next,' a dynamic that is endlessly pointing forward giving rise to an open form – improvised and interfaced with thematic relations between sounds and images that strategically dissolve and reconstitute a visual, time-based, and harmonic landscape. This sense of pacing, of interrupted moments, of shifting and floating is simultaneously a summary of a narrative and the negation of that narrative."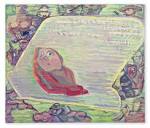 This is the museum exhibition as immersive experience; and the viewer floats away from it ready for pretty much anything that follows. Assuming you're not spent from the experience (and pace yourself – you may need more than one), you might segue over to Hauser, Wirth & Schimmel for a museum-level exhibition of the work of the Austrian artist, Maria Lassnig, surveying in 31 paintings almost the entire span of her long and diverse career – a kind of prismatic kernel of the major retrospective of her work that appeared at the Tate Liverpool this summer and will soon travel.

Maria Lassnig is quite simply the greatest painter you've never heard of – except you actually may have, in recent years anyway, only to … well, … push her off the radar again. Lassnig finally began to achieve the recognition she deserved in the last quarter of her career; but her growing audience had really only the barest clue of her daunting scope. The Tate curators – and here in L.A., Lassnig Foundation Chairman, Peter Pakesch and our own Paul Schimmel – have done us all the favor of seizing upon the breadth of this extraordinary career and unfolding its varied objectives and mechanisms of inquiry, its approaches to media, its psychology and overall consciousness, sheer mystery and abundant humanity, into a kind of compact narrative of the artist's life that, spread out through only five beautiful galleries, is quietly breathtaking.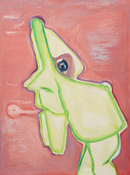 Grounded in a figurative tradition informed by expressionism, Lassnig veered early into abstraction of varying degrees of painterliness and coolness, but always true to herself and her own artistic investigative spirit. The bodily, performative aspect of her gestural style turned her toward a more distinctly psychological, introspective and body-conscious approach, and her work in the 1960s and 1970s took on a more self-conscious, even surreal cast. Her later work, though cooler in palette and approach, partook of even more intimate, diaristic detail. Her subject is, above all else, consciousness itself – and she is true to it to the end.
Across town, there are two other museum quality surveys – and no less breathtaking. The Gagosian Gallery's 25 year survey of Helen Frankenthaler's painting, Line Into Color, Color Into Line, clarifies (with some curatorial help from Yale art historian Carol Armstrong and the eminent writer and curator, John Elderfield) the complex genesis and structural sophistication of work that is occasionally viewed through an over-simplistic 'color field' prism. The 18 canvases that span the years 1962 to 1987 demonstrate a complex and evolving dialogue, not merely of drawing/line/design and color in the classic sense, but formal conundrums of the line in two-dimensional color-zoned space; line and/or color and edge; mark, subject and (colored) ground; and depiction and mark-making generally. They're also, quite simply, gorgeous paintings; and if you're heading to Gagosian to 'educate the eye,' be assured that your eyes will also be satiated with pleasure.
You may experience a sensation of time warp or displacement at the Kohn Gallery's exhibition of painting and drawing by John Altoon (but then, hey – after the Aitken show, you're ready for it, right?). 'Didn't I just…?' Sort of – especially if you were at the Altoon retrospective at LACMA in 2014. But rest assured, you're at Kohn – it's just that good. Just about everything you would want from an Altoon survey is here, from the more densely abstract paintings (some from the 1950s, some from the 1960s); the commercial pastiches of the early 1960s; the slightly surreal and brilliant color abstractions of the 1960s; the Ocean Park series; those tussles between the abstract and figural that occur throughout; to (finally!) the virtuoso erotic and quasi-sexual farces and fabliaux executed well into the late 1960s. It's all here – so just go crazy and try not to spend all your money. It's a commercial gallery, not LACMA, goddamnit!
Okay – so naturally, you're now thinking of heading to LACMA – and why not? It's not too far and there two more superb shows that demand your attention: The Serial Impulse at Gemini G.E.L., a 50th anniversary survey, an elegant and compact survey of the classic best of Gemini's groundbreaking editions; and an absolutely sublime show of 17th century Chinese landscape painting, Alternative Dreams: 17th –Century Chinese Paintings from the Tsao Family Collection.
And now this 'brief list' is getting out of hand, so before I break off (to pick up again before the week-end), let me just give you a quick list of the remaining essential shows so far:
Henry Taylor, Blum & Poe, Culver City
Tom Knechtel: Astrolabe, Marc Selwyn Fine Art, Beverly Hills
Tom Knechtel "The Reader of His Own Self" (do you get the impression we might be going somewhere with this? See, Artillery's "Pick of the Week" for this week) – with
Mira Schor: "Power" Frieze and War Frieze (1991-94), CB1 Gallery, downtown Los Angeles
Edith Beaucage, Luis de Jesus, Culver City
Ry Rocklen, Honor Fraser, Culver City
Rodney McMillian, Susanne Vielmetter Los Angeles Projects, Culver City
Jun Kaneko: Mirage, Edward Cella Art & Architecture, Culver City
And we haven't even talked about music or theatre (or opera) or movies – or fashion. But we will. Before I go, here's one thing that's definitively out of fashion: the Peter Zumthor 'Gumby' blob that wants to eat Wilshire Boulevard. Do we have to resurrect Godzilla and Mothra to dispatch this thing? Calling Roger Corman….