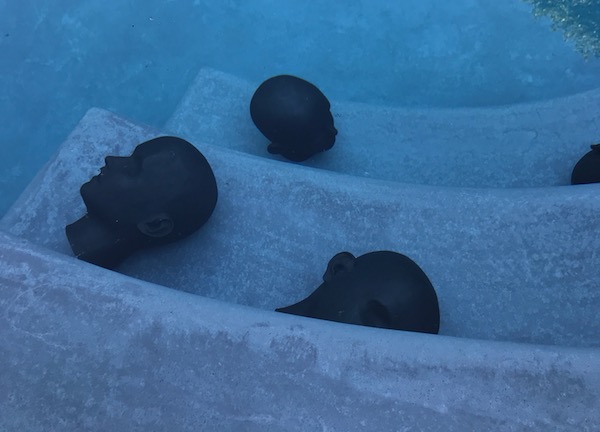 Sizzling Art Summer
Louis Stern, Charlie James, Tierra Del Sol, Coagula, Shoebox Projects, and more.
The summer sizzles when it comes to art in LA, with a wonderfully eclectic collection of art events this past weekend.
Saturday night began at the Louis Stern Gallery in Beverly Hills, where Veda B. Kaya held forth with a beautiful, motion-filled series of works that shimmered with the light of summer. Her elegant works fit the airy space in This World and the Next, a two-person show that also included the Sumi ink and watercolor work of the late Matsumi Kanemitsu. Kaya's work is an astonishing tour de force of minimal colors and maximum, curving, highly dimensional shapes. Perfect for summer: the gallery served up Moscow Mules and chocolate chip cookies.
The summer season was also well served by a stunning collection of Camilla Taylor's sculptures, presented in an invitation-only home-setting in Silver Lake. Sculptural works and paintings ran through the house and into the garden, where some images danced below the water of the pool and hot tub. Veggies, fruit, cheese, and hip, lip-shaped cookies were the fare along with vodka and lemonade; light fare to balance Taylor's intense, visceral, and emotion-filled work. From hands to heads, most of all, her work is filled with heart and soul. The single-night exhibition, titled The Mirror's Deception, focused on the unsettled nature of memory. Guests were riveted by the underwater images, circling the pool to take in different angles while twilight fell.
At Zadik Zadikian's Summer Convergence, a retrospective of the artist's work in an Atwater pop-up gallery, the summery air also sifted in from outside at this townhouse-style location. Entering through an open-air patio and rising over three floors, Zadikian's often large-scale work in soft pinks and lush golds drew an excited crowd to admire, while sipping champagne. Images ranged from the sensual to the abstract, and made both terrific art and selfies. Tasty warm hors d'oeuvres and nuts were circulated by cheerful servers; emptied of furniture, the location offered a modern-art-museum vibe to guests. Overheard: "All the gold in this room, it's like the Fort Knox of art."
We closed our Saturday in Chinatown, where a bevy of galleries held strong openings. At Charlie James, two dynamic exhibitions filled the gallery to the brim with viewers and art, the solo exhibition on the upper level, Dane Johnson's House Party 2 featured interlocking figures depicting human interaction; viewers who ditched their shoes could climb a set of multi-colored stairs to view one work suspended above the rest of the gallery. Downstairs, a terrific group show, Sagi Refael's Dreamin' of A, featured both sculptures and wall art in a dream-like co-mingling.
Transformation was the order of the day at Paige Wery's new project, Tierra Del Sol. The gallery occupies the space formerly known as the Good Luck Gallery. The opening event drew friends old and new and many buyers for the colorful work of Evan Hynes. At Coagula, Christian Spruell's Hydria dazzled with its grids, cross-hatching, and silhouettes; a terrific collection of work from Osceola Refetoff highlighted evocative desert locales, at the photographic artist's own Chungking Studios. Out on the plaza, DJs got viewers dancing.
On Sunday, in a blissfully Zen conclusion to the weekend, Khang B. Nguyen presented Trans-Spatiotemporal Manifestation of Being at Shoebox Projects, mosaic-like, precise paintings that arose out of Nguyen's month-long residency at the spot. The images sought to transcend perception of linear time. While viewers contemplated the works, they shared fruit and Mexican bakery pastries. Also on exhibit: the astonishing collection of Los Angeles-specific images in The Closet space, a collage of street photography shot on iPhone from Leslie J. Frank.
Now that's a sizzling summer.
Photos by Genie Davis.