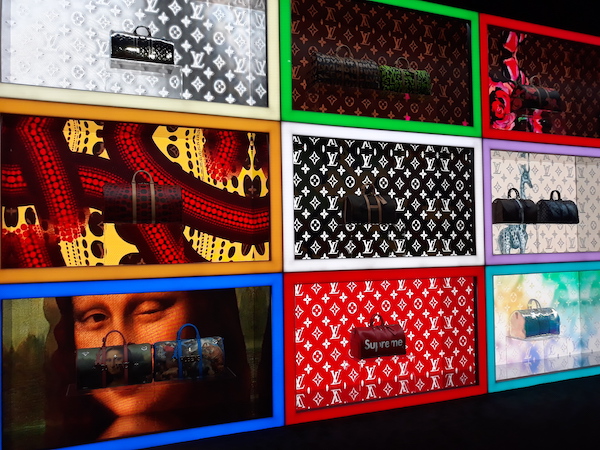 Shoptalk
SUR: biennial; CURRENT: LA; Louis Vuitton X; Desert X Al-Ula; R.I.P. Deborah Marrow
Go Directly to Go
The fall art season has taken off like a steeplechase, with so many openings on the weekends that one can take in barely a fraction of them. In addition to the shows at galleries and museums (Lari Pittman at the Hammer and Echiko Ohira at Craft Contemporary are two of my favorites), there are also two dispersedly located exhibitions making re-appearances.
The 5th SUR: biennial opened at the end of August, with seven locations across the LA area. The biennial started rather modestly in 2011, with just three venues—Bluebird Art House, Cerritos College Art Gallery and Rio Hondo College Art Gallery. It was the brainchild of Ronald Rafael Lopez, who passed away, sadly, shortly after the opening of the first SUR, but one of his early collaborators, Robert Miller of Rio Hondo College, is still helping to coordinate things.
SUR's focus is loosely defined, it features artwork about the "artistic borderlands between Los Angeles and the broader 'South'"—and that "South" can be Mexico, Central and South America, and even the Caribbean. Still up in November are the exhibitions "J. Sergio O'Cadiz Moctezuma: El Artist" (through Nov. 14) at Cypress College Art Gallery curated by Janet Owen Driggs, "De Colores Means All of Us" (through Nov. 16) at SPARC curated by Claudia Huiza and "Material Matters" (through Nov. 16) at Torrance Art Museum curated by Max Presneill.  See www.surbiennial.com for details.
Also up is CURRENT: LA (through Nov. 3), a public art triennial, with the theme being food. This time around they have a more unified curatorial team—Asuka Hisa and Jamillah James, both of ICA LA. Last time it was a bit chaotic, with at least one curator dropping out. Since the program is sponsored by the City of Los Angeles Department of Cultural Affairs, the triennial is pretty spread out, in various parks and public spaces throughout the city—maybe a good excuse to get out of your neighborhood and explore? Among the participating artists are Nancy Lupo (Pershing Square), Shana Lutker (Valley Plaza Recreation Center), Michael Rakowitz (Pan Pacific Park), Ry Rocklen (Palms Park) and Nari Ward (Leimert Plaza Park).  See https://www.currentla.org/sites/
Louis Vuitton X
Louis Vuitton has long been clever about pulling the art world into its orbit—commissioning designs from such superstar artists as Takashi Murakami and Yayoi Kusama for bags, wallets, clothing, etc. Now an LV store—the Beverly Hills one—has been given over into its first immersive art-experience makeover. It's an over-the-top funhouse, with lovely displays of very expensive merch and some actual art (paintings, sculpture) and even a bubblegum pink staircase. I especially liked the room which gave a short history of LV on four walls while a trunk in the middle of the room changed patterns according to the time period covered—modern magic.
All this, of course, offered many selfie ops, so you must be prepared to stop and wait your turn. In fact, the store encourages you in just so many words as you enter to take photos—with the expectation that you will, of course, post them. Louis Vuitton X is up in BH till Nov. 10—with no plans for future venues, surprisingly. I enjoyed browsing, though felt conflicted between the democracy of the experience (entry is free) and the continuing onslaught of Bling Culture. I also had a chance to verify with an expert there in the room where you can touch samples, that one of the coverings commonly used by LV is made from a patented combination of plastics—despite the fact that a Frenchman had once insisted to me that it was leather. Glad I solved that mystery.
Comings and Goings
Gallerist Samuel Freeman has returned, with gallery and offices in a craftsman house in Venice under the banner Iris Project. Opening Nov. 9 is "The Way Things Blow" featuring Mark Licari. They also plan to establish an artist's residency in the garage—details will be forthcoming next year. Don't bug 'em now, OK?
 On a more serious note, Desert X made a bombshell announcement in October, saying they are planning their third iteration in the deserts of Saudi Arabia. That's right, Saudi Arabia. This prompted three board members to resign in protest—artist Ed Ruscha, art historian and curator Yael Lipschutz and philanthropist Tristan Milanovich. "I resigned because I felt like Desert X no longer reflected my humanitarian values," Lipschutz told artnet News. "I don't want to aid in rebranding Saudi Arabia as a somehow enlightened, credible government."
This is a country accused of many human rights violations, including last year's murder of journalist Jamal Khashoggi inside the Saudi Embassy in Istanbul.  The Royal Commission for Al-Ula, a Saudi government agency, is funding the art event which is being called Desert X Al-Ula and opens January 2020. A look at the commission's website makes clear what their raison d'etre is: "Our purpose is to develop Al-Ula into a world-class tourist destination." We may wistfully recall that Desert X held its inaugural and second exhibitions in our neighboring desert, taking advantage of the Coachella Valley's landscape and existing buildings.
In Memoriam:
Deborah Marrow
Bureaucrats don't often get enough credit when things go right. Just as we expect electricity to be available 24/7, we expect institutions to amble along, doing their thing. Art historian turned arts administrator Deborah Marrow led one of our major institutions, the Getty Foundation, in paving the way for a methodical and profound rediscovery and investigation of the many ways Southern California defined contemporary American art in the postwar era. That was through the highly influential arts initiative, Pacific Standard Time, starting with "Pacific Standard Time: Art in L. A. 1945–1980" in 2011. Some 60 museums and other cultural organizations participated, armed with $16.3 million in Getty grants to research, develop and mount exhibitions and to produce publications. This was followed by "PST: LA/LA" in 2017–18, with a smaller program about LA architecture in 2013. Marrow passed away in early October, after retiring last year after three decades at the Getty.
Over the course of the last 10 years, I met Marrow several times at Getty events for grantees and even at the re-opening of SFMOMA. She was always personable and upbeat, never hinting at her illness, which I have since heard was in remission for a time, and which then unfortunately returned. She had no airs about the remarkably important work she and her staff were doing; she took it all in stride. It's no accident that when media in other cities now write (and think) about Los Angeles, it's with a new measure of respect, and even envy. This summer a well-established New York artist admitted to me that she and her artist friends are all trying to find Los Angeles galleries to show at—the reverse of what was true for decades. Deborah Marrow got it right, and we Angelenos both those who make culture and those who enjoy it, will be reaping the benefits for decades to come.