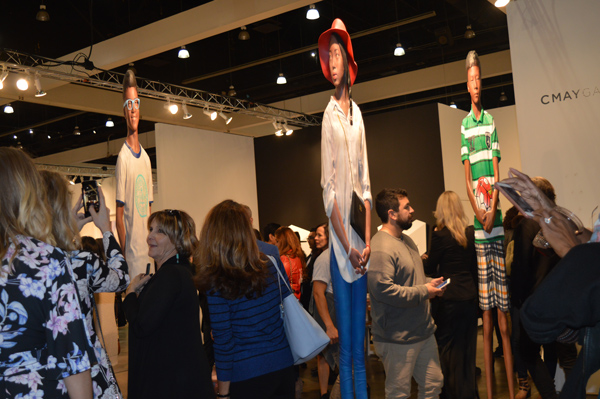 SHOPTALK
Fair News; Getty; Pacific Asia Museum; Comings & Goings; Women's March
Fair News
January is fair month in our fair city. The LA Art Show (Jan. 10–14) in all its massiveness returns to the Convention Center downtown, and Art LA Contemporary (Jan. 25–28) returns to Barker Hangar in Santa Monica. A month later in the nearby low desert is Art Palm Springs (Feb. 15–19), which has overlapping dates with the Palm Springs Modernism Show & Sale (Feb. 16–19). The opening of the latter on Feb. 16 pretty much launches the ever popular Modernism Week, a mecca of tours, lectures and other special events for the fans of All Things Modern.

The LA Art Show brings back Littletopia, the very popular section of alternative/lowbrow art–I've often found it the most crowded part of the fair. Littletopia will be presenting a Lifetime Achievement Award to Margaret Keane–yes, the real artist behind those paintings of children with big eyes. Her then-husband Walter Keane had long taken credit for her work, and it took a court trial for her to be properly acknowledged, as we saw in Tim Burton's salute to her in the movie Big Eyes (2014). I remember being quite impressed with Margaret's calm and generosity when she participated in the discussion after a screening of the film at the Ace Hotel. As they say, to forgive is divine—clearly, forgiveness allowed her to move on with her life, while resentment and jealousy poisoned Walter to the end of his days. The L.A. Art Show also debuts a new section, Design LA Art, with about a dozen exhibitors showcasing furniture, decor and jewelry.

Meanwhile, the Photo LA art fair will skip 2018 and resume in February 2019 at the Barker Hangar. It is now fully under the ownership of Claudia James Bartlett, who has been running the show for many years, and will continue to do so. (Predecessor Stephen Cohen is founder.) Congrats, Claudia! The juried competition FOCUS Photo LA will continue and is open to all via online submission through January 15, 2018. Twenty finalists will be chosen, and their work printed and framed by Fine Art Solutions with an exhibition March 15–18 in Los Angeles. One Grand Prize Winner wins a round trip ticket to Los Angeles which includes a two-night stay—not bad if you live on the East Coast. Those interested can check out www.focusphotola.com/about.
Getty 20th anniversary
Hard to believe, but the Getty Center celebrates its 20 anniversary. It opened in December 1997, and since then over 20 million visitors have trekked up the hill to visit the museum, research center, and gardens. It remains free, though you pay for parking. Every year over 160,000 K-12 students are bussed up, many with transportation subsidized by the Getty.
In the upcoming months, there will be special events to commemorate the occasion, including an exhibition of Robert Polidori's photographs of the Getty Center just before it opened (through May 6), a series of concerts called "Sounds of LA" (Jan.–March), and a public birthday bash March 10. By the way, while you're up there, do NOT miss their PST LA/LA shows, especially the spectacular "Golden Kingdoms: Luxury and Legacy in the Ancient Americas" (till Jan. 28), about luxury goods and trade in pre-Columbian South America—it's stunningly beautiful and an eye-opener—and "Making Art Concrete" (till Feb. 11) with works from the excellent Colección Patricia Phelps de Cisneros. 
Pacific Asia Museum Reopens
After a seismic retrofit and interior updating, USC Pacific Asia Museum in Pasadena reopened December 8, with an exhibition that makes a surprising connection between Mexico and China, "Winds from Fusang: Mexico and China in the Twentieth Century" (through June 10, 2018). Who knew? Apparently, the Mexican muralist movement influenced the public muralist movement in China after the Communists took over in 1949. This was partly due to a sweeping exhibition of Mexican art which toured several cities in China in the early 1970s, "Mexico: An Exhibition of Culture and Art Through History." "Winds from Fusang" is part of PST LA/LA.

The museum building itself is a Pasadena gem—it's in the former home of Grace Nicholson, an art collector and dealer, who had the building designed in the style of a Qing dynasty mansion replete with tiled roofs and courtyard. Nicholson specialized in Native American and Chinese arts and crafts, and the museum's permanent collection focuses on the traditional arts of Asia.
Comings and Goings
In February FLAX (France Los Angeles Exchange) presents its free arts fest. Curated by Fabien Danesi, The Dialectic of the Stars features 19 emerging and established French and American artists at five venues, including LACE and Ford Theatres. Things kick off on Feb. 11 at Sowden House with a talk by Danesi and video artwork by Ange Leccia, and end Feb. 25 with "Surfing Countdown" from 6-12 p.m. at the Zebulon Cafe—a sound performance by Jasmin Blasco, followed by a screening of "Animal Glisse" by Bertrand Dezoteux, then an afterparty till midnight. For more info, see www.flaxfoundation.org.

Art finds its way everywhere these days, including shopping malls. And why not? Since the early 20th century Japanese department stores were at the forefront of showing art, including modern and contemporary art—the Gutai group, a major avant-garde Japanese art movement, had some of its early shows at Daimaru and Takashimaya in Osaka. In December, the Beverly Center unveiled the third phase of its art program in conjunction with ongoing renovations—with three installations from Los Angeles artists Liz Larner, Harsh Patel, and Gary Simmons. A fourth work by Tanya Aguiñiga will be installed January 2018. The program has been curated by Jenelle Porter in association with the Hammer Museum.
Women's March 2018
Okay, we march again in the New Year—on Saturday, Jan. 20! For those who attended the last Women's March in LA (or anywhere else), you know how exhilarating it was, a pro-woman (and anti-Dump) march that exceeded expectations in numbers and in breadth and in the peacefulness of its protest. LA was half a million strong, pink hats and some very clever artwork everywhere in the sea of marchers from Pershing Square to City Hall. The stakes were high, and in the last 12 months, we've realized JUST how high.

Since then we've seen the ignominious toppling of patriarchs who abused their powers, especially those in the fields of entertainment, media and politics—outed by women who have bravely spoken up. For more info on the march, see womensmarchla.org/womens-march-la-2018.