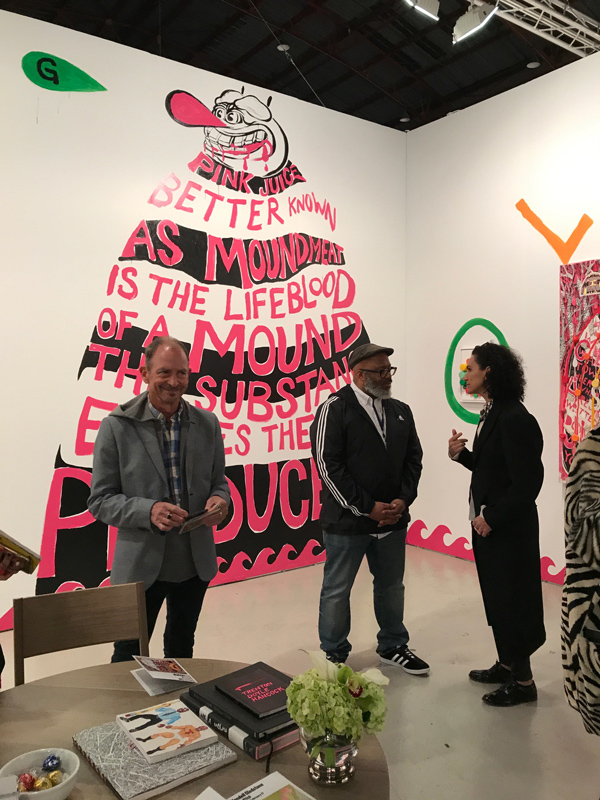 A Sea of Art Afloat at SoCal's Art Fairs
StART Up and ALAC in Venice & Santa Monica
All weekend, the Westside was ablaze with art.
StART Up Fair, located at The Kinney (no relation to our editor!) Hotel in Venice, featured over 67 artists in a series of terrific and eclectic motel-room installations. At Friday's opening, performance artist Guta Galli prowled the halls in a walk-through of 61 pounds, in which the artist carried the titular weight of red yarn and the essences of 30 different female artists' performances.
Cartwheel Art's presentation of Jerico Wogon's "California Light" was a must-shoot Instagramable image on an outdoor patio, a large-scale sculptural work that evoked sun rays and religious iconography that embraced the use of black light after dark.
Individual artists shared work that ranged from ethereal landscapes such as Lynne McDonald's lush, primarily mono-chromatic small works to the vibrant flower-child portraits of Gillian Keller, the perfectly detailed large-scale portraits of Tucker Eason, and the glowing goth photographic images of Gary Irving. Jill Taffet's fascinating video art danced and writhed, while Brian Huber's highly textural abstracts seemed to float off the walls.
Leslie Morgan's wry, steam-punk-like small sculptures grew from her floaty, aqueous paintings, while Laura Hapka's layered, rich abstracts shimmered. As a lively press and VIP showing morphed into an evening party with presenting and local artists, craft beer, boutique wines, and tasty eats from Zen Craft chef Eric Sauber, art checked into the motel for a vibrant weekend.
Art Los Angeles Contemporary held forth for four days at Santa Monica airport's Barker Hangar, featuring a wide range of contemporary art from local and international galleries. Among the many standout booths were Italy's Louise Alexander Gallery, with the sea-foam blue of Folkert de Jong's impressive and witty Styrofoam and polyurethane sculptures, The Holy Land.
LA's Luis De Jesus skewed political with animated video on plexiglass works by the astonishing Federico Solmi. Edward Cella's gallery went with socially prescient sculptural works by Kendell Carter and Jeffrey Vallance.
Sayre Gomez offered an homage to the now-closed Hop Louie restaurant in Chinatown at Ghebaly Gallery. Parisian Gallery Praz-Dellavallade dazzled with Matthew Brandt's "Families gather in prayer at Restauracion in South L.A.," a subtly glittering mosaic created with rhinestuds on canvas. ALAC's opening night was also a see and be-seen event, with fashionistas, gallerists and artists sipping champagne and mingling with celebrities including Leonardo DiCaprio. 
Photos by Genie Davis