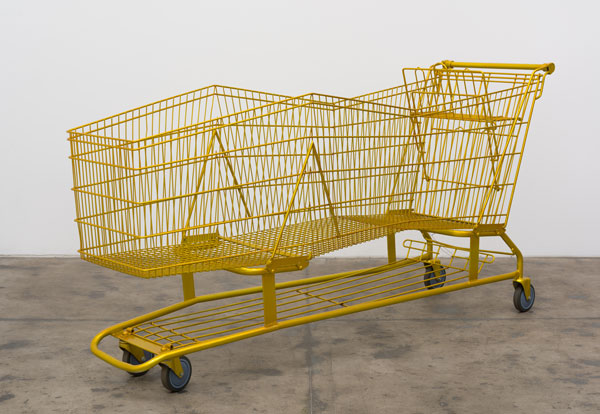 Rubén Ortiz-Torres
Royale Projects
A lowrider's charisma lies in its transmogrification from prosaic to fabulous: an ordinary old automobile becomes a sparkling iridescent marvel that bounces like a carnival ride, remaining street-worthy despite its head-turning ostentation. In his Royale Projects show, Rubén Ortiz-Torres channeled lowrider culture's transformative ingenuity into paintings and sculptures whose amalgamations of styles, references, media and subcultures playfully transcend the sum of their parts.
What vehicle is more commonplace than the shopping cart? Employed by celebrities, vagrants and everyone in between, it's the ultimate class-leveler. Shopper Hopper (2016), as comical in semblance as its title implies, affords the four-wheeler an extra layer of specialness. This kinetic sculpture is a grocery basket that Ortiz-Torres furbished with color-shifting violet car paint, hydraulics, special tires and a control switch. With engine running, the cart can perform jumpy stunts; but even inert, its appearance is humorously improbable. 
Similarly, the gilded, extended Long Shopper (Limo) (2015) appears as the ludicrous grocery store equivalent of a stretch limousine. This sculpture is parked near a gold painting, La jaula de oro (Gilded Cage) (2017), whose title is the same as a popular 1984 Los Tigres del Norte song referring to Mexican immigrants' frustrations in America. Together, these artworks critique transactional avarice even as they travesty the inclination to gloss over one's own hardship through grandiose trappings.
In his paintings, Ortiz-Torres applies Chicano car-culture innovation to clichés of European art history and modern American painters. Transparent layers of pearlescent auto paint in pictures like Space is the Place (2017) flashily mimic the luminosity of Renaissance oil glazes. This painting's allover composition also recalls Abstract Expressionism. With glittery candy flakes simulating stars, its astronomical import evidently derives from Mexican Revolution-era philosopher José Vasconcelos' conception of an all-encompassing mestizo "cosmic race." Ortiz-Torres has mentioned Vasconcelos as an influence; mirroring the philosopher's notion of racial blending, these paintings are art historical hybrids.
This show and a piece therein are designated "White Washed America" in allusion to David Alfaro Siqueiros' once-abrogated Olvera Street mural. Several American flag lithographs reference Jasper Johns' paintings; but Ortiz-Torres made his sooty versions from recycled burnt banner ashes. Clearly a takeoff on Kenneth Noland's compositions, Target (2017) was made from actual bullets ejected from a musket.
El grito (The Scream) (2014) is both interactive and performative. If one yells loudly at this painting, a yellow splotch appears as though by magic, but really by way of thermo-chromatic pigment and electronic circuitry behind the painting. Lurid color recalls that of its namesake Munch picture. The phrase El grito refers to the cry that triggered the Mexican war of independence from Spain; a generic grito can express excitement.
Another interactive painting, Que bonita bandera (What a Beautiful Flag) (2014) approximates the design of the Puerto Rican and Cuban flags. When touched, it changes colors depending on hand temperature—a metaphor for outsiders influencing national identity.
Like a wizardly mechanic, Ortiz-Torres customizes things normally merely customary; only instead of actual cars, the artist renovates ubiquitous cultural symbols to striking effect. The resulting artworks are as entertaining as they are thought provoking.