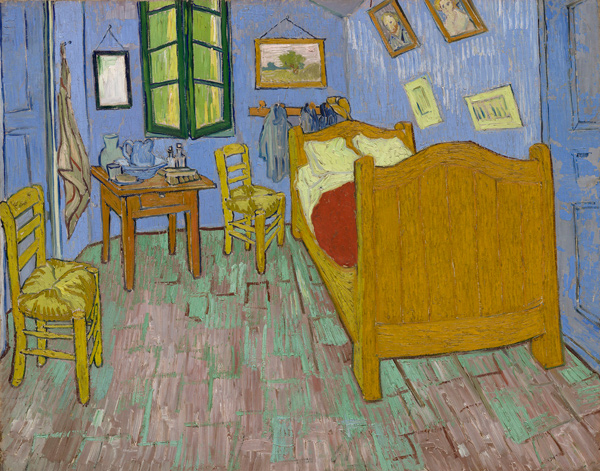 RETROSPECT
Vincent van Gogh's Bedroom
When I first saw a reproduction of The Bedroom I thought, Oh my God, this guy has so few clothes. Later I altered my assessment of the painting and thought how cool to cut out all the crap in your life and just have a few necessities so you could concentrate on what's important, like painting. Now, seeing it at the Norton Simon Museum, I smile. Van Gogh painted his bedroom because it was one of the few things that made him happy, safe and able to sleep—the lavender walls, the little green bed, and the precious placement of everything. But the real feeling I am left with is how upset he was with everything else, yet he could be so satisfied with this simple country bedroom. Soon the painting becomes a terrifying picture when you realize that everything outside of his bedroom was exhausting, frustrating and a madness that he could not untangle from the beauty that forced him to paint.

What do you do when things just don't turn out right? You retire to your bedroom to take a bewildering nap. You pull the covers over your head and wait for it all to go away.

Van Gogh painted his bedroom because it was the only cozy, undemanding hideaway in his life. But when we look at the tiny bedroom that gave him such peace, we suddenly become depressingly aware of how excruciating and grueling the rest of the world must have been for him. He was different.

We imagine how painful having such a great talent could be and we shudder at the incongruous idea that seeing such beauty in the world can drive a man mad.  

This painting, on loan from The Art Institute of Chicago, is on display at Norton Simon Museum in Pasadena, CA, until March 6, 2017; nortonsimon.org.