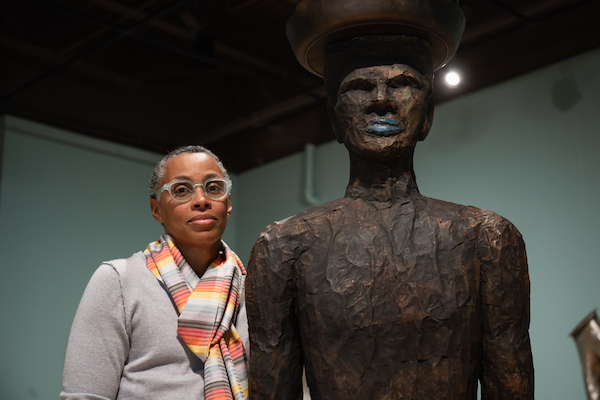 jill moniz: The Quotidian Blacksmith
Reconnoiter
jill moniz has been a curator at the California African American Museum (CAAM) and is now principal of her own downtown gallery, Quotidian. She curated the current exhibition "LA Blacksmith" at CAAM.
I understand that you have a PhD in cultural anthropology—how and when did you become interested in art?
My mother was a curator, so I grew up in museums, art studios and around conversations about aesthetics and cultural capital. As a young person, I fell in love with African art— particularly from the Benin, Yoruba, Dogon and Mende peoples of Sub-Saharan West Africa. Inspired by non-Western art, I did my undergraduate study in humanities with a focus on Oceania. My doctorate focused on visual imagery as a unique cultural language that could be used/misused, read/misread depending on your location. I also always loved Calder and Louise Bourgeois. And of course, my mother introduced me to the work of Betye Saar, Lois Mailou Jones, Elizabeth Catlett, Jacob Lawrence, Romare Bearden and others. 
How did opening Quotidian come about?
Quotidian opened when my mother came to LA after stepping down as director emeritus from Featherstone Center for the Arts in Massachusetts. Together we honed my programming goals—focusing on connecting people to the power of visual literacy by making art an everyday experience. After she passed away, the Spring Street space became available, and it seemed a perfect location for our vision—a storefront with street traffic, in a place that was grounded in the past, yet open to the possibilities of tapping into and sharing creative stories and experiences.
What are your areas of focus at Quotidian? And why did you decide on those areas? 
The goal of Quotidian is not to have a roster or represent artists, but to offer a space where different works by diverse artists are brought together to show the strength of narrative visual language. I curated "Signifying Form" at The Landing in 2017 about black women sculptors, which I think says something very particular about the aesthetic freedom found in Los Angeles. I am moved by things inside and outside of my personal and intellectual life. And I am dedicated to grounding work in a local history—featuring artists who have made space by teaching, through their innovative use of materials and establishing socially conscious art practices, including Peter Shelton, Magdalena Suarez Frimkess, Beulah Woodard, Betye Saar, Melvin Edwards, John Outterbridge, Todd Gray, Rodney McMillian and Linda Vallejo. 
When and how did the idea for "LA Blacksmith" (through Feb. 16, 2020), the show you've curated for CAAM, come to you?  At first the topic seems surprising, yet when one goes through the show, it feels a natural. 
When CAAM Executive Director George Davis asked me to do an exhibition for the museum, "The RIDDLE Effect" was still on view at the Craft Contemporary. Sculpture has always been my passion and thinking about how black artists made connections, work and communities blossom without regard to the canon or outside validation took my focus back to African sculptures that spoke to and for the people.  So I centered on a unique element of Africa—metalsmithing was invented there—that bridges backwards and forwards to demonstrate the rigor and spirit of black art in Los Angeles. I don't want people to forget, and I want them to see that the drive and willingness to communicate in metal is rooted in traditions that survived the Middle Passage and became an innovative material of contemporary aesthetics.
You've chosen some remarkable pieces—Betye and Alison Saar are quite well known, yet others much less known.  How did you go about putting together your list, and what criteria did you use for selection?
I worked as a curator at CAAM from 2006–08 and have substantive relationships with artists and collectors throughout the city, so I know where things are—at least the things I can't stop thinking about. I knew Beulah Woodard's mask had to start the story, and from there, I picked up the phone and starting asking for work that revealed the legacy of metal as a means of artistic and communal language. I knew I would be heavy with male artists, and I balanced that with women who work in metal but with different intentions and outcomes. The exhibition is not exhaustive.  My aim was to highlight artwork using this material and its ideation in sculpture to convey imagery and concepts vital to black life in LA.