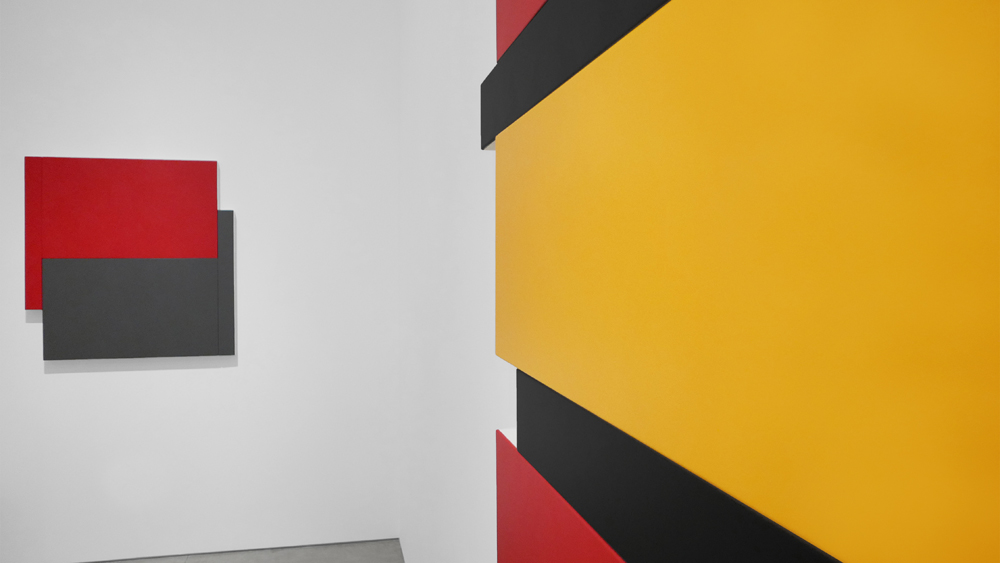 Peter Blake Gallery: Scot Heywood
Minimalism is alive and well in Southern California. In tandem with the current exhibition of historic California Hard-Edge painter John McLaughlin's work at LACMA, preceded by their well-received Agnes Martin retrospective, Scot Heywood's new works on view at Peter Blake Gallery fervently reflect the Los Angeles native's own decades-long commitment to West Coast nonrepresentational painting.
Heywood's geometric abstraction paintings are bold edicts. Crisp, decisive vertical and horizontal lines combined with deeply saturated colors hold each gallery wall with formal austerity. Natural sunlight illuminates many of the paintings toward the front of the gallery creating a dialog between the natural and built environment. The horizontal panels of blue and natural canvas Stack Blue, Canvas (all works 2016), might recall an abstracted sky or a moving rectangular cloud in motion, stripped down to its purest geometric form. Similarly, in Stack, Black, Green, White, colors of rich forest green sandwiched between large black canvas rectangles could likewise be imagined as an abstracted tree or landscape.
Heywood's multi-panel compilations are contemplative poetic studies of space and form. Subtle shifts of color between each of the four conjoined canvases in Sunyata, Gray, White, Canvas, Yellow blend into a harmonious expanse of moving color fields. Sunyata, meaning 'emptiness', references a guiding principle of both Buddhist philosophy and traditional Japanese painting: the creative void as a source of enlightenment. This work offers a meditative exercise in transitory reality; only the soft, hatched brushstrokes barely visible in the darkness of the gray acrylic texture reveal the physicality of the artist's hand.
Scot Heywood's most astonishing achievement lies in the combined relationship of the works with the architectural environment of the gallery. As the pockets of negative space between the shifted canvases reveal the white wall behind, the picture plane and subsequently, visual experience extends beyond the edges; all of the paintings come together as one, incorporating the color, texture and architecture of the gallery walls. Collectively, Heywood's paintings create an installation of infinite space, and invite viewers into their conscious connectedness.
Scot Heywood, "Shift|Stack|Sunyata," through March 26 with a special book release and signing with the artist on Sunday, March 26, 2017 from 11-1pm, at Peter Blake Gallery, 435 Ocean Avenue, Laguna Beach, CA, 92651, www.peterblakegallery.com