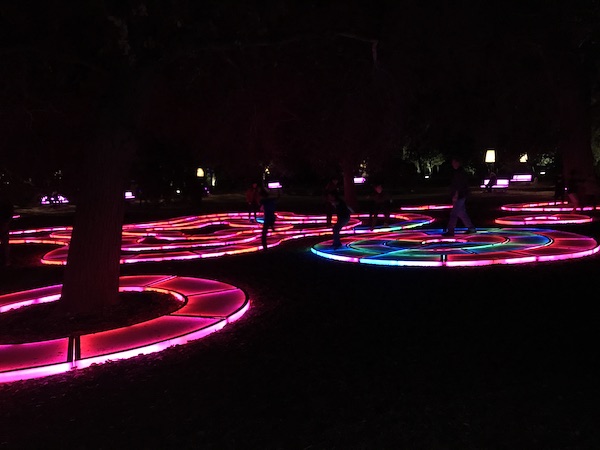 November Nights Bring Bright Art
Micheal Stearns; Rendon Hotel; Brand Library; Gabba Gallery; Descanso Gardens
At Micheal Stearns Studio and Gallery at the Loft in San Pedro, art power couple Ben Zask and Peggy Sivert exhibited beautiful work in Farewell – from the graceful equine sculptures and haunting dark paintings of Sivert, to Zask's intricate full-wall panel installation of found and repurposed objects, the depth of the exhibition led viewers to linger. At the late Sunday afternoon opening, a full house of artists and art lovers noshed cheese and nuts, sipped wine and chatted with Zask and Sivert about their artwork, encouraged the pair to pose against an exhibition wall that shared both their works, and asked about the expanding arts' education programs the pair's own gallery in South LA, SoLA, supports.
In the evening, DTLA echoed with seminal performances at the Rendon Hotel, the hot spot for innovative performance art such as the weekend's aurally and visually astonishing Rhythms of the City. Composed by Heitor Pereira, the expressive musical score took attendees to 44 rooms, some featuring art installations as well as performances traversing blues, klezmer, rap, rock, and opera — among others. Belly dancing, hip hop, jazz, and flamenco dance added to the scene. Immersive, walk-through performance art and stunning musicianship led viewers to a post-show beer or wine at the hotel's basement bar after the 50-minute performance, to mull over what one overheard-patron termed "like no other intersection of art. And fun."
On Saturday, The Nothing that Is at the Brand Library and Gallery in Glendale offered a lush, gorgeous mixed media opening featuring luminous found-art sculptures from Monica Wyatt; a mysterious and magical installation and series of miniature view-boxes from Josephine Wister Fauvre; large scale, dazzling works from excessivist artist Kaloust Guedel, black and white images that spin and dazzle from co-curator Yaron Doran, and sleek urban landscapes from curation partner Christine Rasmussen, as well as sculptures from Chelsea Dean, among others. Guests munched veggies and cheese, drank lemon water or wine and socialized in the lobby and galleries, as well as taking in the innovative art itself. Guests lingered past closing to talk with the convivial artists and snap selfies with family, friends, art, and out on the moonlit plaza. Overheard and true: "There's a lot here for 'Nothing'."
And getting a jump-start on the season of giving was the lively open-late fun – plus the beverages of sponsoring Auspicion Wine, and electro-pop from the gallery's live DJ – at Gabba Gallery's annual holiday show, Wishlist 7. A vast group of artists offered reasonably priced, diverse works priced from $50 to $1000. The 7th edition of the crowd-drawing cash and carry show allowed collectors to discover new art as well as have a good time and good drinks in the cheer-filled party atmosphere carefully curated by gallerist Jason Ostro.
And lastly, ending the full week of art, Monday brought 2019's edition of the Enchanted Forest of Light back to Descanso Gardens, where deliciously delicate light art, from flowers to large, motion-filled hanging sculptural pieces that danced and spun at the slightest touch lit up the gardens. Plus, at press night, there was hot chocolate rewarding press night attendees for braving weekday traffic in LA.