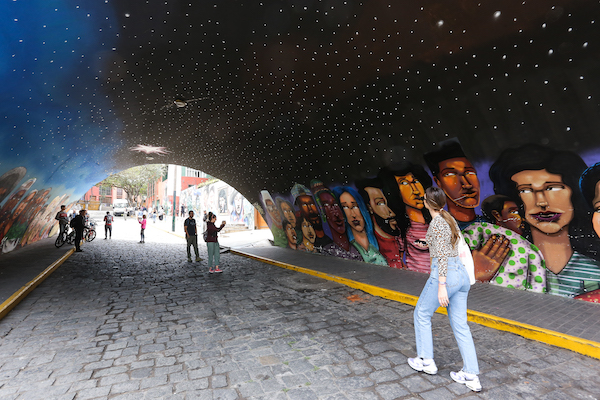 Murals Paint the Way in Lima
Field Report: Lima
Lima, Peru is a city of idiosyncrasies, where modern skyscrapers neighbor aging Spanish baroque mansions and colonial squares, all in varying ages of birth and decay. While Lima is not particularly known for having an overwhelming number of art galleries—there are only about 40 in the city—the city is a hotbed for both street art and artisan makers.
I arrived in the city to find it covered in a misty haze, something that my taxi driver was eager to assure me would lift in the summer come December. As we drove from the airport to my hotel, the city shifted and morphed from a busy area brimming with locals to a more posh, upscale beachside area that I noticed was extremely popular with surfers—though I didn't try my hand at it. I was compelled to explore around my hotel, AC Miraflores, and on a walk to the Museo de Arte Contemporáneo (MAC), I spotted building after building covered in street art in a varying array of styles. MAC is a small yet still worthy stop in the Barranco district, Lima's cooler, more bohemian area. Through the hotel's "Unpacked" series, I was turned onto MATE (Museo Mario Testino), a dual-purpose cultural institution that has both the world's largest collection of Testino's photographs and a rotating temporary exhibition of local Peruvian artists. The museum is housed in a repurposed 19th century mansion typical of the district. If visiting the museum in the evening, stick around the neighborhood to check out nearby restaurants/bars Ayahuasca and Café Victoria which are also in beautifully renovated mansions, remnants of when the district was a popular seaside resort.
Not a far walk from MATE is Dedalo Arte & Artesania, a multi-use space that features maze-like showrooms of works by local artists and artisans, a café, and an outdoor space used for seating and community events. Peru is known for its textiles and artisan handiwork, though these items are more commonly purchased in Cusco and surrounding villages than Lima. Dedalo is a great place to see and purchase works by Peruvians, from Lima and beyond, and a chat with wonderfully warm and eccentric owner María Elena Fernández revealed that many of the works are created by sustainable methods.
While art was my main focus in Lima, no story of the city would be complete without a mention of the gastronomical renaissance happening in the city. Back closer to AC Miraflores are Maido and Restaurant Statera, two must-stop eateries that represent where gastronomy in the city has been established and where it is heading in the future. Both restaurants are nautical in theme, with Maido being Japanese fusion and Statera's aesthetic borrowing heavily from the sea.
Like gastronomy, street art is a pulsing, visible character in the city, though it has been a fight for artists to keep the vibrancy present. In 2015, Lima mayor Luis Castañeda declared that all murals painted in his predecessors' time would be painted over with yellow paint, an act that was met with outrage in the city. Four years later, murals are alive as ever, and offer a pleasant jolt of color in hazy Lima.