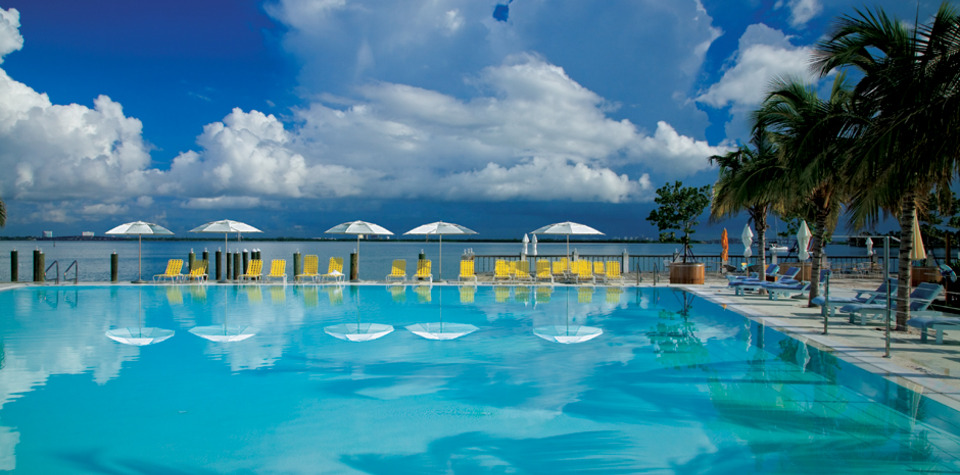 Our Guide to Art Basel Miami
Events, Exhibits and Parties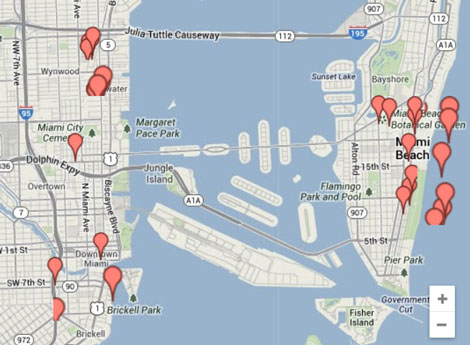 Next week an explosion of art, champagne, and parties descends upon South Florida in the annual blowout that is Art Basel Miami Beach. With all of the events, exhibits and parties at Basel Miami  this year, it's hard to decide what to hit and what to miss. So here's our guide to the events we're looking forward to along with a map and addresses of all the venues.
Events happening this year at the Standard Spa, Miami include
Andre Saraiva and photographer Jean Pigozzi are hosting a pop-up gallery called Room 40 that will used for massages during the day and for exhibitions at night.  They're also hosting a private dinner on the 5th.
Alldayeveryday is opening a pop-up version of zine emporium The Newsstand in the hotel's Lido Lounge.  It will be open all week.

There's a release party for an Everybody Street zine by Cheryl Dunn and another zine by Chris Johanson and Franck Haines on Thursday, December 5, from 2 to 4 p.m.
Creative Time hosts a a brunch with Krug Champagne on Friday, December 6, from 11:30 a.m. to 1 p.m.
On December 6th, The Newsstand has a book release for Glenn O'Brien's Penance from 5 to 7 p.m. and a "lecture" and book launch by Ryan McGuinness from 7 to 8 p.m. 
End your week at the annual Basel wrap-up "Lazy Sunday BBQ" on Sunday from 3 to 8 p.m. and check out the "paper boat" by Miami designer Luis Pons.
Adam Lindemann, real estate tycoon Aby Rosen and art dealer Larry Gagosian. Lindemann's Venus Over Manhattan gallery is throwing a VIP preview for Ferrari's Piston Head exhibition on Dec 3. Artists including Damian Hirst and Joshua Callahan will feature automotive sculpture. On Dec. 4, Roger Dubuis, in partnership with Dom Perignon, will host a private dinner hosted by Gerard Butler. The evening showcases the Roger Dubuis Excalibur Quatuor, alongside the Jeff K
oons-designed Dom Perignon bottles. Alex Dellal, Stavros Niarchos and Vito Schnabel are throwing a late-night fête celebrating Limited Edition by Jeff Koons on Dec. 5, at Wall with music by DJ Ruckus and DJ Zoe Kravitz. Also Dec. 5, Architectural Digest, Amy Sacco and Miami Cocktail Company are hosting the No. 8 pop up at the James Hotel. And Artsy is also throwing a dinner that night celebrating the new John Baldessari Studios at the CalArts School of Art.

Metal Fatigue Music at NADA at the Deauville: Thursday, Dec 5, 12-2pm & 3-6pm, Friday, Dec 6, 12-2pm & 3-6pm, Saturday, Dec 7, 12-4pm.
Located on the parking ramp outside of the Deauville.
CB1 Gallery's Project Miami booth (215) will feature new paintings by Lisa Adams, a new series of light box photos by LA-based Kiki Seror, a selection of past work and new work by Mira Schor (NY) and paintings, sculpture, and works on paper by Craig Taylor (NY).
The UNTITLED fair has two big VIP previews: Monday, December 2nd, 7 to 9 p.m. hosted by Marina Abramovic to benefit the Elton John AIDS Foundation and the Marina Abramovic Institute (this is the one that Lady Gaga is rumored to be attending) and Tuesday, December 3rd from 3 to 7 p.m., featuring performances by TM Sisters and Jacolby Satterwhite.
New York gallery The Hole is having their big, Basel blow-out at the Shore Club (1901 Collins Avenue, Miami Beach) on December 4th and the Delano hosts their third MoMA PS1 pool party on December 6th.
MOCA + Vanity Fair/Vanity Fair International Party is in honor of Tracey Emin's exhibition "Angel without You." The party takes place on December 3rd from 7 to 9 pm. This event is open to MOCA members, Art Basel VIPs and exhibitors only.
The Wayside group show @ Plymouth Hotel – Steve Saiz, Melanie Bernier, Autumn Ahn, Georgia Kennedy, Christopher Wawrinofsky repurpose abandoned hotel rooms at the Plymouth Hotel. The hotel is a deco-clad building that is also home to a pop-up speakeasy, and beer garden. The artists will pair local items with materials sourced from their origin cities of Los Angeles, Boston and Chicago to adorn their rooms with temporary artwork.
FRESCO has put together a group show called "Hang 'em High" that will be up from December 3rd at 5 p.m., to the 8th at 97 NW 25th Street, Miami, and includes works by Banksy, Faile, KAWS, Swoon, Dface, BAST, Retna and Ryan McGinness.
Harper's BAZAAR magazine is bringing back their pop-up shop, ShopBAZAAR, to the Soho Beach House (4385 Collins Avenue, Miami Beach) from December 3rd to the 5th. Look for designer brands, limited editions, a Gevalia coffee station, plus several beauty bars.
Mansion Nightclub (1235 Washinton Avenue, South Beach) has two big Basel nights with 
Mark Ronson
 DJing on Friday, December 6th, and 
Boy George 
spinning on Saturday.
The Wynwood Art Building (2750 NW 3rd Avenue, Miami) kicks off the week with a big gallery night—catered by Wynwood Kitchen & Bar, Tanduay and Vita Coco—on Monday, December 2nd from 6 to 10 p.m. All the galleries in the building, including m+v ART, ArtMedia, Cienfuegos, Ricart, etc. will showcase their new exhibitions.
Los Angeles-based artist Ry Rocklen unveils his installation Night Court, produced in collaboration with Absolut as the setting for a pop-up art bar during Art Basel in Miami Beach. Night Court is at once a bar, a performance venue, a sports arena and a showroom for Rocklen's new line of furniture, 'Trophy Modern'. Absolut Art Bar at Art Basel Miami Beach Night Court by Ry Rocklen 3–7 December 2013 | 12pm–2am
Vanessa Beecroft will present replicas from her past performances, from 1994 to 2008, and one new work, which will feature 140 women acting as a choir in a Greek Tragedy. Also, Kanye West is participating. December 4 from 6-10 pm at Mana Wynwood, 318 NW 23rd Street
Pérez Art Museum Miami (PAMM) members are invited to preview PAMM's inaugural exhibitions on Dec. 3 from 4:00 p.m. to 9:00 p.m. on the eve of the Museum's grand reopening. This event is open to members only.
Juxtapoz is moving into a private beach house at the Shore Club (1901 Collins Avenue, South Beach) for a four-day series of parties and events with San Francisco's Chandran Gallery. They've scheduled art installations by Geoff McFetridge, Andrew Shoultz, Monica Canilao and SWOON, brunches, BBQs, performances and DJs and there's even an evening hosted by Shepard Fairey. The spot will be happening from December 4 until the 7th, but many of the parties are invite only.
Tiffany Trenda performs "Tap and Touch", at LICHT FELD Gallery. CONTEXT Art Miami, Tuesday 7-7:30, 8-8:30; Fri, Sat & Sun 2-2:30, 3-3:30
NOWNESS, Art Production Fund and Suzanne Geiss celebrate the release of a new film by Adam Dugas and Casey Spooner called "Dust," starring Cody Critcheloe, Peggy Noland and Jaimie Warren,on Thursday evening at the Mondrian (1100 West Avenue, South Beach). RSVP only. 
Shulamit Gallery presents Mythical Homeland, an installation by Gary Baseman.  This installation by the well-known and multifacted Los Angeles-based artist depicts a unique environment dominated by birch trees, an extension of the artist's personal narrative and ongoing exploration of his heritage and homage to his father's survival during WWII by hiding in forests on the outskirts of Poland.  The artist will be present for a book signing at Aqua Art Miami on Friday, December 6, at 1 PM; and Baseman will also be among the exhibiting artists featured at Milan's Antonio Colombo Gallery in Room 206.  
Coagula Curatorial presents Tim Youd in "Get Shorty – a Durational Performance".  Artist Tim Youd continues his ongoing series of durational performances with his retyping of Elmore Leonard's crime fiction classic Get Shorty throughout the duration of Art Aqua Miami, retyping of entire novel on a single piece of paper, utilizing the same make and model typewriter used by the original author.
Somebody is planning 
to shoot a man out of a cannon behind the Soho Beach House
(4385 Collins Avenue, Miami Beach). at midnight on December 3rd, following the annual White Cube bash.

Influential Paris retailer Colette touches down at Art Basel Miami Beach (December 2–8, 2013) for a decidedly different art experience, in partnership with Miami's innovative fashion concept shop Alchemist. The colette art DRIVE-THRU at alchemist is installed in the Carpark adjacent to Alchemist on Level 5 of 1111 Lincoln Road, the celebrated concrete structure designed by architectural firm Herzog & de Meuron.
Charlie James Gallery presents Steve Lambert's "Everything you Want, Right Now" in the fair's entrance via the hotel's front windows and lobby.  Consisting of a fabricated commercial sign with flashing lightbulbs and a neighboring panel of commercially painted storefront signs, the installation will provide a witty welcome to the commercial art-world dealings to be found inside the fair. 
The Drawing Room. Featuring Reed Van Brunschot. Complimentary cocktails by Pernod Ricard from 8-9 p.m. The Freehand, 2727 Indian Creek Dr., Miami Beach. 8 p.m.-midnight. Free with RSVP to events.miami@thefreehand.com. 
Google Glass, Google's Internet-connected eyeglasses, has teamed up with New York-based artist David Datuna for his series "Viewpoint of Billions." Visitors can try on the eyeglasses to have them interact with Datuna's work up close at Contessa Gallery's booth at Art Basel Miami Beach.
The Standard Spa Miami Beach
40 Island Avenue Miami Beach Florida 33139
Tel: (305) 673-1717 Fax: (305) 673-8181
http://standardhotels.com/spa-miami-beach


Art Basel in Miami Beach
Miami Beach Convention Center, 1901 Convention Center Drive
Thursday, December 5 — Sunday, December 8
http://www.artbasel.com/en/miami-beach
Design Miami/
Corner of Meridian Avenue & 19th Street
Wednesday, December 4 — Sunday, December 8
http://www.designmiami.com/
NADA Art Fair
The Deauville Beach Resort, 6701 Collins Avenue
Thursday, December 5 — Sunday, December 8
http://www.newartdealers.org
ART MIAMI
3101 NE First Avenue
Tuesday December 3 – Sunday December 8
http://www.art-miami.com/
CONTEXT
The Art Miami Pavilion, 3201 NE First Avenue
Wednesday, December 4 – Sunday, December 8
http://www.contextartmiami.com/
PULSE Miami
59 NW 14th Street
Thursday, December 5 — Sunday, December 8
http://pulse-art.com/miami/
UNTITLED.
Corner of Ocean Drive & 12th Street
Wednesday, December 4 — Sunday, December 8
http://www.art-untitled.com/
Miami Project
Corner of NE First Avenue & NE 30th Street
Tuesday, December 3 — Sunday, December 8
http://www.miami-project.com/miami
Aqua Art Miami
1530 Collins Avenue
Wednesday, December 4 – Sunday, December 8
http://www.aquaartmiami.com/
Scope Miami
1000 Ocean Drive
Tuesday December 3 – Sunday December 8
http://scope-art.com/
Fridge Art Fair
337 SW 8th Street
Thursday, December 5 —Sunday, December 8
http://fridgeartfair.com/
New Material Art Fair
855 Collins Avenue
Thursday, December 5 — Sunday, December 8
http://www.newmaterialartfair.com/
SPECTRUM Miami and ArtSpot International
Corner of NE First Avenue & NE 30th Street
Wednesday, December 4 —Sunday, December 8
http://spectrum-miami.com/show-information/about/
INK Miami Art Fair
Suites of Dorchester, 1850 Collins Avenue
Wednesday, December 4 — Sunday, December 8
http://www.inkartfair.com/
Select Fair
1732 Collins Avenue
Wednesday, December 4 — Sunday, December 8
http://www.select-fair.com/
Red Dot Miami
3011 NE First Avenue at NE 31st Street
Tuesday, December 3 — Sunday, December 8
http://www.reddotfair.com/
Miami River Art Fair
400 SE Second Avenue
Thursday, December 5 — Sunday, December 8
http://miamiriverartfair.com/