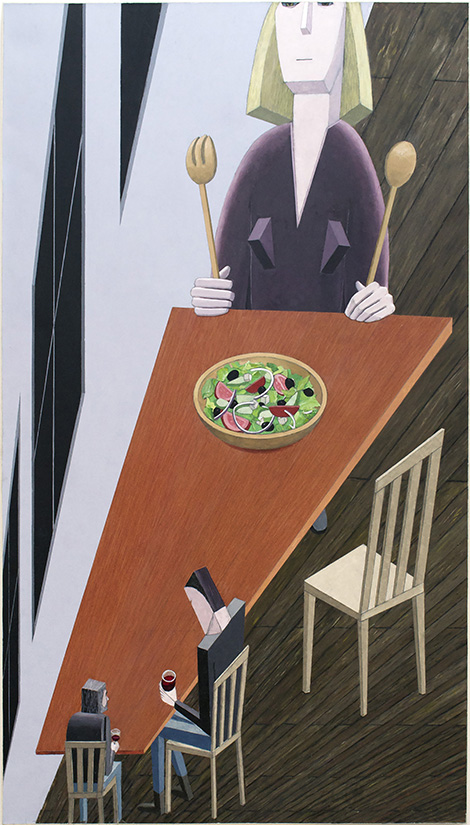 Mernet Larsen
Various Small Fires / Los Angeles
Born in 1940, Florida based painter Mernet Larsen exhibits a body of older as well as recent paintings in her Los Angeles debut. These moderate-sized canvases feature geometrically distorted figures that populate skewed interior and exterior spaces. After teaching painting in Florida for over 35 years, Larsen had her first New York gallery show in 2012, where the works were applauded for their uniqueness, wit and charm. Larsen's paintings have a purposeful naiveté, a quality that is also prevalent in the works of younger painters including Jonas Wood and Avery Singer, who are known for works that flatten space and figures.
The figures and the world they inhabit are somewhat reminiscent of Edwin Abbott's novella Flatland, a story about cultural hierarchies and class, subjects that also inhabit Larsen's paintings. To this end, the perspective in Larsen's work is often intentionally wrong—forms and figures do not recede in a realistic fashion—making the depictions of natural, urban and domestic spaces unsettling and claustrophobic. Each figure is a quasi-robot comprised of interlocking rectangles styled to represent heads, hair, arms, legs and other body parts. The figures in Conductor (2012) and Skier (2013) emanate from the bottom of the paintings as vertical posts with long sinewy outstretched arms. The featureless skier faces away from the viewer, skis pointing down the slope in front of an abstracted chairlift and rows of snow-covered triangular trees. The conductor, also facing away from the viewer, directs a chorus singing for the audience in a vast yellow-toned hall.

The works are humorous (though not cartoony), insightful and perceptive. Aw (2003), one of the earliest works in the show, features a diapered infant whose perpendicular legs and arms reach out to male and female figures whose angular bodies bend down but do not touch the child. The body language and expressions of the figures seated around an L-shaped table in Faculty Meeting (2008) exemplifies the sentiments of those who suffer through the tedium of these mandatory meetings. The speaker whose rounded face and hand borders the edge of the painting confronts eight expressionless male and female figures who seem to want to be anyplace but there. The Salad (2013) features a pointy-breasted woman wearing a purple dress who appears to have left her chair. She stands tall at the top of the painting behind a wooden table that gets smaller as it comes forward in space. Salad servers in hand, she is ready to serve the tiny figures in the foreground. The realistically painted table and wood floor depict an impossible space though not an uncommon occurrence—a woman serving her family. 
Larsen's paintings represent abstracted real-life situations and occurrences. She presents familiar places and activities—cafes, concert halls, ski slopes, gun shooting, sawing, walking, biking, handshaking—as if they had been sandwiched between two pieces of glass. This reduction or stripping away of details infuses the paintings with a new personality, one based on intuition rather than observation.