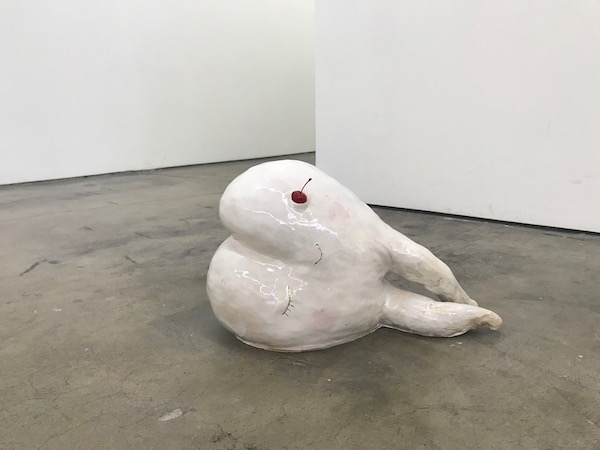 LA Does Not Vacay
Summer openings at the Marciano Foundation, Ghebaly, Matthew Brown, and Jeffrey Deitch
It's summer and in cities like New York and London, galleries seem to take a little breather; we've all received the newsletters instructing "summer hours" observing en mass departure from the city on weekends. But with our temperate (mostly) climate, and the increasing popularity of LA as a summer destination among Europeans, Los Angeles takes no such breather. This was most evident in the openings last weekend, kicked off by a private view of Donna Huanca's "OBSIDIAN LADDER" at the Marciano Foundation. Huanca's Skin Paintings are performed on nude female bodies, against painted sets. These "paintings" walk upon a white chalk-like substance seamlessly; their active bodies are observed in anti-repose, their vacant expression, and frontward gaze, not to be mistaken for docility. In the foyer the Marciano family, alongside director of the Foundation Jamie Manné, Huanca and her gallerist Javier Perés of Peres Projects welcome collectors, writers, artists and gallerists amidst a summer feast of cheese, cold cuts, cruditées, cornichons and nuts set on long banquet tables. Later that evening we drop by David Kordansky where Betty Woodman exhibition "Shadows and Silhouettes" continues this fecundity, bringing still-life subjects into the foreground with her 2D sculptures functioning as multimedia relief.
Top of my list Friday is the Lila de Magalhaes exhibition "Cupid of Chaos" at Ghebaly – her first solo with the gallery. Comprised of Magalhaes' skillfully embroidered works and cheekily personified teeth sculptures (I am sure one of these is winking at me) the result is a playful yet formalist exhibition, which successfully depicts her array of mediums, their relationship to one another, and thus the symbiosis of her practice.
Saturday we head first to Matthew Brown, whose second exhibition was featured in this column back in March. With two exhibitions opening, a particular highlight is Sedrick Chisom's large-scale ethereal paintings. Entering a dystopic realm, these paintings in "thermal vision" use the romantic landscape genre to investigate a colonial history. Down the street at Jeffrey Deitch, curator Nina Chanel-Abney's second iteration of Punch (the first was at Deitch's New York space, October 2018) opened. The exhibition now features 33 contemporary artists. Chanel-Abney expanded the original acclaimed show (presenting 19 artists) to focus on Los Angeles-based artists. Gabriela Sanchez, one of the artists on view, explains, "almost a year on, it is so interesting to see how far everyone has come." The night before, artists were joined by their closest friends and gallerists for a private dinner and evening of performance at the gallery.
Now, who says Los Angeles is slower paced?