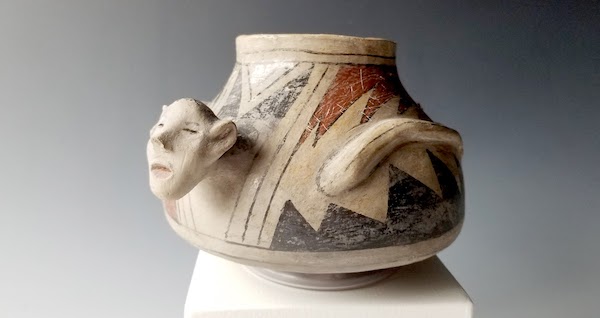 Legendary Clay: AMOCA
American Museum of Ceramic Art
Ceramics is real-world alchemy, where a material mined from the earth is magically transformed by human ingenuity. I love the fact that the result can be rough and reveal the grit and minerals embedded in clay, or it can be highly refined as a smooth white porcelain vase. So I make regular visits to the American Museum of Ceramic Art in Pomona, just south of the 10 Freeway, a museum that shows the familiar, such as California production pottery by Gladding McBean and La Mirada, as well as the unexpected. When I visited last June, the variety of exhibitions spanned the gamut. There were indeed a couple showcases of decorative commercial pottery by the aforementioned companies; there were also a gorgeous exhibition by the legendary Juan Quezada (through Dec. 30), who launched the pottery movement in Mata Ortiz, Mexico, and a wildly colorful retrospective of contemporary artist Anna Silver (through Aug. 25).
While the pots of Mata Ortiz specialize in geometric designs that sometimes reference animals or nature, Silver paints with bright hues in a loose, expressionistic style. She started as a painter, having studied with the likes of Fernand Léger and John Altoon, and adopted painting on a 3D surface (clay) in the mid-1960s.
AMOCA was founded in 2003 by entrepreneur David Armstrong, who had attended Pomona College and fell in love with ceramics through classes at neighboring Scripps College. At first the museum was housed modestly in a storefront. Then in 2011 a former bank on Garey, with 51,000 square feet, was purchased. The building itself is rather plain, but inside are spacious galleries, offices, a gift shop and a ceramics studio where memberships and classes are offered.
In 2014 Beth Ann Gerstein arrived from Boston, after serving 20 years leading The Society of Arts and Crafts, to take over as executive director of the museum. "There was so much potential and opportunity, that was what made me want to come," she said. Already she has overseen the addition of a 3200- square-foot gallery, making the total exhibition space 12,000 square feet. And the permanent collection keeps growing, now "well beyond" the previous estimate of 7000 pieces—which includes many donations from Armstrong himself.
"Clay is unique, it impacts every day, every part of your life, from things in your bathroom to your favorite cup," said Gerstein. "You can have really solid functional work but yet you can go as large as a John Toki work. It can transcend easily between craft and art."
I got quite revved hearing about the big fall show—a solo for Julie Green, who has been working on a series of painted plates for 20 years, plates illustrated with pictures of the last supper of death row prisoners. "We approach exhibitions with the idea of, What are we adding to the conversation? I like social activism," said Gerstein. "And I like the fact that not all our shows are clay. Not all artists work only in ceramics." The Last Supper will be shown with several other bodies of Green's work, including an old ledger which functions as an artist's notebook.