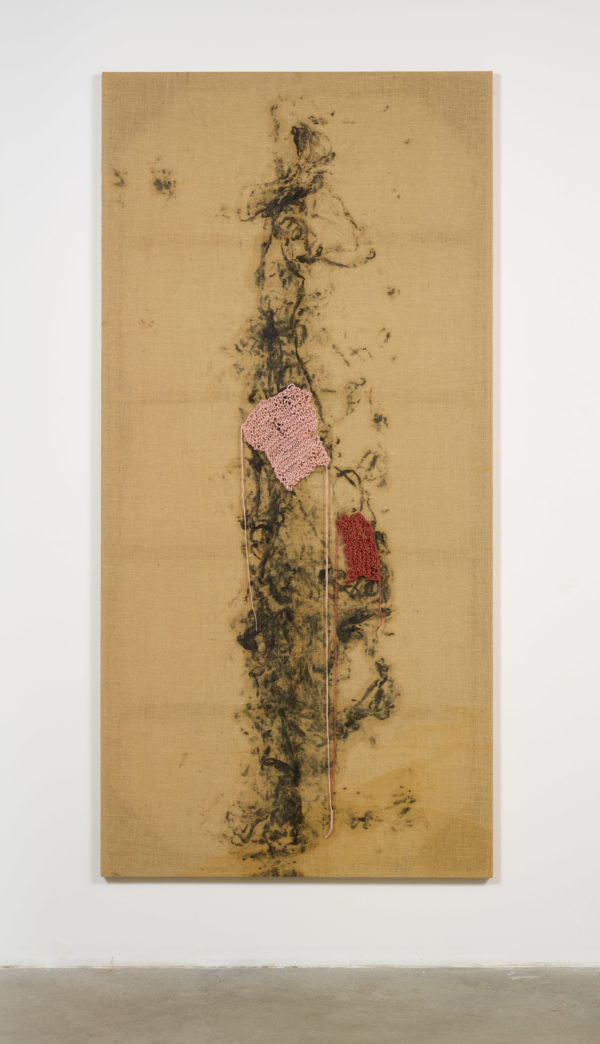 Jane Hugentober
Harmony Murphy Gallery
With work that has a firm footing in the traditions of the fiber arts, Jane Hugentober builds the case for a powerful conceptual dimension within a more traditional art-making framework. Far from ironic, the artist looks to precedents such as Mary Kelly's Post-Partum Document (1973–79), Hannah Wilke's photographic dialogue with her mother or even the research of Eva Hesse as a way to create artwork that is about its formal and material structuring as much as it is about the narratives related to how human beings, specifically women, balance the myriad of things that go into their existence.
Mixing the roughhewn, particularly her hanging hooks, with the delicate and repetitive quality of sewn and embroidered lines, Hugentober builds a compelling case for why "conceptual" might be rolled back to the more simply named "thoughtful" and thus bridge works without the categorical imperative to renounce anything vaguely looking like it was handmade. Part of a more generalized trend to reevaluate, without a dogmatic edge, the way in which various supposedly obsolete forms of art and artmaking can conspire to create multi-tiered art experiences for a viewer, Hugentober operates as a medium between the material, the temporal and what we might think about searches, roles and assigned places, giving viewers reason to pause and reconsider their own categories and presuppositions.
The artworks are arranged in the multi-leveled and delightfully disheveled gallery space in clusters or irregular groups, taking advantage of the various nooks and crannies and a labyrinth of overhead tubes and pipes. On the upper level, a wall that has been painted in a soft pink hue houses a disparate array of works ranging from the artist's own output to things that have been collaged together in a clear homage to her mother. It directly addresses the legacy of being both an artist and a mother. The digital video I do remember (2014) records recollections of her grandmother talking about her mother's difficulty in maintaining a maternal and a creative side to her life.
With this autobiographical turn, the artist opens the exhibition to considering the different conditions imposed on each generation and works to shift the obligation of artmaking from those materials and techniques once defined as high art to include those relegated to craft. Coincidentally, she ponders in exquisitely visual terms, how this hierarchy is also doggedly determined by a gender bias. In And That Was That (2016), the hulking jute and silk skein, treated gesturally with additions of oil, intrusions of wool and slatherings of latex, hangs majestically from oversized metal hooks, bowed but unbeaten. Its references draw on work ranging from Alberto Burri's arte povera burnt and crackling monochromatic surfaces to Anna Mendieta's camouflaged earth bodies, without relinquishing its individuality.
Whether she is more actively stressing the physical aspects of her work or mining it for its broader implications as a practice, Hugentober unfolds her ruminations, opening them to sophisticated, revelatory contradictions.