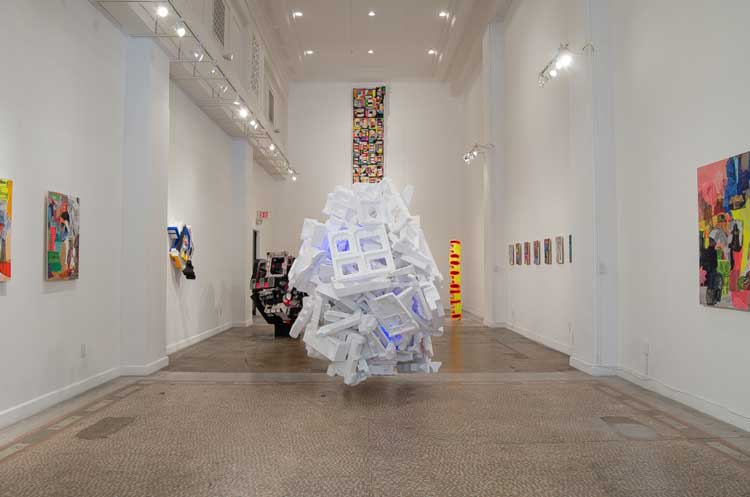 Jaime Scholnick: Redesigned, Repurposed, Re-everythinged
at CB1 Gallery Los Angeles
Redesigned, Repurposed, Re-everythinged
(2014), a computer numerical control-milled walnut sculpture replica of Styrofoam packaging material that protects a MacBook Pro during its journey to its end user. Walnut is a beautiful, rich material standing in stark contrast to Scholnick's primary sculptural materials of choice—Styrofoam and polystyrene, most often embellished with brightly-colored flashe or acrylic paint. With its grid of circular disks and shallow troughs, the work resembles a backgammon board and sets the tone for a cerebrally playful exhibition.
Beyond the anomaly of that one wooden sculpture, the rest of the exhibition consists of two distinct bodies of work that are at times hard to reconcile. In large conglomerations of Styrofoam or polystyrene sculptures (
Time and Time Again
and
Aaron's Dream
, both 2014), Scholnick continues her interest in a low, disposable yet ubiquitously global material (or more correctly indentified—pollutant). However, she introduces a different strain of works (a large portion from 2013 and another group from 2014) that are refreshing in their complicated combination of abstraction and representation that is clearly absent from the sculptures.
These new 2D works are intricately ornate painted collages that retain vague images of women from magazines, over which she has painted webs of vivid color. These collages are crisply mounted to wood panels and, despite the thickness of the paint on their surfaces, lay smoothly flat. The titles of the works, and the images in them, suggest global sites of capital production – Woman in Dennelton, South Africa (2013), for instance—but also tourism and cultural appropriation. (Admittedly, there were representational 2D works in Scholnick's previous show at CB1 Gallery,
Artifacts
, but these works were appropriated photographs into which images of her sculpture were inserted as absurdist props.)
In addition to the two boulder-sized sculptures
Time and Time Again
and
Aaron's Dream
and a couple of totem works, Scholnick deftly utilizes the height of the gallery to produce
Swoosh!
(2014), a brightly decorated aggregate of uniform polystyrene extending over 20 feet up the wall. This 3-foot-wide band of work cascades down into the gallery space another 9 feet. Standing near this, and the other massive works in the show, it is easy to feel overwhelmed by the amount of waste humans are capable of generating.
What the new collage/paintings have in common with her sculptures is that she still takes base material bound for the garbage heap and elevates it, redesigns it, repurposes it, into contemporary fetishes that retain both their intricate relationship to global commodification while imbuing these resulting artworks with their own fetishistic elements—those intrinsically found in the art world where the objects reside. In her act of up-cycling, Scholnick stops this detritus in its unfortunate path to a dump-yard death and rescues it.
In the project room, CB1 Gallery presents "Introductions: DTW >>> LAX," work by artists Anna Breininger, Erica Mahinay and Lauren Satlowski, all MFA students from Cranbrook Academy of Art near Detroit. It's an interesting accompanying exhibition, one that includes poignant works that resonate with the transformed waste in Scholnick's show.
Anna Breininger presents a series of loosely gridded and wood-grained abstract paintings, while Lauren Satlowski offers two precise psychedelic paintings of plasticized melting figurines, one of which glows in eerily acrid light. It is Erica Mahinay's sculptures,
Tippy Form:
Sun Seekers
(2014), that share a particular interest also addressed by Scholnick: the multiplicity of meaning generated through an investigation of surface. In Scholnick's case, taut surfaces emphasize an artificiality and plasticity inherent in her chosen materials, and expose the way consumerism reduces these materials to their absolute baseness. Mahinay's sculptures—and to a certain degree her canvases, consisting of stretched nylon and polyester skins—demand a more visceral read.
The human, as an individual cog in a global system of consumerist production, is a unifying concept between the two shows. "Introductions: DTW >>> LAX"  highlights the connection between production, waste  and decimation and the need to go where the money is—all three artists in the show are planning to or have already moved to Los Angeles. But the two shows, when taken together, also hint that from global collapse, with resilience and promise, newfound beauty can emerge.
Ends June 8, 2014
Jaime Scholnick: Redesigned, Repurposed, Re-everythinged in the East Gallery
Anna Breininger, Erica Mahinay, Lauren Satlowski in the West Gallery
CB1 GALLERY
207 W. 5th Street
Los Angeles, CA 90013
213.806.7889
www.cb1gallery.com