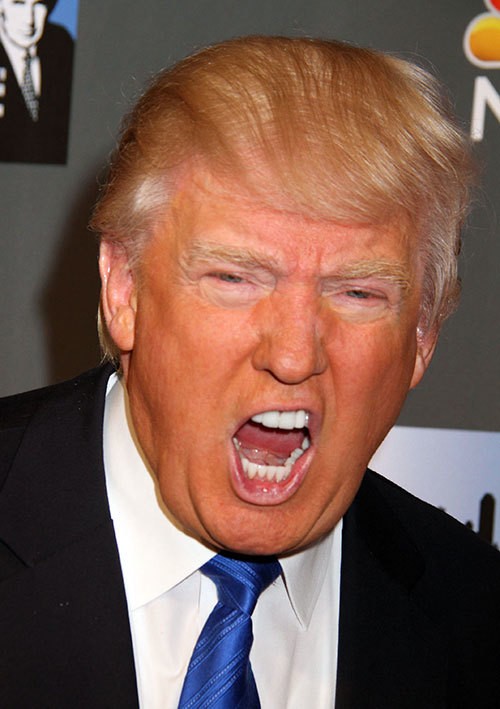 Home Is Where the Horror Is – Guillermo del Toro (2)
Guillermo del Toro: At Home With Monsters, through November 27th, LACMA
It's Halloween and it's about time I finished my walk-through of Guillermo del Toro's reconfigured 'Bleak House' home/office/inspiration space in the Art of the Americas Building at LACMA. What, after all, could have been keeping me so long? Maybe I simply needed a return visit – having gotten lost in the dungeons and torture chambers of NPR and MSNBC (Rachel Maddow can't keep all the horror at bay by herself) and the labyrinths of political horror we know as The New York Times, The Guardian, Politico and the Quartz and Bloomberg briefs – all combing through the ghoulish remains, reopening fresh wounds we thought were already crusting over; returning to them again and again to embroider them with fresh narratives from not-always-reliable viewpoints, and creating echo chambers of horrors in the process, distilling fresh poisons with which to trouble us asleep or awake.
What's doubly galling is that we're forced to admit how willingly complicit we are in constructing these chambers of horrors – amazing as it is to think we can do this with mere broadcast airwaves and newsprint (and digital/cyber graphic). Even where home isn't where the horror or the hatred begins, we find ourselves unwittingly bringing it across our thresholds. Or wittingly. Sometimes both simultaneously. You'd think it was scary enough that Part 1 of this post brought in an example from that day's Times style section featuring one such odd couple marked by the sign of the beast. Hard to believe that another, even more prominent, couple might surface in time for Part 2, but then we've never seen an electoral season like this one. I can't help but respect their work ethic, but I sometimes wonder if the compulsive, almost necessarily obsessive, work schedules of political workhorses, like Huma Abedin, clouds or impairs their judgment. Can there be any other reason she might have succumbed to the improbable allure of the intractably randy yet distinctly unfuckable Anthony Weiner? Overworked as she is, I can understand why she might have been put off by the prospect of a divorce litigation in the middle of the biggest political campaign of her life. But as any family lawyer can tell you, the best time to file an action for dissolution is as soon as possible after you first think of it – taking care to lock down the bastard's assets and put together a warchest first.
Now that we're dealing with some entirely unexpected fallout from those bulging briefs (and we're not talking legal points and authorities), the idea of rounding a corner to behold Johnny Eck, the Half Boy, seems almost charming. Houdini acrobatics aside, TSA authorities would probably applaud – 'Look Ma – no junk!' – and, given what we're going through right now, we might keep our minds open to a few freaks of any political stripe to break the congressional gridlock. No, they're not 'one of us'; and that's half the point. As the presidential race tightens, we're reminded what horrors close to half the 'normals' among us represent and only wish they could fall from their high-flying trapeze to some henhouse where they can't do any harm. (But not the Hauser, Wirth & Schimmel herb garden, please.) It's been many years since I saw Tod Browning's Freaks (and I'm guessing what I saw was a slightly edited version); but its ambiguous, almost ambivalent approach to the subject – horror mingled with fascination and amusement, sympathy mixed with aversion, pathos and pity, farce and tragedy – is thoughtful, provocative, and worth revisiting. It's an extreme, refractive view of the notional 'Other.' Browning shows us a world outside our 'normal' world, but recognizably human. In the world outside the circus sideshow, the traveling carnival (though in political circles they're increasingly hard to tell apart), the 'others' blend in; and that intoxicated segment of the mainstream would like to expose, accuse, imprison, lynch, or simply deport them – to (in contrast to the Browning film) effectively marginalize, degrade and dehumanize them.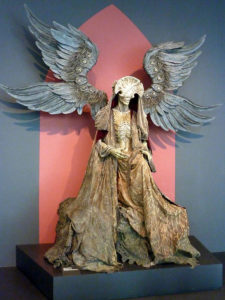 So it's almost comforting to walk past the quasi-heraldic double-winged "Angel of Death" (from Hellboy II (2008)) with her battle-axe 'commode' – a kind of one-sentence Justice (sort of like Justice Clarence Thomas) and into the slightly maze-like array of galleries housing an eclectic, salon-type selection of del Toro's prized collection of art, graphics, puppets, dolls, masks, mannequins and maquettes, props, costuming, production notebooks, sketchbooks, books, comic books, and objects (he is both prolific artist and passionate collector) augmented by selected works from LACMA's own collection. I'm not sure the show needed it; but as something of a packrat myself, I can understand the 'more-is-more' approach. For a passionate collector like del Toro, it's not 'home' without a hoard; and the galleries manage to be both expansive and densely packed. LACMA's selections are generally thoughtful and illuminating. Hovering close by Thomas Kuebler's hyperrealistic sculpture of Edgar Allan Poe, among other lithographs, is Odilon Redon's À Edgar Poe (Devant le noir soleil de la Mélancolie, Lénore apparaît). Poe to one side, Redon is a predictable reference point for a film artist like del Toro; also Félicien Rops, whose work here includes the fortuitously timely Satan Throwing to Earth the Nourishment It Awaits from the series of etchings, Les Sataniques. In the exhibition index, del Toro suggests his afterlife could be "art directed by Redon." (The decorative detail is lovely – e.g., black silk damask wall covering in the Poe centered 'Rain Room.') Goya's Los Caprichos are an immediate "visceral" reference (e.g., El sueño de la razón produce monstruos). But (speaking of dreams), there's also a Fuseli, a Ribera, and studies after Breugel and Rosso Fiorentino, in addition to loans from the UCLA Charles E Young Library.
We're initiated into the show the same way we're initiated into horror in life – by way of childhood. As evidenced by his films, del Toro has a keen understanding of the child psychology, the child's evolving imagination of horror borne out of very real fears, a capacity for invention – of monsters, the mazes of labyrinths of terrors where fearful thoughts can be hidden or disguised; and, conversely, safe spaces. There are eight discrete zones, including: Victoriana (a del Toro thing – we see horror so much earlier – in medieval art, gothic gargoyle and the like); Magic, Alchemy and the Occult; Movies, Comics and Pop Culture; Frankenstein and Horror (a del Toro obsession); Freaks and Monsters; and Death and the Afterlife – but with Childhood, Pop Culture and the Frankenstein/Horror sections are really the linchpins of the show. 'Monsters' are a through-line, both in the show and del Toro's work generally. He can no more stop inventing monsters than so many of us can stop obsessing on freaks – twin poles of the fear of 'the Other' at the core of our underlying cultural and psychological pathologies. The 'Rain Room,' tucked away close to the Victoriana, with its special effects windows simulating a continuous dark thunderstorm, is really the 'safe space' where we can simultaneously wallow in the anticipation of horrors new and old and insulate ourselves from them. Frankenstein looms large in the del Toro bestiary because Shelley's (and Karloff's) invention represents a singularly unified expression of horror as a product of human imagination: its innocence, the ultimate expression of its hubris and will for control, the chaos unleashed in a natural world well-equipped to quash that impulse with its own repertoire of horrors or, alternatively, to short-circuit the infernal machinery altogether with global death and annihilation – more or less the place we're at now in our late-night double-feature horror movie of history. Fortunately we have comics and other distractions to distract us from the rain-free future and other horrors ahead of us in the world outside.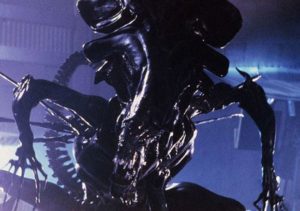 By degrees, recent generations of concept, production and effects artists have moved us away from the homo-centric horror in such lockstep with our sad story. (E.g., Alien (1979) – 'In space no one can hear you scream.' Hans Rudolf Giger, Alien's concept artist is represented here.) Inevitably of course, in our permanent-teenager-can't-get-over-we're-not-rockstars egocentrism, we always have a way of making it about ourselves.
Beyond the imagination and inventions of horror, our means of sequestering it and taking shelter from it, the show is a tribute to the joys of collecting – of taking inspiration from every aspect and at every stage of life.
The irony is that Trump essentially launched himself as an 'Other' amongst his Republican primary opponents. For a while it was almost amusing to watch them fall like the lead soldiers they always were, to see them exposed as flag-bearers for reaction, obstructionism, and the status quo ante, generally. But we also saw his darker appeal to blind prejudice and mob violence. It was as if the old GOP Southern Strategy had 'gone south' in a way Nixon could never have dreamed of (though conceivably, Roger Ailes might have).
Trump Tower triplex or Bleak House? That's an easy choice.