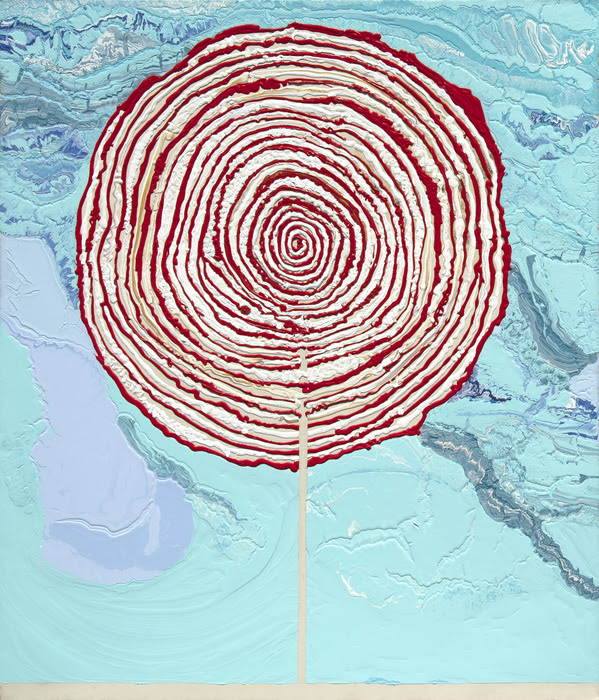 Heather James Palm Desert: Theaster Gates, Sam Gilliam, and Rodney McMillian
A group exhibition at Heather James Palm Desert, "Material and Abstraction: Theaster Gates, Sam Gilliam, and Rodney McMillian," explores abstraction and non-representation, inviting the viewer to move beyond "either/or" assumptions about art-making, and to embrace aesthetic questions.
Untitled (Flooring) (2011) by Theaster Gates, who also works as a curator, project facilitator, and urban planner, hints at "reverse gentrification." By appropriating materials from dilapidated buildings, Gates asks the viewer to take a second look at what is forgotten, stepped on and stereotyped, rebooting the decay of overlooked urban neighborhoods. His sculptures are rooted in social responsibility, and the capital generated from them goes toward redevelopment efforts. Similarly, the brick and wood used in Convex Concave (2017) imply connected communities and a seamless connection between art and life.
Sam Gilliam is a synonym for courage and consistency. As an original member of the Washington color-field painters of the mid-1950s and late 1960s, Gilliam interrogates traditional understandings of image, color, and shape. Back to Lattice II (1982-1991) asks the viewer to reimagine perceptions of the vertical and horizontal — Gilliam's intentional strokes suggest there is more than meets the eye. Similar to his Abstract Expressionist predecessor, Norman Lewis, Sam Gilliam's works shout with tenacity to resist aesthetic expectations placed upon artists of color to always create work tied to their identity.
Last is Rodney McMillian's mixed media work, Flag (2002). Employing the flag as a theme is not unusual, but McMillian's mixed media interpretation in its gargantuan size alone pulls one to examine with a magnifying glass quality what this iconic, patriotic image suggests up close. With a sea of red paint bleeding streams flowing around various types of fabric including an upside-down suit coat that has a shriveled sunflower attached, the work instigates reflection about what this American symbol implies in the 21st century.
Volatile political times as these sometimes require artists to ask more questions than provide answers. With its blend of materiality and abstraction, this exhibition reconfigures belief systems about art processes, outcomes, and representation, while addressing potent socio-political contexts.
"Material and Abstraction: Theaster Gates, Sam Gilliam, and Rodney Mcmillian," July 25-August 31, 2019 at Heather James Fine Art, 45188 Portola Avenue Palm Desert, CA 92260