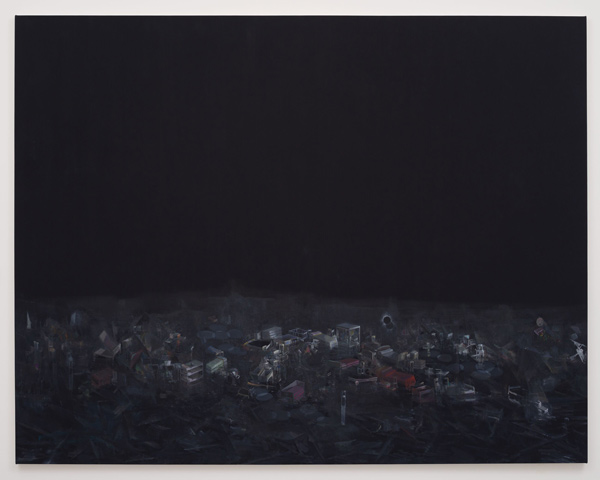 Hauser & Wirth: Guillermo Kuitca
Argentina sometimes tosses the world an indescribably singular artist. There was Leon Ferrari, whose Vietnam-era political pieces inspired widespread spite and repression.  And now there is Guillermo Kuitca. Since his 2007 Venice Biennale showing, he is perhaps his nation's most renowned living painter.
If you call Kuitca a theatrical artist, you are not merely using a figure of speech. Many of his recent works as seen at Hauser & Wirth's generous new Kuitca show are figurations of dramatic stages from Covent Garden to Staples Center—turned inside out or upside down. A batch of small stage sketches burst out into actinic white fire.
The climactic showpiece is Untitled (Teatro Real) (2013-2015). Spread across a huge canvas, it looms like a malign unoccupied stadium, glowering down on an invisible arena below. Kuitca evokes the theatre as an implement apart from humanity that entertains a passive audience with human torment.
The most enigmatic pictures here are the dozen entitled The Family Idiot, said to be rooted in Jean Paul Sartre's three-volume essay on Flaubert. The pictures tend toward abstraction: dark, with odd, interior geometries. They evoke Kuitca's earlier non-figurative work, while connecting, one presumes, with Sartre's theory that genius is related to idiocy.
 Perhaps the stunner of the show is Double Eclipse (2013).  Most of the 10 foot by 12 foot canvas is utter blackness, as in an abyssal ocean trench.  But at its very bottom lies a strewing of what look like the furnishings of an exploded hotel nightclub: dozens of round tables, mattresses, chairs atop chairs, microphones on podiums and discarded shelving. All this is barely lit by two dim, eclipsed suns, pinned to the wall like sconce lights, impotent against the infinite pressure of nothingness.
Guillermo Kuitca, May 18 – August 11, 2019, at Hauser & Wirth, Los Angeles, 901 East 3rd Street, Los Angeles, CA 90013. www.hauserwirth.com