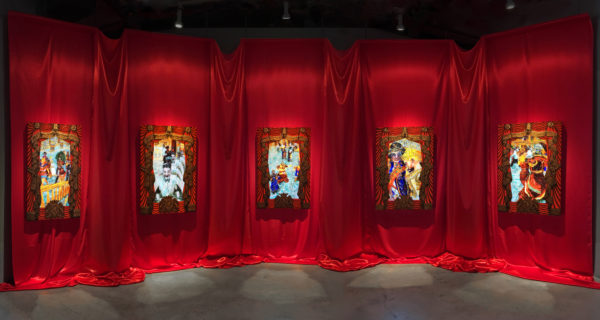 Federico Solmi
Luis De Jesus Gallery
Federico Solmi's "The Brotherhood" offers a dystopian nightmare-scape where the cult of celebrity overwhelms one's every sense. The pseudo-cliché of the beautiful versus the profane collides in the meticulously painted frames of "smart" TVs projecting Solmi's drawings and paintings, as rendered into 3D animation loops portraying some of the most notable times of history. The exhibit is overwhelming and would definitely terrify any suburban mom.
Focusing on the most socially disgusting aspects of history—vanity, gluttony, hedonism—Solmi renders historical figures cartoonish; he sets them sauntering within frames like kinetic portraits, combining their images with audio of parades, crowds and soirees.  Solmi has mashed together the most idolized visions of white history, with Marie Antoinette, Abraham Lincoln, the pope, Mussolini and Christopher Columbus among others, along with acrylic frames depicting logos of McDonalds and Prada, to form a collective vision of obnoxiousness.
There's something particularly timely about Solmi's exhibition, especially when it comes to the pomp and circumstance of the upcoming election. One can't help but imagine the fluff of Donald Trump's pompadour flopping within one of the LED video projections. The rewriting and re-telling of history through the Americanized lens in which the victor writes the history is in full view in Solmi's collection, and it makes one wonder what histories will be written about our present moment 100 years from now. The works seem intensely current. When we view our lives through screens, why should art be any different? Solmi manages to make the viewer realize how ridiculous our visions of the past are, and therefore our depictions of the present.
The works included in "The Ballroom" installation thrust one into an absurdist dinner scene. Each of the pieces can be viewed in succession, with cinematic cuts much different than the other pieces. While each piece depicts the same elaborate dinner party, they all have unique scenes. In one we see Marie Antoinette having a risqué love scene in an upstairs room, while in another we see dinner guests stumbling about drunkenly at the end of the debauchery.
Although video installations are nothing new, Solmi's works in "Brotherhood" have the novel characteristic that they are able to be paused on a single image. This means that each second of each piece, which consists of two minutes of animation that loops three times to create six minutes of video, can be frozen in place like a portrait on a single image. Thus, the $18,000 price tag might seem to make sense, in that each artwork is hypothetically thousands of artworks depending on where the image is paused.
In the hyper-reality that we now live in, exhibitions like "The Brotherhood" are like a breath of fresh air. While it consists of screens, it functions more as a mirror, not only of the ridiculous way in which we envision the past, but also the way we process and view the present.