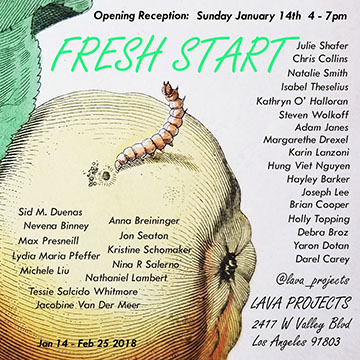 Sunday, January 14, 2018
4:00 pm - 7:00 pm
2417 W Valley Blvd , Alhambra CA 91803
Fresh Start exhibition
Fresh Start at LAVA Projects
January 14 – February 25 2018
2017 was a year that was challenging for our common sense and our sanity. Now that we've taken a deep breathe and the world has released a shitload of bad karma, it's 2018 and time for a transformed reflection and creation about the world we live in and ourselves, through our art. Fresh Start, which opens at LAVA Projects on Sunday, January 14th from 4 – 7pm, reflects this conversation through the eyes of 29 artists. The exhibit brings together visionary art makers from various backgrounds that deal in completely different ideas, techniques and materials with drawing, painting and sculpture. The commonality between all this work is that it seeks to break ground and spread awareness of ideas in a much stronger way than previous years. Whether conceptually, figuratively or abstractly, the complicated world we live in, coupled with so much more visual cross dialogue thanks to technology , is causing all artists in LA to rethink and strengthen their creative processes. Fresh Start allows the viewer to see how each of these artists deal in their studios with this through a year of intense feelings and new beginnings. Art is such an important tool for processing and talking about the intense environment around us. The artists in Fresh Start are creating information that helps move this conversation along faster and smarter, to accomplish a Fresh Start for the audience as well.
Fresh Start is made up of works by these artists: Sid M. Duenas, Nevena Binney, Max Presneill, Lydia Maria Pfeffer, Michele Liu, Nathaniel Cummings Lambert, Jacobine Van Der Meer, Anna Breininger, Jon Seaton, Kristine Schomaker, Nina R Salerno, Tessie Salcido, Julie Schafer, Chris Collins, Natalie Smith, Isabel Theselius, Kathryn O' Halloran, Steven Wolkoff, Adam Janes, Margarethe Drexel, Karin Lanzoni, Hung Viet Nguyen, Hayley Barker, Joseph Lee, Brian Cooper, Holly Topping, Debra Broz, Darel Carey and Yaron Dotan.
Ceci Moss will have her Mobile gallery, Gas , with the exhibition "Liquid Love" parked outside for the duration of the show as well.