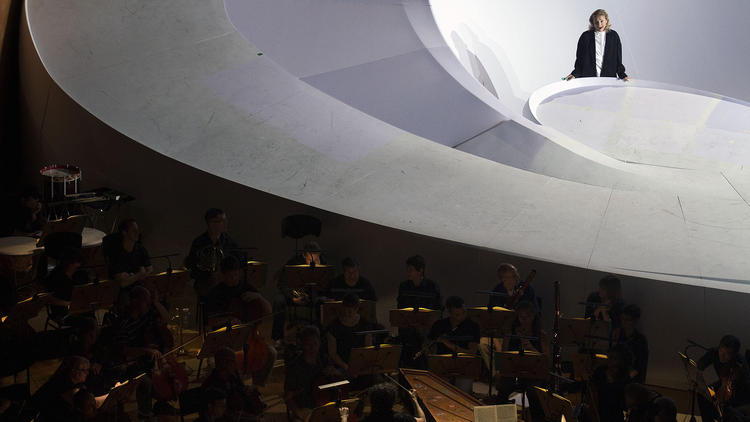 Some Enchanted Evening – Così fan tutte
Part III – Los Angeles Philharmonic Mozart/Da Ponte Trilogy – Walt Disney Concert Hall, May 23, 2014
Mozart, like other great artists before and since, offers us a topological mirror in which to test and tease our perspectives on the universe and our fragile foothold in it.  The evocative power of his greatest work is a sublime irony, felt all the more acutely as the civilization in which it blossomed has devolved into a death star.  You feel it most poignantly in moments like the E major trio at the end of the second scene of Così fan tutte, "Soave sia il vento…. Ed ogni elemento benigno rispona ai nostri desir."  ("May the winds be gentle…. And every element respond benignly to our wishes."), where the voices of the sisters, Fiordiligi and Dorabella, and the 'philosopher' buffo classico, Don Alfonso, rise and sway over the rolling thirds. 
I have had the opportunity to hear and/or see many productions of Così over the last few decades – staged, filmed, radio broadcast, and recorded; but few have matched the symbolic power, wit and elegance of last night's Los Angeles Philharmonic production (by Christopher Alden, in collaboration with Zaha Hadid, with costumes by Hussein Chalayan) at Disney Hall, the third in the Philharmonic's three-year Mozart/Da Ponte trilogy project.  Although the vocal performances came nowhere close to eclipsing the very best (Schwarzkopf, Ludwig, Fleming, von Otter, Lott, and some of the gifted baritones that have sung Alfonso and Guglielmo, set a very high bar), the principals – all well-experienced in the roles and Mozart opera generally – were all superb; and Rod Gilfry (Don Alfonso), Philippe Sly (Guglielmo), and Rosemary Joshua (Despina) were particularly outstanding.  It didn't hurt that Miah Persson (Fiordiligi) and Roxana Constantinescu (Dorabella) are both gorgeous and carried the Chalayan costumes beautifully.  The Philharmonic was in gorgeous voice, too (even with Maestro Dudamel and Bradley Moore, on harpisichord continuo, dragooned into the drama by Alfonso's stage antics – they coped beautifully). 
It's hard to say whether it's an eye-of-the-hurricane notion of calm amid chaos underlying the concept of the Alden-Hadid production (Hadid's set design was supervised by Saffet Kaya Bekiroglu), or a more abstracted notion of radical contingency in which personal orbits are alternately at odd tangents with one another or in seemingly parallel universes.  (A 'circling the drain' metaphor occurred to me, too.)  The torqued ellipsoid spiral in what looked (under the shifting lights) at one moment like concrete, and like some pearlescent laminate at another, owed something (I thought) to Richard Serra's Torqued Ellipses (the Toruses, too), but also to the torqued and shifting planes of Gehry's Disney Hall itself – the whole of it seeming to echo those 'gentle winds' – and the Philharmonic's gorgeous woodwinds, rarely more beautifully displayed.  Whether the eye of a hurricane, an umbilicus tethering its hapless lovers, or a death spiral, the set (which spilled out into the orchestral space with yet another elliptical curve pooling flat onto the stage) beautifully supported the deceptively cynical Da Ponte farce that Mozart's music somehow manages to make transcendently magical.          
Alden moves the characters almost like tokens or mathematical markers in a table game.  They seem to rotate around the curving set, as if by some remote control as much as under their own power, emerging or disappearing at one end of the spiral or another as if in a labyrinth.  Hewing closer to an 'umbilicus' scheme, Chalayan dresses the lovers in what look like summer camp clothes.  The men in shorts and butter yellow and blue chambray shirts, the women in schoolgirl pleated gray and white skirts and chalky Egyptian blue and salmon camp shirts.  Don Alfonso and Despina, by contrast, are all business – stylishly booted and dressed in squarish black jacket and pants.  Alfonso and Despina are always the hidden magic in this show and Alden (facilitated by Chalayan's costuming) underscores this aspect, making of Alfonso a dissolutely capricious Oberon, and Despina into an extremely capable Puck.  They're also a lot less hidden:  Alfonso/Gilfry commands every part of the stage (including a part of Dudamel's podium at a couple points, breaking an interior fourth wall) and a seat just over the curving wall of the set (where he props up his legs and sprawls across a raised pedestal or console, munching from a bucket of popcorn); Despina/Joshua commands the spotlit center stage for her lecture on the fickleness of men and the pointlessness of fidelity, "In uomini…"  It's not surprising, given their blistering vocal and acting talents, that they practically steal the show.  (I've always thought the character's name is far from coincidental – between sea and (under)world; of the spine/undercarriage and the world of the dead.)  It should be emphasized, though, that all of the singers move with exceptional grace – and on steeply raked and banked surfaces that can't be easy to negotiate, especially in boots or heels.  I almost wonder if Alden had some assistance choreographing the show.  
The costumes morph as the opera progresses – 'summer camp' clothes giving way to 'trench (warfare?) and frock coats'; and the set itself morphing and even 'respiring' by way of Adam Silverman's genius chiaroscuro play of light and shadow moving across the set like storm clouds.  (Many a museum show might profit from this design magic.)  I think there may be some hydraulics beneath those embankments, too; but the rising and falling curves did not distract from the music.  For all the Minimalist, post-Beckett look of the production, it did not (eat your heart out, Robert Wilson) feel minimalist.  Set, choreography and overall production supported an idea of continuous curvilinear, rotational movement:  the tricks space play on our minds and the circuitous tricks our minds and perceptions play on us.  In this rendering of Da Ponte's libretto, betrayal is simply one point on fidelity's funhouse slide.  ("So wanton, light and false, my love, are you, / I am most faithless when I most am true," was the way St. Vincent Millay put it.) 
The universe is not a particularly hospitable place, and we almost take solace in its sublime indifference to human fates.  ("A philosopher laughs while others are weeping."  The Phil's translation of (I think) "Quel che suole altrui far piangere fia per lui cagion di riso….")  After the solace and exhilaration of Friday evening's Philharmonic performance, though, I couldn't help thinking that a universe bereft of Mozart might be an order of cosmic betrayal even the universe might not be ready to endure.