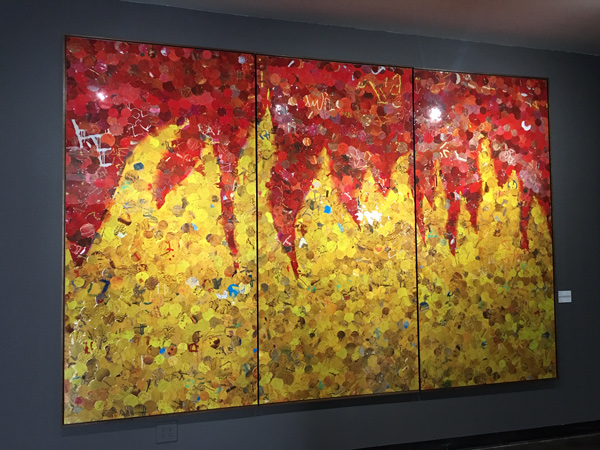 East 26 Projects: Lev Rukhin
Before fashionable Londoners removed most of the iconic red phone boxes from their streets—and converted them into enviable shower cubicles—they functioned not only for telephonic missives but printed dispatches as well. Babysitters were sought, religious entreaties made, and saucy overtures, on what were called "tart cards," were glued to the interior or jammed into the corner crevices (an unabashed metaphor) of those scarlet anachronisms. Mobile phones, however, and internet communication have made such practices quaintly grand-parentish.  Digital printing, available to nearly everyone, has now augmented the graffiti/tart card tactic with slap-tagging, where a miniature poster with adhesive backing is affixed quickly and copiously to stop signs, shop windows, lampposts, and virtually any surface that will bear them. In his exhibition "Low Fidelity," photographer/collagist Lev Rukhin has examined every form of graffito—hand-painted to digitally derived—then documented, scrambled, and rearranged them. This is seen most directly in Bus Booth, homage to the iconic red of the London phone boxes and two-tiered buses, but now fused and surrounded with the text and image fragments that can be seen in and on and from them.
The dark gallery is spiked with dramatic illumination of the numerous large-scale photo-collages composed of thousands of scale-like pictorial fragments, glossy and flowingly stapled to panels that reach nearly floor to ceiling. It cannot be coincidental that the installation of the exhibition suggests a cathedral crypt.
The artist is a world traveler—he was born Soviet Russia, grew up in the Republic of Texas, and now lives in the city-state of Los Angeles—and his excursions have informed these works. In Rome & London: Tale of Two Cities tipsy old world architecture leans into a vertiginous downward spiral, suggesting both Dante and Blake. Indeed, many of the works have a vaguely ecclesiastical tone as is seen in Lapsarian Tree, a genealogy of reconstituted wood (a scaly collection of utility pole photo fragments) spreading limbs and leaves into varied message shards that make an unintelligible chorus.
The most elegantly conceived work in the exhibition is Virgin in Three Movements. While some of the images that comprise this tall and slender work may have been photographed elsewhere this montage is most recognizably Angelino. At the top, in a cloud of repeated painted renderings as if seen through a multi-image lens, is Our Lady of Guadalupe, patron saint of Mexico and the Americas. Below her, in the center of the composition, is a similar tessellation but this time of praying hands. These prayers are no doubt needed because just across the gallery, is one of the exhibition's largest works, Inferno, a vibrant red and yellow tiling that appears most like a vastly enlarged detail of the devilish flames that would decorate a fever dream hot rod. At the base of Virgin in Three Movements is the Mexican peasant Juan Diego to whom The Virgin appeared. He is seen in a variety of poses; praying, hands raised, awestruck. All of these images have come from the walls of the city, particularly bodegas, as the products sold in these corner stores can be seen rising in ecstasy and surrounding saint, supplicant, and penitent hands.
Lev Rukhin, "Low Fidelity," May 13 – August 31, 2019, at East 26 Projects, 3461 East 26th Street, Vernon, CA 90058. east26projects.com