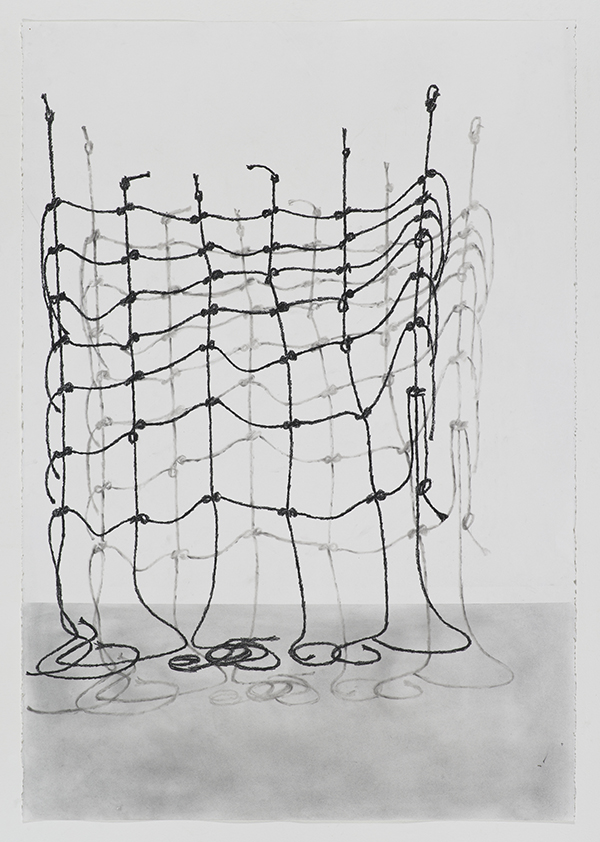 Claudia Parducci
Ochi Projects / Los Angeles
"The Space Between Us," Claudia Parducci's first solo exhibition at Ochi Projects, represents the artist's commitment to understanding and investigating the darkest sides of human nature. This intense examination is largely atmospheric and abstracted, though the skeletal forms of decaying architectural sites remain palpable within each of these images. "The Space Between Us" originates specifically from images of the 1995 Murrah Federal Building attack in Oklahoma City, though Parducci expands this original central image into a series of darkly suggestive works that are confoundingly beautiful.  Made from charcoal on canvas, which in and of itself suggests a shifting and unpredictable materiality, these five large-scale paintings fragment the idea of time and our own reliance on it into strangely unsettling units of space that fade in and out of focus even as we stand gazing upon them.
These paintings propose a singular temporality drawn from images of destruction and iconoclasm, yet within the framework of each of these striking works is the possibility of order drawn from disorder, or hope drawn from chaos. The larger paintings become the framework that holds the main space, which is occupied by an installation of ropes hung from delicate black wires. The black ropes perhaps suggest a cage or a holding ground into which only air may pass. Again, as with the paintings and the two beautifully intricate drawings, the sculpture insinuates an invisible narrative about the larger human condition, a narrative that is at once disquieting and strangely hopeful. The air that surrounds and passes through the sculpture becomes the sculpture itself just as the empty or wiped away spaces in the paintings and drawings are as powerful and commanding as the gestural lines.
More importantly still, these works do not "ask to be loved" as most art does these days. If these paintings happen to complement your sofa, you might want to consider your sofa more closely. These works were not made to match any fashionable statement, and do not derive from any mainstream LA trends, but exist as talismans of grief and loss in a world rife with it. The gestural smears, erasures and evacuations in these paintings can be read as metaphors for human brutality but also as points of recovery, moments where the space is deliberately left open, perhaps as a visual invitation for us as viewers to begin considering these events and how we might begin to make sense of them within the scope and cadence of our own individual lives.   
The works that stand out most in the exhibition are two framed drawings in the back of the gallery, hung side by side. As with the larger paintings, the drawings capture the same devastated landscapes, and are actually sketches for the sculpture; however, there is an intimacy, a delicacy of line and intention to these drawings that makes them appear nearly ethereal. Parducci's intense subject matter seems lighter in these works, and there is a profound stillness within them that allows for the deeper, more metaphoric content to surface.