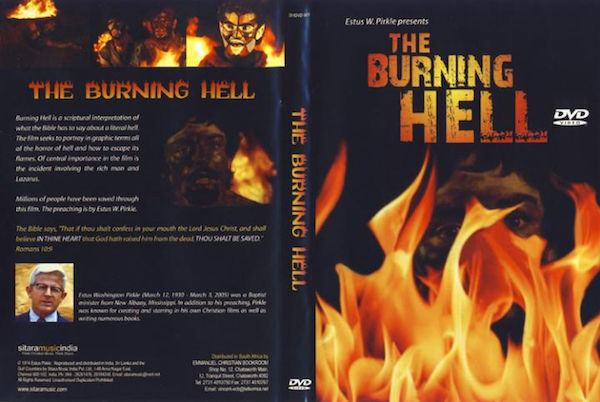 BUNKER VISION
Sinners Restored
Ron Ormond is not the sort of filmmaker who usually gets prestigious restorations. His most famous work was a series of Lash LaRue films. He made forgettable low budget films and produced roller derby for television in the 1960s. When he grew tired of that, he started making exploitation films. After surviving a plane crash in 1966 he became a Christian. In 1971 he teamed up with a Baptist preacher named Estus Pirkle to make a series of three "Christian films." One of these just got a deluxe restoration.
The Burning Hell (1974) was the second film of their collaboration, and the one to receive the historic film treatment. It intercuts Pirkle preaching about Hell with literal depictions of what he is saying. One of the things that makes this work so well is Pirkle's sincerity. This guy believes every word he's saying. A scene shot in his office (where he is reaching out to a "sinner") shows a folksy, cluttered, tiny book-filled room where Pirkle composes his sermons (fans of culture-jamming will recognize Pirkle's voice from the Negativland song: "Christianity is Stupid"). The congregation looks to be about 100-strong. They feature in the film as both audience to his "warnings" and as historical bible era people who ignored similar warnings about Hell.
If you are familiar with the work of underground filmmakers Jack Smith and Mike Kuchar, the visuals will look familiar. This will especially be the case with wealthy biblical era people whose opulence will lead them to Hell. This opulence is signaled by the rich fabrics that a volunteer found in the clearance section of a '70s fabric store at the height of double knit. This is augmented by an acting style that says: "middle class Baptists pretending to be naughty sinners." Portions of this were "actually filmed in The Holy Land," so they were probably having a fun vacation, and it shows. Even when they are writhing on the ground with actual maggots on their faces, they look like they are having the time of their lives. This film wasn't meant to stand alone on its own merits. It was made to be shown to church groups to "scare them straight." It toured the backwater revival circuit for over a decade. They still sell the unrestored version on DVD (in English and Spanish) on the church website. (for an extra $12 you can get the poster and flyers to hand out). There is usually at least one of these on YouTube. The restored version is currently playing cinephile venues (it was recently a selection on MUBI). The original is also available in Portuguese, Malayalam, Tamil and English.
Right from the opening shot, where a group of women in "modest" gowns sing "Hell Awaits You," it is easy to imagine that this is a recruitment video for a weird cult. Everything about it feels insular. Like all of the best outsider art, this exists in its own world with its own logic. All aboard for The Burning Hell!